For sports educator Irene Clarke, digging deep into research around menopausal athletes and offering a tailored programme to suit specific needs came about by chance.
The West Waterford AC athlete began coaching a large group for the 2016 Dublin marathon, when a pattern quickly emerged.
The majority of the men, and younger females in her group were progressing through the programme, but women from their mid-40s on were having more difficulties.
We need your consent to load this rte-player contentWe use rte-player to manage extra content that can set cookies on your device and collect data about your activity. Please review their details and accept them to load the content.Manage Preferences
"They weren't responding in the same way," she told the RTÉ Running Podcast.
The symptoms ranged from increased fatigue, lack of sleep, joint aches, increased need of recovery time and greater susceptibility to injury. There were also instances of low level anxiety and mood issues which impacted on training.
Clarke decided to immerse herself in menopause education, learning more around nutrition, recovery and training for menopausal women.
The upshot is a pilot programme, in conjunction with Athletics Ireland, a workshop for women on how best to train midlife, that is being rolled out country wide.
The need for such a programme is laid bare by numbers.
For the Dublin marathon last year, just 23% of runners aged 45 and over were female. In shorter distances, such as 5km, the dropout rate isn't as stark, but from there up it is significant.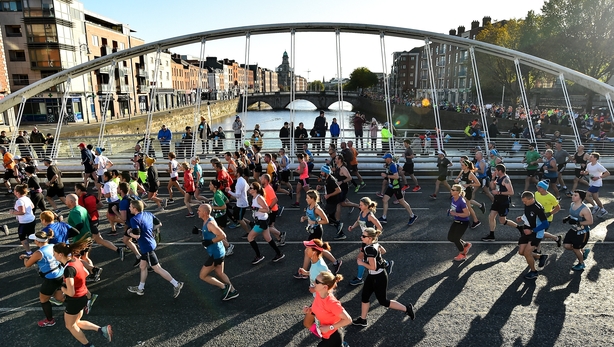 "As you get older, sometimes by just turning up you win a prize," Clarke observes, adding that up to 30% of mid-life women will either drop out, or reduce their exercise time.
"If we (mid-life women) continue to train in this (traditional) way, we effectively drive ourselves into the ground."
The programme encompasses more strength training, polymetrics and sprint intervals, with a reduced focus on endurance training.
Clarke outlines the hormonal changes that impacts mid-life female athletes.
"From a body composition perspective, you are dropping muscle, so you are losing muscle at a rate of 8% per decade from 40-65. After that it drops to 15%.
"We can also lose up to 20% of our bone density in those seven years around peri-menopause."
Hormonal changes mean women of this age can't recognise thirst in the same way and can end up dehydrated very quickly and unintentionally, where a 2% drop in hydration will decrease performance by 6%.
Protein isn't utilised in the same way, so nutrition is tailored accordingly, while the loss of speed and power is crucial in any training plan.
You don't necessarily become a better runner just by running
"You can't improve your endurance because you don't have oestrogen there. You are just maintaining what you have. It's no longer the number one factor in your training.
"You still need to do longer runs, but the focus on building the aerobic.
"Strength is a huge thing.
"You would still have your longer run, but during the week, instead of doing lots of easy running, your focus would predominantly be on increasing power and speed. You don't necessarily become a better runner just by running.
"When you are younger you might be able to get away with it, but when our hormonal health changes, if we don't change how we train, it doesn't just impact our performance, it effects our future health."
Listen to the RTÉ Running Podcast on the RTÉ Radio Player, Apple Podcasts, Spotify, or wherever you get your podcasts.