Darragh McElhinney will be hoping to put something of an annus horribilis behind him by claiming a medal at the Euro Cross-Country Championships at Abbotstown on Sunday.
The UCD runner is one of eight Irish athletes scheduled to compete in the 85-strong U23 event in Fingal, and he is very much targetting being amongst the front runners to bring some light to the end of a year dominated by frustration.
It started back in March when a "weak positive" Covid test forced him to withdraw from the European Indoor Championships and worse was to follow at the Euro U23 Championships in July in Tallinn.
In order to accommodate the large field, organisers cut the event into A and B sections and as he hadn't run a 5000m race that season, the Corkman was placed in the slower B group.
Even last month's second-placed finish at the Irish National Cross-Country Championships was tinged with regret at he allowed Hiko Tonosa to overtake him in the final 400 metres.
For the young athlete, that provided a real learning curve as he prepares for this weekend's Fingal event against the continent's best.
"I probably put it down to a bit of a tactical mistake as much as anything," he said of that Nationals finish.
"It could have been a bit of a rush of blood early on, I think I just felt good. I think maybe the fact that I had never actually ran 10k before - my patience for staying, my composure, was just running a bit thinner and thinner as it went on.
"In a 5k you're sitting in for the bones of 13 minutes and then having to go whereas the last day I kind of just began to lose a bit of concentration towards the end.
"I found myself at the front going around the corner by the monument, probably about 600 metres to go or so, and I think it was a bit of a split decision. If I could go back I just would have waited but in hindsight, trying to take positives out of it, to get that far into the race feeling as comfortable as I did is definitely a bonus.
"It's 2k less this Sunday, obviously the pace will be a little bit hotter, but I think the fact that for the bones of 9,500 metres you're feeling as comfortable as I did at that pace is pretty encouraging for me considering Euro Cross is always hard from the gun and you need to stay in for as long as you can."
Results of the @irishlifehealth National XC Champs

Senior Men
🥇Hiko Haso TONOSA Dundrum South Dublin A.C.
🥈Darragh MCELHINNEY U.C.D.
🥉Paul O'DONNELL Dundrum South Dublin

U23 Men
🥇Darragh MCELHINNEYU.C.D.
🥈Keelan KILREHILL Moy Valley
🥉Thomas MCSTAY Galway City Harriers pic.twitter.com/gfhuiTBVwf

— Athletics Ireland (@irishathletics) November 21, 2021
Dropping to silver from a gold position in that race is something he can learn from while missing out on the European Indoors due to that Covid issue – an aftereffect from possibly contracting the virus while on an altitude training camp in Kenya in January – was just one of those things.
It was the situation at the U23 tournament in Estonia that still really grates with him, and will add extra motivation on Sunday.
"It [the European Indoors Championship] was easy to get over that whereas the U23s was a completely different kettle of fish.
"I'd been preparing for it really since the European U20s two years ago in Bora.
"Obviously I was frustrated that I didn't get to go to the European Indoors but I was like I have technically tested positive so that's fair enough.
"Going out there [to Estonia] it kind of felt like I was being mistreated. That was horrible.
"For the actual race itself, I was so done before I even ran because I had this hanging over me for the whole week coming into the race.
"Even when we were in the team hotel at the European U23s, every time I left my room to get a meal and go back to my room, by the time I left and came back I probably had four different people asking me what race I thought I'd be in.
"I'd even spoken to some of the guys that were in the 'A' race. Micheál Power, Rory Leonard, one of the British guys, I'd be friendly with him. Even Mohamed Mohumed, the eventual winner, I was talking to him for about half an hour the day before the race about just how crazy a situation it was.
"There was so much negativity around it that by the time I got to the starting line was just so flat. I felt dreadful.
"It was a weird one because I had effectively lost all hope and it kind of got to the stage, because it was hanging over me for so long, on the morning of the race that I actually didn't even care about it anymore, I just wanted to get it done."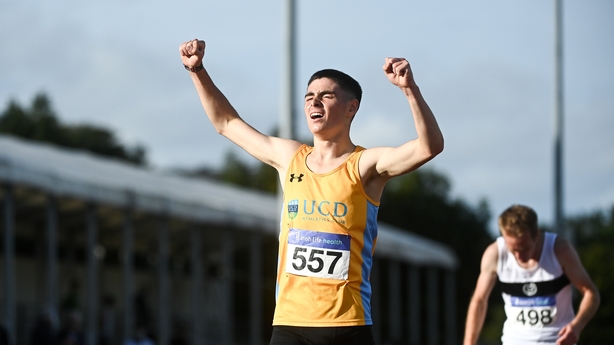 His mood will be much different on Sunday in front of the RTÉ cameras and McElhinney feels that he is in a good position to make an assault on the podium.
"I say now I'd be happy walking away with a medal but I think you know and I know that if I got a silver medal I'd still have a scowl on my face," he said.
"I think I'm in shape to get a medal. Training wise, it's been my best block ever.
"It's funny sometimes, because I'm not an athlete who tends to get injured my jumps in form can come at unexpected times. After the track season, after the Europeans, I kept going for two and a half weeks and then I took 10 days off and then got back training.
"I trained for five days before going onto altitude. That altitude training just did me wonders because it was a kind of unorthodox way of doing it. Most people get fit then go to altitude then come down and race. I just wanted to go at altitude, get my body right, get my head right, have all my routine and everything A1 before coming back to down Dublin, going back to college.
"It actually worked wonders for me, I knew straight away that it was the right thing to do because I came back in September and straight away I was hitting good splits in training, feeling really comfortable.
"I've been able then to have that big reserve of fitness and build on that as the season has gone through.
"For me, until the last couple of weeks, I've just been keeping it fairly controlled because I think the obvious danger with being fit in September is that you get fit too quickly and you can't hold it.
"Mid-September, as a result, I took it down a week when my body didn't necessarily feel like it needed it but I didn't want to be too fit too quickly.
"I think we've timed it to perfection really. I'll take a week off after the Euros. I do feel like I am coming into it now. The Euros have obviously been the aim since July or August.
"I think I was fairly fit for the Nationals but I think just with how I felt in the last 500 metres, I lost a little bit of pep in my step. I think I've probably corrected that in the last couple of the weeks, got a little more used to running hard over grass. I'm just hoping that the last few months will pay off on Sunday."
Follow the European Cross-Country Championships live on RTÉ2 and the RTÉ Player this Sunday from 9.30am.