On an October Saturday evening in Doha, Ciara Mageean ran a personal best of 4:00.15 in the 1,500m final at the World Championships. In fact it was the fastest female race ever over that distance.
Mageean more than held her own in a final which was won by Sifan Hassan of the Netherlands, who clocked a championship-record time of 3:51.36.
She came agonisingly close to breaking the four-minute mark and can take huge encouragement from her brilliant performance in a stellar field.
It was a second gold medal for Hassan at this championships who has already clinched the 10,000m gold medal at these championships.
Her triumph should be a good news story having arrived in the Netherlands as a teenage refugee, but there is a cloud hanging over all of her achievements in the form of disgraced coach Alberto Salazar, who recently was handed a four-year doping ban.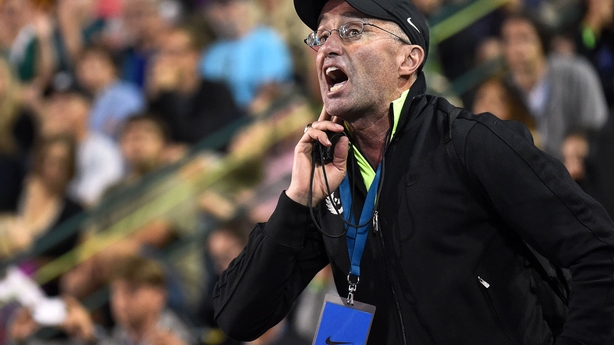 The drugs issue in athletics - a dark cloud that continues to damage the sport's reputation.
Mageean is quite forthright in her views, speaking as someone "busting a gut, trying my best as a clean athlete and dedicating my life to my sport."
The Co Down athlete was present at a "Here for Ireland" initiative, supporting Olympic and Paralympic hopefuls on their road to Toyko 2020.
"There so much talk around it with the whole episode of Salazar while we were out there; between the [women's] 10,000m and the 1,500m, Salazar was banned.
"It raises suspicion around the athletes he is coaching. It is tough, I've been asked a good few times what I thought of it. It is hard as an athlete when you go out in a race and you do wonder, 'In that field, how many people in that field are clean and not clean?'
"Some people will come to me and say, 'That's a top-five performance for me or that's a top-seven performance for me' indicating that they have a suspicion on whatever percentage of the field.
"For me, I came tenth in the world and I'm proud of that, I'm happy with that. I want more. I walked off that track happy. I had an interview with Cathal [Dennehy] and he told me that she ran 3:51 and I couldn't believe it.
"If anybody heard the interview, I was like, 'She wha? 3:51?' I didn't think it was possible to go out in a championship race and race that all on your own at the front.
"I can't make up nine seconds. There's not nine seconds in me, no matter what I do. What I do cleanly, there's not nine seconds in me. That's really hard. All I can say is what can I possibly do myself. Within my realm, what would I dream of?
It is hard when you hear people saying, 'Oh, sure they're all at it
"A 3:55 would something absolutely amazing. It's probably more realistic to beat Sonia's national record. If I could get down to 3:57, I would walk away from my athletic career extremely happy. I'll never get to 3:51 as a clean athlete.
"I'm very happy to say that I will try my absolute best to be as fast as I can as a clean athlete and represent Ireland with pride. To walk off the track knowing that I've done everything that I can and that I can be proud of it as an honest athlete.
"It is disheartening when you do go out and doubt other people of the same moral standing as you. I can't dwell on that too much because I can't control it.
"As much as it is there and it's discussioned with athletes all the time. Anybody who knows athletes and watches athletics meets and sometimes they're like, 'Oh right' and it casts that bit of doubt.
"It is hard when you hear people saying, 'Oh, sure they're all at it'. That's also crushing because I know more athletes who aren't [using drugs] than I suspect are on [drugs].
"That's hard because I am out there busting a gut, trying my best as a clean athlete and dedicating my life to my sport. People like to taint me with that brush too. I would dispute anybody who would want to come and have that argument because we're not all at it."
'I'm grateful to be able to wear this vest' - Ciara Mageean gives an inspirational interview after the 1500m final. pic.twitter.com/0mEoIQDZb2

— RTÉ Sport (@RTEsport) October 5, 2019
Mageean also spoke about the limitations in trying to catch all the 'cheats', while accepting that the knock on the door from the testers is just part of the deal within her sport.
"The anti-doping system and the testing system can only catch so many and even then the ability to catch the doping athletes is minimum. I realise its limitations.
"Alberto Salazar has been caught and these are the things that need to be happening. You look at Russia, we need more of the same to try and clean up pour sport and I as an athlete am happy to see those things happening.
"I have been tested three times in the last three weeks. I was in my boyfriend's house in Kells and the testers came at 6am – his granny was been buried on that day. Yesterday, the same thing happened at the same house – the testers came calling again.
"It is a bit disruptive to your life but I'm happy to be tested. I never take it out on the people who come to my door."
Circle K's 'Here for Ireland' initiative will support Olympic and Paralympic hopefuls on their road to Toyko 2020. 250,000 worth of digital coins will be shared amongst Team Ireland athletes. The 'Here for Ireland' initiative is an integral element of Circle K's partnership with the Olympic Federation of Ireland and Paralympics Ireland.