Ciara Mageean said Sifan Hassan's gold medal winning performance in the final of the 1500m in Doha is tarnished by her association with banned coach Alberto Salazar.
The Down athlete had a landmark championships in Qatar, making her first world final and posting a personal best in the final of 4:00.15, narrowly missing out on a sub-four minute run.
The race was won by Hassan, who cantered home in a stunning time of 3:51.95, a performance made all the more extraordinary by the fact that she won gold in the 10,000m a week prior. It if the first time an athlete of either gender has won those two events at a single World Championships.
The achievement has attracted suspicion as her coach Alberto Salazar was handed a four-year ban for doping violations only four days earlier.
Hassan has protested that she is a clean athlete, saying Salazar and his team had "never offered anything to me."
Mageean, however, agrees that Salazar's involvement does tarnish Hassan's achievement.
Speaking on RTÉ 2fm's Game On, she also recounted her shock at hearing the Dutch athlete's winning time when she landed down in the media area.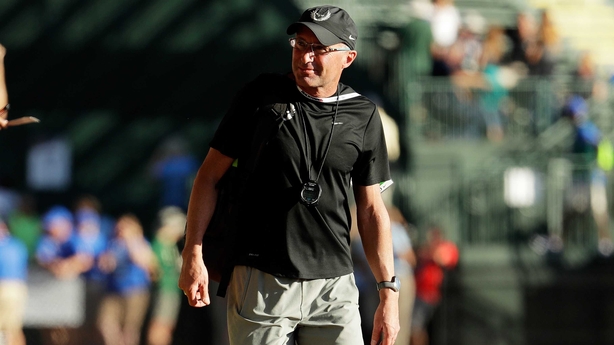 "I didn't look at the board, I don't know, probably because I was going to throw up. I needed off the track. One of the American girls told me I'd ran a PB.
"I went through the media area and got to Cathal Dennehy [freelance journalist], he asked me what did I think of Hassan. And I knew she'd won. And then he said '3:51'.
"And my face said it all. I said, 'she ran... she ran 3:51? Well Jesus, isn't it a privilege to be in a race like that?'
"A lot of athletes were shocked with that time. I know the American girl Shelby Houlihan. I watched her cool down on the inside track and I saw that girl with tears in her eyes. She ran 3:54 to come fourth in a World Championships.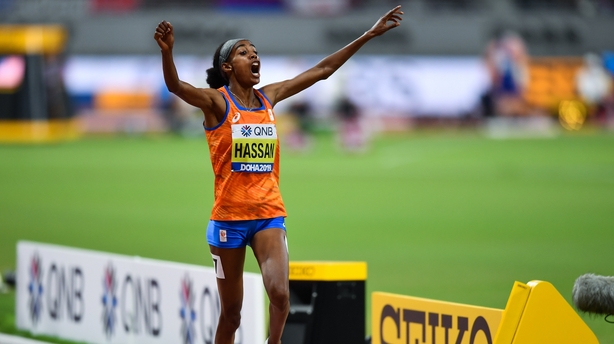 "I don't like to put limits on human performance. We're going to hopefully watch Eliud Kilchoge run a sub-two hour marathon later this week and I'd love to see that happen.
"It's hard for athletes, it's hard for me and my counterparts. I'm not going to name athletes but our sport does need cleaning up. I'm absolutely delighted with the work of USADA and the fact that they investigated Salazar and they've made that decision.
"Clean athletes want the sport to be clean. I get tested regularly and I know other athletes get tested regularly. In order to catch cheats in our sport, more needs to be done.
"It's fantastic for our sport to see that somebody is being convicted and held accountable
"I would say yes (her achievement is tarnished). Her coach had just been banned. She ran the 10k and between the 10k and the 1500m, her coach was escorted out of the premises.
"As an athlete, you are accountable for your athletic performance and the associations you make in this sport. And if you associate with a coach who is known to have doping offences, you're opening yourself up to questions.
"The fact that Hassan ran the 10k and then ran 3:51 in the 1500m... yeah, it's an interesting one."
We need your consent to load this SoundCloud contentWe use SoundCloud to manage extra content that can set cookies on your device and collect data about your activity. Please review their details and accept them to load the content.Manage Preferences
Notwithstanding the controversy surrounding the victor, Mageean is delighted with her own performance in Doha, calling it "the championship of my life".
The 27-year-old had targeted the world final at the beginning of the year, saying it was important to reach that level a year out from the Olympics.
"That was the championship of my life. Me and my coach Steve planned that we wanted to make a global final. I've never made it before and in the year leading into the Olympics, we need to be there if I'm going to go to Tokyo and be competitive.
"I was absolutely kakking it for the first round. That's nearly the hardest one. Anybody in sport would realise that the ones people think you're going to get through are the ones you're most nervous about.
"In that first round, I feel I ran a perfect race. I sat in, I kicked, it, went perfectly, I executed the way I wanted to.
"That second race, the semi-final, was not the way I planned it would go. To find myself at the front of the field was not in any of my race plans.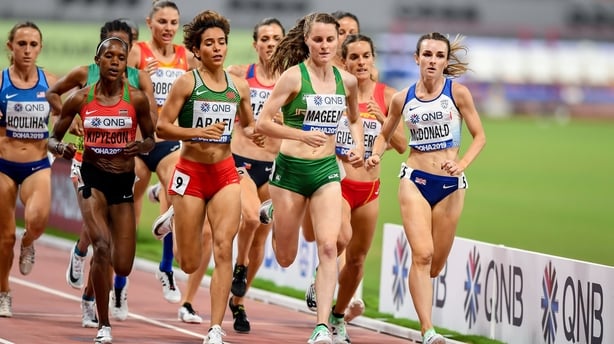 "But I thought, okay, we'll deal with this. If they want to run a slow race, I'm more than happy to. I'm confident in my sprint finish and I knew that anyone who wanted to go past me had to go around me. I'd make it hard.
"To make the final and come top 10, I set out this year with the goals of making the final and finish as far up as I could.
"I excelled on where I was quoted to be, where my rankings put me.
"To come close to sub-four (minutes) on the 1500, tantalisingly close, it's getting there, it's getting there."