Irish sprinter Molly Scott ran her best-ever personal times at the U23 European Champions earlier this month, but a few weeks before the trip to Sweden, she was considering not going at all.
She was racing poorly on the flats and over hurdles. Even the way she was running at training wasn't up to standard.
Her struggles were complicated further by her battle with insomnia, a problem that the Carlow native has suffered from intermittently throughout her athletic career.
But just a few days before travelling to Sweden, Scott enjoyed an upswing in form. Two races went well for her to bring her confidence levels back up and leave her well-positioned to clock her best time in the 100m sprint at the championships.
Such a result was far from what she had envisaged a few weeks previously, but form is always susceptible to change in athletics. Still only 20, Scott is always trying to adjust to her own unpredictable patterns. 
"It definitely comes with being an athlete," she explains to RTÉ Sport ahead of the National Athletics championships this weekend where she will compete in the 100m sprint and 100m hurdles. 
"When you're in a slump, you fight to get out of it and when you're running well, you have to ride it out for a while.
7 races later at the Europe u23 Championships..I'm finished ! 3 and a half hours spent in that call room overall 😂I gave it my all in every race and I honestly had the best time ever. Definitely makes all the hard work and the bad days worth it. Thank you Galve ! 🇸🇪🇮🇪

— Molly Scott (@runmollyrun101) July 14, 2019
"The worry is that if you start your season bad and it goes bad for a while. You kind of think 'oh this is going to be my whole season and how I'm gonna run for the whole year.' It's all about being really positive and just trusting that it'll work.
"About four days before I went to Sweden, I ran two good races and then I thought, 'ok, I can do this.' I had about a 12-week period where it wasn't clicking in training and racing and it wasn't going well. I just kept trusting that it would eventually work because I did do a few runs in training that were good.
"I had such a good indoor season as well, and then all of a sudden things were really difficult when I went to outdoors. That's just sport."
Scott's sleeping problems have improved, although bouts of it still kick in from time to time. But years of living with the restless nights make her well equipped to keep dealing with it.
Every athlete has a problem and you get a new one every year. It's just about figuring it out for yourself in trying to overcome it
There's a positive tone in her voice when she talks about her passion for athletics which started at around seven years of age. Other sports like swimming and tag rugby took her fancy for a while, but sprinting was always at the forefront.
Even when our conversation switches to the sleeping issues that always have the potential to threaten Scott's performances, she still speaks with enthusiasm
"Some years were worse than others," she says of her experience with insomnia. 
"Every athlete has a problem and you get a new one every year. It's just about figuring it out for yourself in trying to overcome it.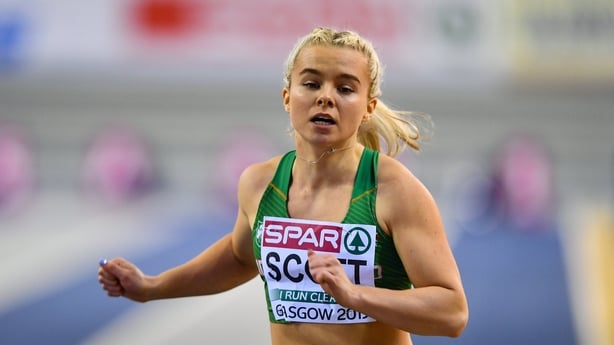 "I'm thinking, 'I need to rest and I need this many hours sleep.' But it's just, everyone knows I get it and I think my competitors are praying I don't sleep," she laughs.
2018 was a huge year for Scott. She was part of the Ireland 4x100m relay team who clinched a silver medal at the Under-20s IAAF World Championships in Finland.
Scott recalls "dying inside" with nerves before heading to the track for the final. But all feelings of anxiety disappeared in the moments before the start of the race.
The Carlow IT student enjoys reading sports psychology books and understands the importance of mental preparation for dealing with this level of pressure.
"It's so easy to slip into negative thoughts" she says. "You have to be mentally prepared and especially because it's a no mercy sport.
"It's so cut-throat and you have to be ready for anything." 
A gold medal was within Ireland's grasp in that final but they narrowly fell short as Germany came home in first place.
Still, the silver-medal success prompted a huge reaction in Ireland, as messages of congratulations rolled in and the group came home to a big reception in Dublin airport.
Gina Akpe-Moses, Ciara Neville and Patience Jumbo-Gula all starred for Ireland that day in Finland, but their second-place finish all began with Scott on the starting line.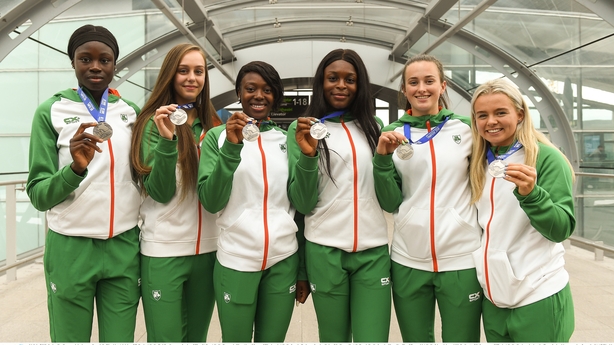 "I'm usually first, that's where I'm happiest," she says.
Scott feels an added responsibility to put her team in the best possible position to medal in relay races, but she wouldn't trade it in for any other place in the line-up.
"If I hand over in second, third or fourth, they've a lot more work to do. Everyone kind of knows their job and their role, and it is a lot of pressure but at the same time, I've done it so many times that it's ok.
"But then it never gets easy when you're on the start line and you're so nervous. It involves a lot of concentration, especially when you get to the next runner."
The Irish National Athletics Championships in Santry are the next stop on Scott's busy summer schedule. It's a hectic time all round for athletes, who are looking to qualify for the World Championships in Doha later this year.
Scott is studying law at the moment but she still has plenty to aim for in the sport.
The 20-year-old, who is coached by her mother Deirdre, is still finding her place on the senior circuit of athletics but she's not afraid to keep aiming high.
Competing at the Olympics is certainly a goal for her, although Tokyo 2020 might just come too soon for her.
"It's kind of creeping up on me. I'm definitely going to try and go for it because with the hurdles, anything can happen. I'm probably five or six tenths of a second off the qualifying time, and that's a lot. That's like three or four metres.
"But anything can happen in a year. I'm not gonna rule out anything, I'm definitely gonna go for it. But Paris 2024 is probably more realistic."