Irish athletics has been in the headlines in recent months as the next generation made their mark at the recent European and World underage championships.
So could the senior team feed off that positive energy and take it into the European Championships, which are currently in full swing, taking place at the Olympic Stadium in Berlin?
The initial signs were very good indeed as sprinter Phil Healy made it through the 100m heats, and followed that up by securing a place in the 200m semi-finals, before Leon Reid made an immediate impression running in the green of Ireland for the first time to automatically qualify for the 200m final.
But to really capture the imagination of the sports-loving Irish public, it is all about the medals, and as crude as that can often come across, it remains the true currency that secures bonus time on television news coverage and fills additional newspaper column inches.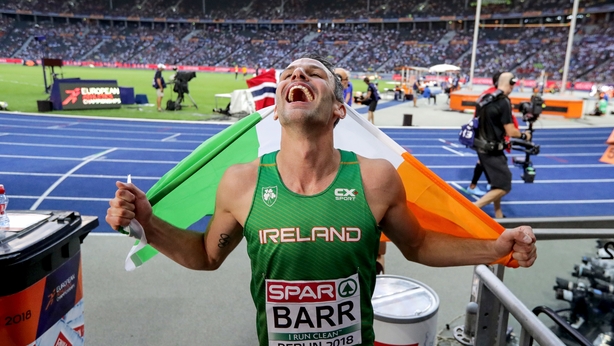 Rewind 20 years when the same championships took place in the Hungarian capital of Budapest, Ireland finished the championship 11th in the medal table, thanks to two Sonia O'Sullivan gold medals in the 5000m and 10000m events, coupled with Mark Carroll's bronze in the men's 5000m.
There was little chance of Ireland replicating that feat in Berlin, however, Thomas Barr put the agony of his fourth place finish at the Rio Olympics behind him to secure the bronze medal in the 400m hurdles, while Ciara Mageen will look to follow up her previous European success, when she secured bronze in Amsterdam two years ago, as she races in the final of the 1500m on Sunday evening.
Twenty years on from that Budapest success, you might imagine that Cork running legend O'Sullivan may have found time to reminiscence about that double gold as she sits in the RTE studios, working as a pundit for the current championships.
"I don't really think about it too much," said O'Sullivan.
"When you are here you are focused on what is going on at the moment. It's only when you are reminded of it, you think about it.
"It was probably more relevant when I was at the recent European Youth Championships in Hungary, I met a few people there who had also been at the European Championships 20 years ago."
O'Sullivan enjoyed the perfect year back in 1998, winning double gold at the World Cross Country Championships in Marrakesh to go with the track success in Budapest.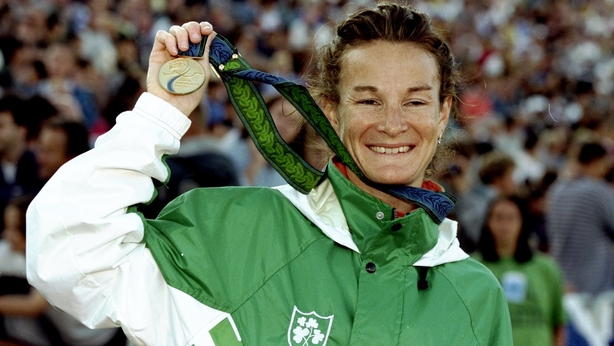 The Cobh-born athlete actually beat Gabriela Szabo to top the podium in that 5000m race in Budapest, but the Romanian exacted revenge two years later on the grander stage, the 2000 Olympics in Sydney.
"I should have thought about it two years later about how easily I did beat her in '98," pondered O'Sullivan.
"You take each year as it comes and things just worked out really well for me in 1998, running the 10000m first time ever on the track.
"I just thought it was definitely achievable to win the 10000m there, even without knowing what it was like to run it on the track.
"The 5000m was a good few days later and there was no heats so it made sense to run it."
Of course, those Australia Olympics secured silver and while that was the last Games' medal that Ireland won on the track - Rob Heffernan's 50k-walk bronze took place on the streets of London - O'Sullivan feels that it is unfair to judge the past twenty years as a failure because of the dearth of medals.
"There were always athletes who were there or thereabouts who were hopeful of getting into a final or getting a medal, it is just that no one really consolidated it all and got the medal home."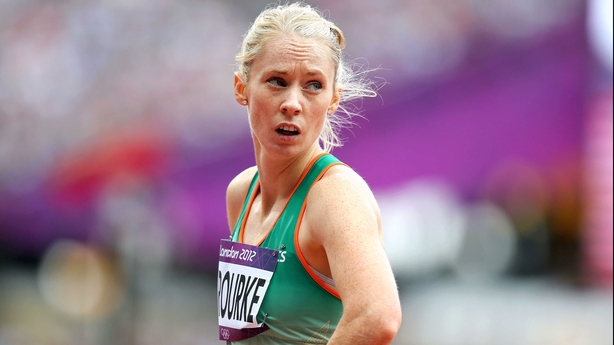 O'Sullivan is confident for the future, however, as she believes the next generation are starting to prove their potential, and should bear fruit throughout the coming decade.
"I think there is a good squad of junior athletes coming through now and it definitely helps when you have a few there together, pushing each other along, so hopefully in a few years' time, maybe not Tokyo [2020], but Paris [2024], there might be a good chance that we have athletes there chasing medals.
"It doesn't get any easier, standards are improving all the time and while a lot of the races are won in similar times, it just seems to be a little more intense, more serious than 20 years ago."
So while the future might be encouraging, O'Sullivan believes that all the pressure going into these games fell on the shoulders of Thomas Barr and Ciara Mageean, and she would have preferred if there were more athletes in contention to share some of the burden of expectation.
"The two best athletes in the team are Thomas Barr and Ciara Mageean and we do tend to pin our hopes on one or two athletes all the time, which is unfortunate, because if you can spread it a bit, it lessens the pressure or the expectations.
"But both of them have been there before. Ciara won a medal two years ago."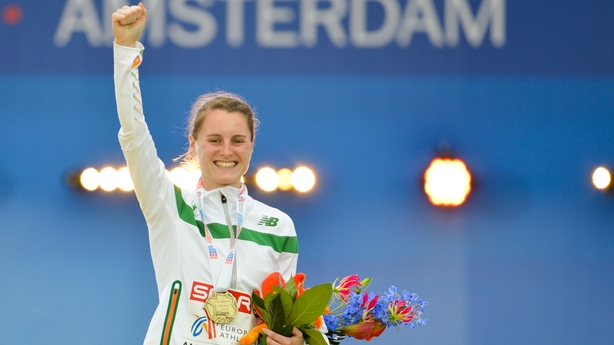 Barr, of course, has delivered, proving powerful on the home straight to get clear in third place and hold on to secure the bronze, while Mageean will look to add to the Ireland tally on Sunday evening in the 1500m.
The 2016 bronze medallist decided to concentrate solely on the one event at these championships, opting out of the 800 metres.
And while that decision appears to be working for the Portaferry athlete, having eased into the final with a very comfortable run in the heat, O'Sullivan thought that it may have benefitted Mageean to run the 800m to help acclimatise to the surroundings and the track.
"If I was her, I would have done the 800m. The programme was set up perfectly to do both.
"There is every chance that had Ciara ran the 800m that she probably would not have made the final, but she would have had two good hard runs before the 1500m and that diffuses the nerves a little bit when you get out there and you run an extra race like that.
"You get a feel for the track and what it is all about, but maybe she doesn't feel that way and you have to have someone to make you believe that is the right thing to do and maybe she thinks the right thing is to just focus on the one event.
"And some people think that that sometimes if you try to do two events that you are spreading your energy around too much, rather than being focused on one. Hopefully it is the right decision and I suppose if the 1500m was first, she might have done both because she sees the 1500m as her primary event."
As mentioned, O'Sullivan has high hopes for the next generation of Irish athletes, following their excellent showings at the recent under-age Europeans and Worlds.
Sommer Lecky took the silver in the high jump at the Under-20 Worlds, while Ireland secured silver in the 4X100m women's relay.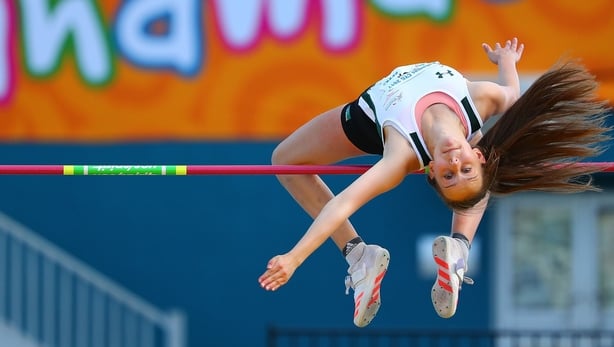 Earlier this summer, Sarah Healy, Rhasidat Adeleke and Sophie O'Sullivan won three golds and a silver between them at the European Under-18s in Budapest.
Like mother like daughter, the aforementioned O'Sullivan is, of course, Sonia's daughter, who took silver in the 800m in the same country where O'Sullivan senior secured that double gold.
And while the 800m event is a completely different discipline to her mother's middle-distance running, Sonia is happy to see her daughter remain in the faster races at this stage of her career.
"She likes the 800m and she says that she will stay there as long as she can. She says two laps is plenty," laughs O'Sullivan.
"She runs cross country as well and she runs 1500m so she is definitely more an 800/1500m runner than a 400/800 runner so we just have to see how things pan out.
"But at this age, I think it is really great for young athletes if they can keep running the shorter, faster distances and keep improving their speed for as long as they can, because it is too easy to move up, because it is easier to run in the slower races when you are younger."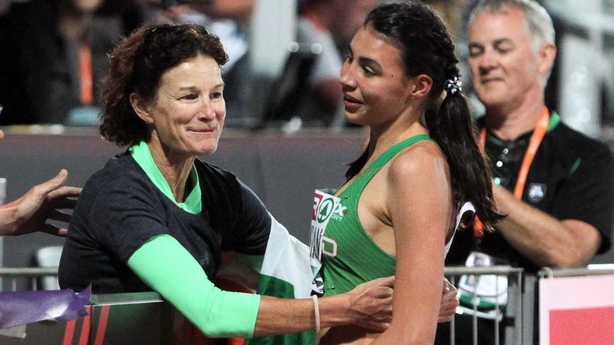 While Sophie's mother has, no doubt, nurtured her career thus far, Sonia has no real input in the coaching side of things with her daughter who trains with a school group back home in Australia.
"I don't really have anything to do with her coaching.
"She has a coach, the school coach and he has got a really good group of athletes and they get on really well together.
"So I think it is all about the group effect and it is as much social as it is training at this stage.
"There comes a point when it gets a little bit more serious, but for as long as they can have a good group, train together and enjoy the training, then they will look forward to it all.
"She is gone back to Australia to school and was back running cross country last week, so back to normal life."
Keep up to date with all the action from the European Championship online and on RTÉ television and radio. Check the full weekend's schedule here.