Mark English, Declan Murray and Ciara Everard (all 800m) have all progressed to semi-finals in the European Indoor Athletics Championships, but Dara Kervick narrowly missed out on the 400m final after earlier winning his heat.
Mark English will run in tomorrow's men's 800m semi-finals after winning his heat in 1:48.10s, as did Declan Murray who came home second in his heat in 1:49.69.
Afterwards English told RTÉ Sport: "My plan was to sit on the shoulder of the leader. I knew it was too quick at the start, so I just had to bide my time and move onto the back straight over the last 200 metres.
"I always wanted to make the final, I think if I do make the final then I have a really good chance, I just want to go and put it all out on the track."
Chicago-born Murray, meanwhile, said: "I was happy enough with it. I thought it might be physical so I wanted to run from the front.
"I just wanted to stay at the front and be at the right time to lean at the front and I got it to the line.
"I'll just see how the draw for the semi-final goes and give it everything to try and make the final."
Kilkenny's Dara Kervick missed out on a place in the final of the 400 metres.
Kervick finished fourth in his semi-final in a time of 46.96.
Earlier, he won his heat in 47.03 to advance to the semi-finals.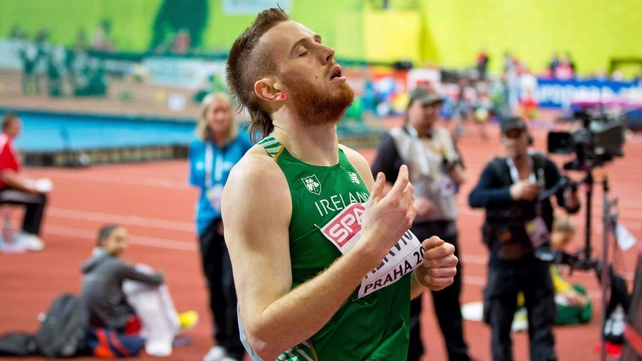 Speaking after the semi-final, he said: "If you had told me at the start of the season, I would run 46:5 and been at a major championship, I would have bitten your hands off.
"The plan was to get out fast and try and tuck in with [Pavel] Maslak, I just got into the wrong position and kind half went, but that's a tactical race, that's the experience you get running major championships."
Kervick will be part of the Irish 4 x 400 metre relay team which will be in action on Sunday.
Ciara Everard was third in her 800m heat in 2:02.69, just off the Irish record of 2:02.54.
The time was a seasonal best for the 24-year-old Kilkenny woman and was enough to see her advance as a fastest loser.
"I knew Anita Hinriksdottir [Iceland] would go out hard, I just wanted to hang to the fastest loser spot," said Everard.
"It was just outside my personal best and I know I'm coming into form at just the right time."
Paul Pollock ran a seasonal best time in the 3,000m, however, it wasn't enough to make it into the final as the 29-year-old finished tenth in his heat in 7:58.78.
"I'm disappointed with that, the first goal was to make the final, [but] it's a one second personal best. The fact I got here is a big achievement," added Pollock, who was ruled out of the European championship marathon at the last minute.
"It's another championship under my belt, but I haven't been able to get the performance I wanted today."
Ger O'Donnell failed to progress from the heats of the 60m hurdles.
The Leitrim runner finished in sixth place in his heat in a time of 8:06 seconds, a time which meant he was unable to progress as a fastest qualifier.
O'Donnell was left disappointed with his performance, during which he knocked over several hurdles and finished in a time that was some way off the 7:73 with which he qualified for the Championships.
Nicely done dara kervick Big Q. #Prague2015 pic.twitter.com/olsjXbiRMK

— Derval O'Rourke (@DervalORourke) March 6, 2015
"[I'm] very disappointed with that," explained O'Donnell. "It was a sub-par performance on all accounts, I got left in the blocks. I had been working on my start all week.
"I have no excuses, I just didn't run the best."
He said he would now turn his attention to the World Championships later this year.
"As people are saying it's a championship race, my first major, I don't care about that. I should be in that semi-final. This is where I want to be, I'm not fazed by that and I will focus on the making the 110 meters hurdles for the World championships in Beijing."