Irish athlete and RTÉ analyst Thomas Chamney weighs up the prospects of the Irish women's squad ahead of the European Indoor Championships in Gothenburg this weekend.
Women's 60m
Further evidence of a changing of the guard for Ireland is the qualification of Amy Foster (City of Lisburn) in the 60 metres.
A disgraceful decision from the officials at the national championships in Athlone saw Foster disqualified for a phantom false start after she had run a blazing 7.33 seconds in her heat to set a new personal best and qualify for Gothenburg.
The expectant crowd was robbed of the showdown between Foster and 100m outdoor record holder Ailis McSweeney (McSweeney was also disqualified, again raising questions over the competence of the officialdom as well as the timing equipment).
However, it's immaterial now and the 24-year-old now adds to her appearance at the outdoor version of these championships from the summer.
She did not distinguish herself in Helsinki but that experience seems to have brought her on immensely and she has had a successful campaign just by making it to these championships.
Making it beyond the first round should be a formality, but advancing any further would require a miracle.
All eyes will be on the big three in this one, better known for their exploits outdoors; Germany's Verena Sailer, a former champion, Ukraine's Mariya Ryemyen, the European 200m champion and Bulgaria's Ivet Lalova, the current 100m champion.
It's a tough one to call between these three but Ryemyen's big win in Stockholm right before these championships has her installed as slight favourite in my book.
Amy Foster
European Ranking: 14
Personal Best: 7.33 (2013)
Season's Best: 7.33
Prediction: Semi-final
Time schedule:
First round - 12:35 (Saturday)
Semi-final - 15:30 (Sunday)
Final - 17:15 (Sunday)
Women's 800m
This indoor season has seen Irish 800m running go through a remarkable growth spurt. The results of this are two competitors representing the green singlet: UCD's Ciara Everard and Newbridge's Rose-Anne Galligan.
For so long, Galligan carried the baton in this event and after going through some difficult years recently (a bout of blood poisoning saw her miss most of the 2011 season) she is starting to return to the levels we saw from her in 2010 when she clocked a salty 2:01.
Initially aiming for the 1500m at these championships, her last-minute qualification over 800m at the Athlone last-chance meet last week booked her spot on the plane to Gothenburg.
For Galligan, these championships should be about reintroducing herself to the demands of international racing after some tough times away from this level.
The field she faces is quite thin and a place in the semi-final should certainly be her goal.
With no clear-cut favourite in this event, a place beyond the semis for Galligan will come down to three things: fitness, tactical positioning and a little bit of luck. It would be a surprise if she nailed all three.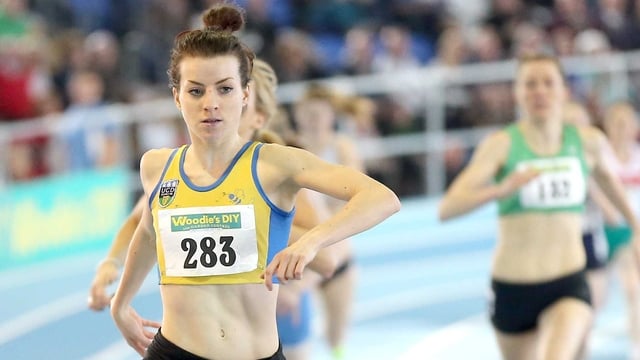 The emergence of our new national record holder in this event, Ciara Everard, has been the talking point for many of the country's athletics fans. I remember myself in March 2012 speaking with former Irish middle distance star James Nolan where he told me to watch for big things from Everard.
Unfortunately, an untimely bike accident as well as a nasty bout of vertigo put paid to Everard's Olympic chances but 2013 has seen her emerge from the shadows and shock the nation with some incredible displays.
Her victory at the national championships, where she closed her final 400m in under 60seconds, has left me fully confident of her ability to make the final here. Off a fast pace she can hang with the best in Europe and off a slow pace her noted speed is a weapon she can use to full effect. With Nolan in her corner as coach, she has all the bases covered and if she runs to form a top-five finish awaits.
With the ever-present Russian threat not as potent a force this year, Everard's main opponent will come in the form of defending champion Jenny Meadows from Britain, herself coming back after a 2012 campaign ruined by an Achilles injury.
Meadows looked supremely fit at her recent comeback race in Birmingham and should improve again here in Gothenburg. Outside of Meadows it's a wide-open field, perfect for a young and eager Everard to make an impact.
Rose Anne Galligan
European Ranking: 10
Personal Best: 2:03.39
Prediction: Semi-final
Ciara Everard
European Ranking: 5
Personal Best: 2:02.54 (2013)
Prediction: Final
Time schedule:
First round - 16:46 Irish time. (Friday)
Semi-final - 16:30 (Saturday)
Final - 10:45 (Sunday)
Women's 1500m
Claire Tarplee (DSD) was another athlete to achieve qualification right at the death, with a 4:13 performance in Stockholm last Thursday night.
Similar to Ciara Everard, Claire has suddenly appeared at the vanguard of Irish distance running. Her performance in Stockholm certainly impressed me as she ran with a mature head, working her way through the field with composure as the blistering early pace left many floundering. She's produced the goods at 800m also, winning the British championships at that distance.
She is, however, an athlete who is still developing and exposure to this level of competition will be a step up from where she's been in recent seasons. Ranked 15th of the 21 entries a place in the final should prove beyond her but like others on this team, the experience will only help to bring her on towards the outdoor campaign.
Watch for Sweden's Abebe Aregawi to destroy the entire field in the final. Originating and training still in Ethiopia, Aregawi came within a whisker of breaking the world indoor record in the same Stockholm race where Claire ran her standard. Questions are undoubtedly going to be raised over the ethics of Sweden's decision to import Aregawi into their team but she is the home country's only sure-fire gold medal bet. Everyone else will be running for silver.
Claire Tarplee
European Ranking: 15
Personal Best: 4:13.16 (2013)
Prediction: Elimination in first round
Time schedule:
First round 18:05 (Friday)
Final 17:05 (Saturday)
Women's 3000m
Fionnuala Britton (Sli Chualain AC) goes in the 3000m. Another of Ireland's medal hopes, she is of course the European Cross Country champion from last December. While she is undoubtedly supreme over the dales, her track pedigree has never quite been as strong.
That could be changing however, as her performance at the National championship left me immensely impressed. She destroyed a top-class domestic field over 1500m and caused many to take note of her new-found track legs. This certainly boosts her chances in Gothenburg if the race goes out slow and comes down to a sprint finish. Her ambitions of breaking Mary Cullen's indoor 3,000m record may have fallen short this season but her 8:54.37 from the XL-Galan in Stockholm is still a personal best and ranks her a respectable eighth.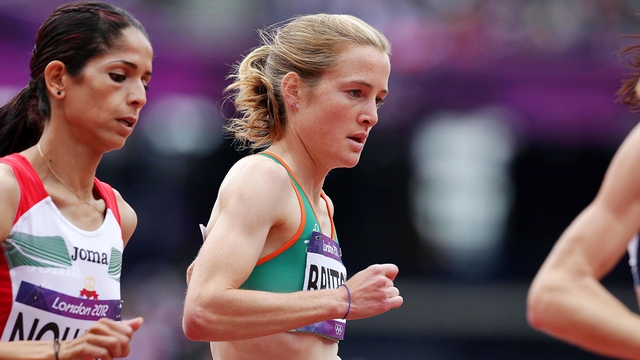 Russia has the top two entrants in this event, Korobkina and Aristarkhova, but both have raced sparingly and only at home in Russia. It has been known to happen that the Russians leave their best running behind them once they travel west and don't be surprised to see at least one of them underperform here.
That opens the door for Britton but Carine Harrer from Germany, who has already beaten Fionnuala this season and Portugal's Sara Moreira are certainly no pushovers either. It'll take a monumental effort for Britton to secure gold, but much like Ciaran O'Lionard in the men's equivalent, a minor medal could be hers if others make mistakes and she's in position to punish.
Fionnuala Britton
European Ranking: 8
Personal best: 8:54.37 (2013)
Prediction: Top 5
Time schedule: First round - 11:25 Irish time (Saturday)
Final - 11:10 Irish time (Sunday)
Women's 60m hurdles
First up into the Scandanavium Arena for the Irish is Derval O'Rourke (Leevale AC). As Ireland's most consistent championship performer since Sonia O'Sullivan, O'Rourke has the unique and well-earned reputation of always bringing the out her best when it counts. She will need to call on every ounce of this ability yet again in order to take some silverware home from Gothenburg.
Firmly in the autumn of her career, her fire for competing remains undiminished and her 2013 form has been steady if not spectacular. After suffering a disjointed winter due to recurrent sinus issues, she kicked off her indoor campaign with a fine victory at the British Championships but followed that with a sluggish run at the Birmingham Grand Prix a week later, something she put down to a slight muscle strain. This setback aside, she seems poised, in my view, to come out all guns blazing, eager to silence any doubters who may have written her off after a difficult Olympic campaign.
The competition she faces is stiff with old foe Nevin Yannit from Turkey, with a new national record in her pocket, and Belarus' Alina Talai, who notched a significant victory against O'Rourke in Val-de-Reuil this season, certainly both big contenders.
Also, Eline Bernings, the Belgian who has toppled Derval before indoors, has shown form as had Britain's American import Tiffany Porter.
A place in the final is possible for Derval if she repeats her near constant trend of setting season's bests at championships. A time under eight seconds will achieve this target. Any reward beyond that could be hard to come by, but if there is one athlete who can turn heads when less expected it's O'Rourke.
Derval O'Rourke
European Ranking: 15
Personal Best: 7.86 (2006)
Season's Best: 8.08
Prediction: Final
Time schedule:
First round - 10:30am Irish time (All on Friday)
Semi-final - 17:20 Irish time
Final - 18:55
Women's pole vault
Tori Pena (Finn Valley) has amassed a wealth of championship experience at this stage of her career, including an appearance at last summer's Olympics. Her form this season is consistent with what we've seen in the past from the California native and she has been steadily progressing with each competition. She even recently equalled her own national record with a jump of 4.45 in Flagstaff, Arizona.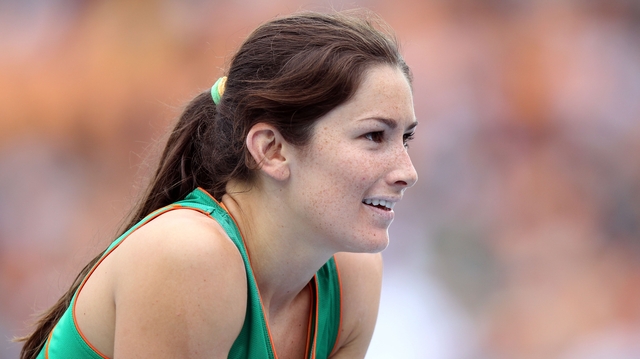 This aside, her championship record does not make for pretty reading as she rarely brings anything close to her best out on the big day. It is also important to remember that her best jumps this season have all come at altitude where the air pressure is lower and big heights are slightly easier to hit. If she can replicate what she's produced stateside here in Gothenburg then a place in the 12 woman final is attainable, but based on history it's a big 'if'.
Local eyes will be on Swedish starlet Angellica Bengtson as she bids to satiate the home crowd's appetite for success, and she is one of the athletes Tori will have to at least match in qualification if she is to make the final. At the top end look for Britain's Holly Bleasdale to push for gold although she too has been known to struggle herself on the big occasion.
Tori Pena
European Ranking: 16
Personal Best: 4.45 (2013)
Season's Best: 4.45
Prediction: Elimination in first round
Time schedule:
First round - 16:15 Irish time (Friday)
Final - 15:10 (Saturday)