Irish athlete and RTÉ analyst Thomas Chamney assess the chances of the Irish men's squad ahead of the European Indoor Championships in Gothenburg this weekend.
Men's 400m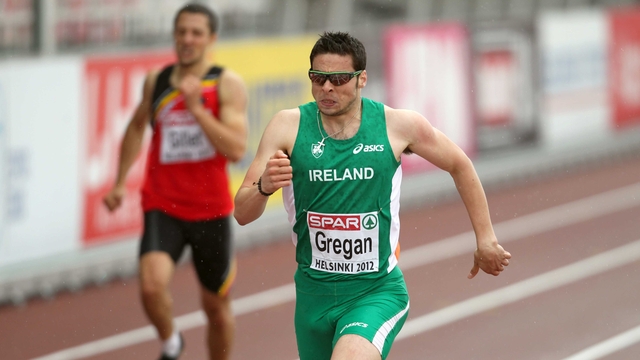 Clonliffe Harrier Brian Gregan carries what I feel is Ireland's best chance of a gold medal at the championships. He comes to Gothenburg undefeated this season over any distance with some serious scalps taken along the way.
His 46.07 seconds from the AAI Games in Athlone sees him perched on top of the European rankings, but for me, more impressive has been his foray into the shorter 200m distance, where he recently set a personal best and won the national indoor title.
Indoor 400m running hinges almost entirely on the opening 200m where positioning at the break from lanes is utterly crucial.
We all remember the debacle of David Gillick at the World Indoors a few years ago when he found himself badly out of position and blew a medal chance.
Mistakes off the break will be severely punished but it augurs extremely well for Gregan's chances that he has so clearly targeted the opening 200m in his preparations for these championships.
The biggest threats to Gregan come in the form of Russian Pavel Trenikhin and the European champion Pavel Maslak of the Czech Republic.
Like Gregan, Trenikhin is undefeated this season and has followed a similar racing schedule to Gregan, taking the Russian 200m title recently. Maslak on the other hand spent his winter in South Africa but has returned to Europe to cap off his preparations with a solid win at the XL-Galan meeting in Stockholm just last week.
If Gregan stays cool under the pressure that his number one ranking brings, I expect a gold medal for the Tallaght man, but any drop in form will see him relegated to the minor placings.
Brian Gregan
European Ranking: 1
Personal Best: 46.07 (2013)
Season's Best: 46.07
Prediction: Gold
Time schedule:
First round - 11:02 Irish time (Friday)
Semi-final - 16:45 Irish time (Saturday)
Final - 11:00 Irish time (Sunday)
Men's 3000m
Ireland are well-represented in this event with three athletes flying the flag in the form of John Travers (Donore Harriers), Stephen Scullion (Clonliffe Harriers) and Ciaran O'Lionard (Leevale AC). We have a fine history in this event with Mark Carroll and Alistair Cragg both striking gold in the recent past.
Travers has been a revelation this indoor season, making the most of the new facility in Athlone to earn his first senior cap.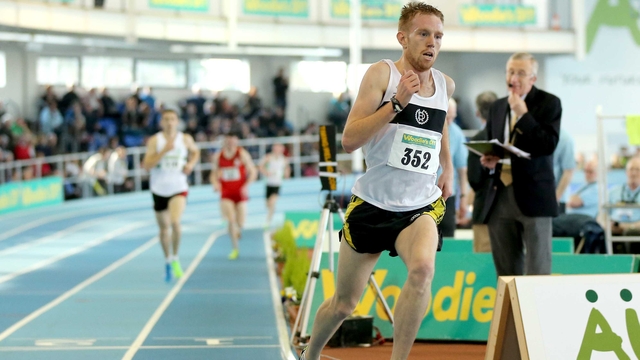 Coached by RTÉ's illustrious analyst Jerry Kiernan, Travers is beginning to deliver on some the promise he showed as a junior.
However, his experience at this level is non-existent and he has possibly raced a little bit too much for my liking, toeing the line every weekend since the start of the season.
That said, if he can reproduce the magic he showed at Irish Nationals (where he calmly front-ran his way to an impressive 7:58) he will be in the final come Sunday. That in itself would cement his status as a potential star in the making.
Scullion has teamed up with a new coach in London this year (Andy Hobdell) and that relationship is paying dividends as this too is his first appearance at a major senior championships.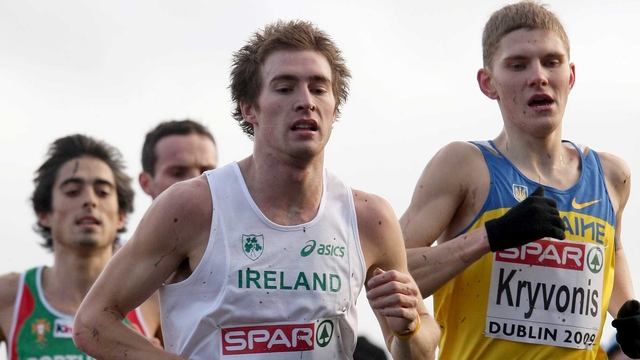 For me, if Scullion is to feature beyond the first round he must run his heat from the front and make the pace honest. If he allows it to become tactical he could struggle to kick his way into a qualifying position.
The well-traveled Belfast man has done admirably to make this team and should use this experience as motivation for the outdoor season.
Of the three, O'Lionard represents the only one with medal aspirations.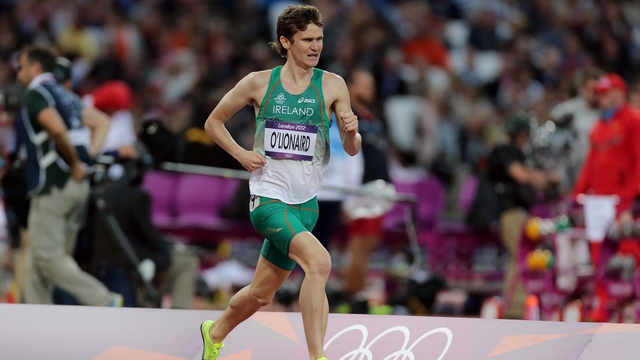 He occupies top spot in the European rankings for the 1500m off the back of a fabulous run at the prestigious Millrose Games, but has opted to tackle the much tougher 3,000m where he has yet to prove himself equally competent.
One potential reason for this strange decision could be that in picking the 3000m, the weight of expectation will be significantly lighter as he is still rebounding from his well-documented Olympic shambles.
O'Lionard has told me, however, that the decision came entirely from his coach, the highly regarded Mark Rowland. Rowland's reasoning is that the specific training needed to be competitive over 1500m is too great a threat to O'Lionard's fragile Achilles.
Either way, it'll take a massive breakthrough for O'Lionard to bring home gold over the 3k. Azebaijan's Ethiopian import Hayle Ibrahemov has posted a blistering 7:39.
The double-pronged French attack of Florian Carvalho, who recently pushed Mo Farah hard in Birmingham, and Simon Denissel, the French indoor 1500m champion, could spike O'Lionard too.
And an unknown factor exists in Norway's Henrik Ingebritsen, the European 1500m champion and Under-23 cross country champion.
He is a man in possession of the most feared kick in European distance running. With so many potential threats to O'Lionard's chances, gold will be tough but if we see the O'Lionard of 2011, when he shocked the sport time and again at the world championships, then a medal of some sort could be his. However, for the life of me, I can't shift this nagging feeling that he's passed up a gold medal in his better event, the 1500m.
John Travers
European Ranking: 19
Personal Best: 7:58.54 (2013)
Season's Best: 7:58.54
Prediction: Elimination in heats
Stephen Scullion
European Ranking: 15
Personal Best: 7:58.11 (2013)
Prediction: Elimination in heats
Ciaran O'Lionard
European Ranking: 9
Personal Best: 7:53.69
Prediction: Top 5
Time schedule:
First round 11:47 Irish time. (Friday)
Final: 17:20 Irish time (Saturday)