Operation Transformation: The Final Countdown!
Tuesday 18 February 2014
Cover story: Operation Transformation - As this season draws to a close, we talk to the six leaders about their life-changing challenges and the four experts have a few last words of advice for your own transformation
RTÉ Guide - On Sale Now
1 of 1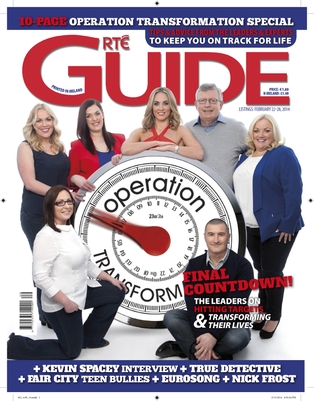 Kevin Spacey: Donal O'Donoghue heads to London to meet the Oscar-winning star of the Netflix favourite, House of Cards
Beating the bullies: Nancy Previs talks to Fair City's teen trio about the show's topical bullying storyline
Eurosong 2014: Can we regain our former Eurovision glories? Andrea Byrne meets the five Eurosong finalists
Swan Lake: Matthew Bourne's startling interpretation of Swan Lake is coming to Dublin. Nancy Previs checks it out
Nick Frost: The comic actor talks to Janice Butler about taking to the dancefloor in Cuban Fury
Plus! At Your Service finale, America's Next Top Model returns, Catherine Fulvio's tarty treats, your chance to win a spa break in Galway and True Detective - could it be the best new TV show of the year?