It's here! The big big double Christmas issue!
Wednesday 11 December 2013
1 of 1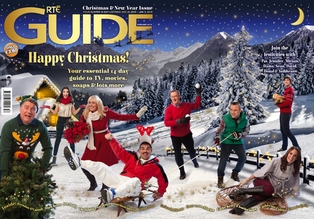 Downton Abbey: As the Granthams prepare for Christmas, Janice Butler talks to Elizabeth McGovern about the drama ahead
Ella McSweeney: The Ear to the Ground presenter tells Nancy Previs about her landmark year
Colm Keane: The best-selling writer talks about the heart-breaking loss of his young son, Seán
A Mary Berry Christmas: Donal O'Donoghue meets the Queen of Baking

What Does Christmas Mean to You? A host of celebs answer that simple question
Una Healy: The Saturdays' star is making dreams come true this Christmas
Brendan O'Carroll: Donal O'Donoghue meets Mrs Brown and Mrs O'Carroll!
Ray Winstone: We meet The Daddy on the set of major Christmas TV drama, Moonfleet
Orlando Bloom & Evangeline Lilly: The Hobbit duo talk exclusively about working on the biggest movie of the year
Harry Hill: Michael Doherty talks to the comedy great about his new movie
Celine Dion: Tells Andrea Byrne why she celebrated Christmas in October!

Christmas Crackers: Your inside track to what's happening on TV this Christmas
The Big Big Movie Guide: Michael Doherty is your Guide to all things cine this Christmas
TV Moments of the Year: From Love/Hate to Breaking Bad, we reflect on a remarkable TV year
The Dilemma: A Cathy Kelly original story, exclusively for the RTÉ Guide

Plus! What's happening in soapland this Christmas; 1,000 movies at a glance; Dave Fanning picks his albums of the year; The MovieGuide Quiz 2013; the year's best books; your chance to win an RTÉjr Juniorpad; Rosebud's €200 prize crossword; and the 2013 TV Quiz