Celebrating Six One News at 25
Tuesday 24 September 2013
Six One News at 25: Two and a half decades on, Bryan Dobson, Sharon Ní Bheoláin and Eileen Dunne tell Michael Doherty about life at Irish TV's biggest newsdesk
RTÉ Guide - On Sale Now
1 of 1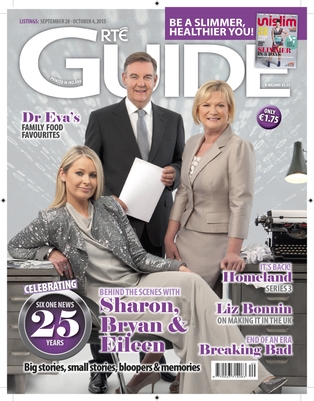 In Your Shoes: Eight teenagers took off on a life-changing adventure to Costa Rica. Donal O'Donoghue reports
Liz Bonnin: Her passion for science has translated into a successful TV career. The Dubliner talks tigers with Darragh McManus
Homeland: Can season three revitalise the acclaimed US drama? Donal O'Donoghue reports
Vince Gilligan: Breaking Bad is a TV cult for its many fans, but how will its creator end it all?
Dr Eva Orsmond: Our favourite nutritionist has some quick, easy and delicious family recipes
Plus! Get on James Spader's Blacklist; meet Glee star Kevin McHale; Anna Friel goes psycho; dip your toe into Atlantis; Harley Bird, the voice of Peppa Pig; win a weekend away in Chelsea; and free inside, Unislim magazine with 87 diet tips!