Today With Sean O'Rourke Wednesday 25 March 2020
(Listen back to episodes of 'Today with Sarah McInerney' here)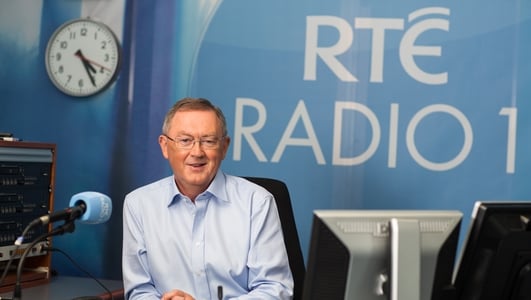 Today with Sean O'Rourke
The mid-morning current affairs magazine with the stories of the day, sharp analysis, sports coverage, in-depth features and consumer interest.
Rick and Louise's Book Choices
Rick's Choices:
David Sedaris – When You Are Engulfed In Flames
Douglas Adams – The Hitchhikers Guide To The Galaxy
Ronán Hession – Leonard And Hungry Paul
Shaun Bythell – The Diary Of A Bookseller
Marianne Power – Help Me
Charlie Mackesy – The Boy, The Mole, The Fox and The Horse
Robert MacFarlane – Underland
Emer McLysaght & Sarah Breen – Oh My God What A Complete Aisling
Louisa's Choices:
P.G. Wodehouse, especially Jeeves & Wooster
Lucinda Reilly's Sisters series
The Enchanted April - Elizabeth von Arnim
Happiness - Aminatta Forna
The Daily Stoic - 366 Meditations on Wisdom, Perseverance, and the Art of Living.
Pema Chodron - Comfortable with Uncertainty
Poetry, especially Mary Oliver and Wendell Berry's nature poems
Keywords
Covid-19: Testing
Dr. Liam Glynn, Professor of General Practice, Graduate Entry Medical School, at the University of Limerick
Covid-19: Private Hospitals
Susan Mitchell, Health Editor and Deputy Editor, The Business Post & Charlie Weston, Personal Finance Editor, Independent News and Media
Covid-19: Childcare
Frances Byrne, Early Childhood Ireland & Jack Horgan Jones, News Reporter, The Irish Times
Covid-19: Italy and Sweden
Jacintha McCarthy, Irish woman living in Bergamo & Philip O Connor, Journalist based in Sweden
Covid-19: Secondary School/Remote Teaching
Sarah Jayne Carey, Second Level Teacher
Covid-19: USA
Marion McKeone, U.S. Correspondent Business Post
Covid-19: Contact Tracing
Brian O'Connell visited one Contact Tracing Centre in University College Cork
Covid-19: Restaurants and Cafes
Adrian Cummins, Chief Executive of the Restaurants Association of Ireland
Covid-19: Minding Your Mental Health In Isolation:
Dr. Harry Barry, GP; Enda Murphy, Psychotherapist & Anne Marie Creaven, Psychologist
Covid-19: Uplifting Books for Self-Isolation
Rick O'Shea, Presenter of The Book Show and Curator of the Rick O'Shea Book Club on Facebook & Louisa Cameron, Raven Books, Blackrock, Co. Dublin