Today With Sean O'Rourke Tuesday 24 March 2020
(Listen back to episodes of 'Today with Sarah McInerney' here)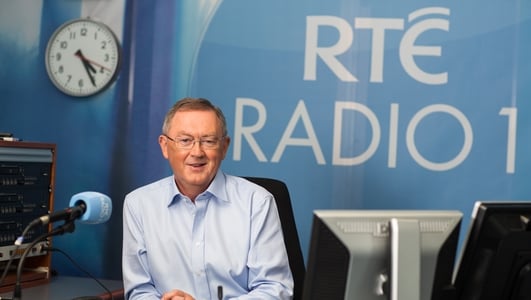 Today with Sean O'Rourke
The mid-morning current affairs magazine with the stories of the day, sharp analysis, sports coverage, in-depth features and consumer interest.
Covid-19: UK Response
Kevin Maguire, Associate Editor, The Daily Mirror; Aodhan Connolly, Director Retail Consortium Northern Ireland; Professor Mary Horgan, President of The Royal College of Surgeons in Ireland and Consultant in Infectious Diseases at Cork University HospitaL.
Covid-19: Construction
Orla Hegarty, Assistant Professor in the School of Architecture, Planning and Environmental Policy, UCD &Tom Parlon, Director General CIF
Covid-19: Nursing Homes
Conor McNulty, Registered Provider, Marymount Care Centre, Lucan
Covid-19: Fast Food Restaurants
Pat McDonagh, CEO Supermacs
Covid 19: Childcare Fees
Anne Rabbitte, F.F. Spokesperson on Children and Youth Affairs & Elaine Dunne, Creche Owner and Chairperson of the Federation of Early Childhood Providers
Covid-19 and the Environment
John Sweeney, Emeritus Professor of Climatology, Maynooth University
Covid-19: The Role of Meals On Wheels
Evelyn O'Rourke went to Finglas in Dublin to see The 'Support Meals On Wheels' Group there.
Covid-19: Gardening
Marie Staunton, Gardener & Diarmuid Gavin, Gardener