Today With Sean O'Rourke Wednesday 26 June 2019
(Listen back to episodes of 'Today with Sarah McInerney' here)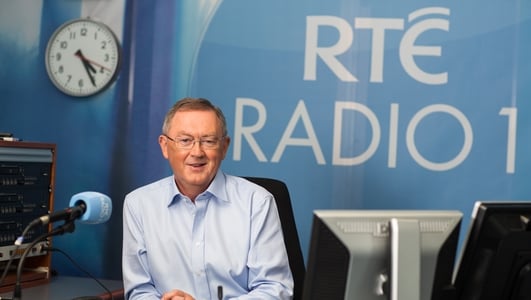 Today with Sean O'Rourke
The mid-morning current affairs magazine with the stories of the day, sharp analysis, sports coverage, in-depth features and consumer interest.
HSE Strike
To discuss today's strike, Damien O'Reilly was joined by Emily O'Connor, President of Irish Association of Emergency Medicine. Radio 1 reporter Brian O'Connell. Martin Wall, Industry Correspondent with The Irish Times and Deputy John McGuinness, Chair of Dáil Finance Committee.
Public Order Policing & Right to Protest
Bray Lakers Re-Opens
France Postpones Student Exams Due to Summer Heatwave
A bubble of hot Saharan air has brought scorching heat across the continent this week, with June records set to be broken in Austria, Belgium, the Czech Republic, Denmark, France, Germany, Luxembourg, the Netherlands and Switzerland
Crisis at Mexico US Border
Shocking images of a father and daughter have emerged from EI Salvador, who drowned while trying to get to the US have been released. Graham Finlay, lecturer in UCD's School of Politics and International Relations joined Damien to discuss the disturbing images that have emerged.
Returning to Work After Mental Illness
As many as one in four people experience a mental health illness at some point in our lives... For many it will result in their having to take time off work... However negotiating a return to work afterwards can be difficult... For advice on how it should be handled I'm joined by Professor Jim Lucey, Medical Director of St. Patrick's Mental Health Services and Clinical Professor of Psychiatry in Trinity College...
Curragh Derby Exhibition
This Thursday sees the kick off of one of the highlights in the racing calendar with the annual Irish Derby event taking place at the Curragh racecourse. While thousands of visitors are expected at the racetrack itself, Kildare Town is also part of the festivities. Radio 1 reporter Evelyn O'Rourke travelled to Kildare Town to find out more.
Live music with Claudia Boyle
Irish soprano Claudia Boyle joined Damien with some stunning live music before her she will appear at the NCH accompanied by the Il Pomo d'Oro period-instrument ensemble
Travel - Mumbai and Chennai
In 2008, travel writer Fionn Davenport was meant to go to Mumbai for No Frontiers. But the terrorist attacks put paid to the trip, and so India remained on the list of countries yet to visit. Until a couple of months ago, when he finally managed to go, visiting Mumbai and Chennai. He joined Damien to discuss this recent trip.