Today With Sean O'Rourke Monday 24 June 2019
(Listen back to episodes of 'Today with Sarah McInerney' here)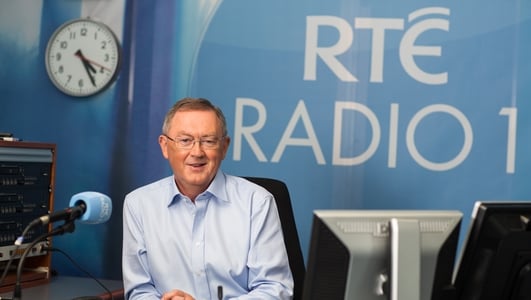 Today with Sean O'Rourke
The mid-morning current affairs magazine with the stories of the day, sharp analysis, sports coverage, in-depth features and consumer interest.
Concern over BAI proposal to regulate social media
The Broadcast Authority of Ireland, the body which is responsible for regulating TV and radio in Ireland has proposed that it be given powers to regulate harmful online content on social media platforms. Tom Lyons, Financial Journalist with The Currency and Mary Aiken, Cyber Psychologist discuss the issue with Sean O'Rourke.
Familicide Research Study
The Government has announced that it will appoint two additional experts to lead the study in familicide and homicide in Ireland. Dr Jane Monckton Smith, an internationally recognised forensic criminologist, will closely support social worker Norah Gibbons in her role as the study's lead, they spoke to Sean about this study earlier today.
Average house price in Dublin has fallen by €4,500 in last three months
Average second hand house prices in Dublin have decreased by an average of €4,500 in the past three months according to the latest Irish Independent REA Average House Price Index. To learn more about this recent survey, Sean was joined by Barry McDonald, Real Estate Alliance Spokesperson.
Human Rights in Ireland - Direct Provision & Hate Speech
Housing, Direct Provision and Hate Speech are just some of the areas addressed in the annual report from The Irish Human Rights and Equality Commission which has been published earlier today. Emily Logan, The Chief Commissioner joined Sean earlier today to discuss her recent annual report.
Boris in bother over media scrutiny
Tory leadership candidate Jeremy Hunt has added his voice to calls for his party leadership rival Boris Johnson to answer questions about a row with his girlfriend that led to police being called to their home over the weekend. John Rentoul, chief political commentator for The London Independent joined Sean the issue.
Young referee quits over match altercation
A soccer referee has quit the game after being subjected to years of abuse and violent threats. Following an incident at a match yesterday Harry McCann blew up the whistle and walked off the pitch. He spoke to Sean about his decision to leave soccer.
Book: Shadowplay: The Inside Story of Europe's Last War
Twenty years ago Europe's last war was raging in the Serbian province of Kosovo, where the government was brutally asserting its authority over the province's Albanian majority. Meanwhile NATO warplanes were hammering Serbia's infrastructure. Tim Marshall reported from both Kosovo and Serbia proper for Sky News. He describes his experiences there in a book called Shadowplay: Behind the Lines and Under Fire.
Fair Field in Spancilhill
Today we joined our Reporter Brian O'Connell from County Clare, where one of the most famous horse fairs in the country got underway earlier today, in a very wet fair field in Spancilhill.
Weekend Sport
Colm Keyes, Cliona Foly and Orla Bannon join Sean to discuss the the weekend of sport.