Today With Sean O Rourke Wednesday 23 November 2016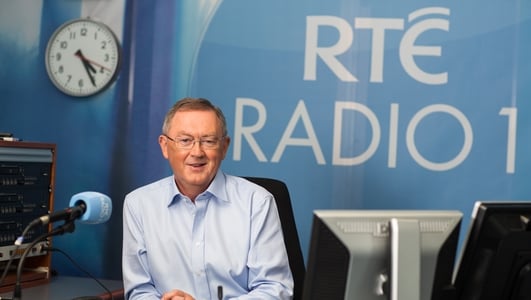 Today with Sean O'Rourke
The mid-morning current affairs magazine with the stories of the day, sharp analysis, sports coverage, in-depth features and consumer interest.
Mortgage Regulations
The Central Bank will announce the outcome of it's review into their divisive mortgage rules, introduced in 2015. The rules now, sets a limit on how much money buyers can borrow in relation to their income and the size of their deposit.
Brendan Burgess, Founder of Ask about Money DOT COM and Michael Dowling, Chairman of the Irish Brokers' Association Mortgage committee joined us in studio this morning.
Adolescents and Anxiety
It's been referred to as an 'anxiety epidemic' among young people in Ireland.
It can be caused by a variety of sources – from technology and social media to worries about fitting in socially and what friends think, as well as school and exam pressures.
Anxiety can manifest itself both physically and psychologically, from panic attacks to self-harm.
Our regular mental health experts Dr Harry Barry, GP, and mental health specialist and psychotherapist Enda Murphy joined us in studio this morning.
Homelessness
Now with Government due to bring out a rental strategy in the coming weeks, yesterday we heard from our reporter Brian O'Connell how the rental crisis is impacting on young professionals. Today Brian looks at the issue in relation to homelessness.
LIVE: Celine Byrne
Celine Byrne is widely considered to be Ireland's most successful operatic export. The Kildare woman has stunned audiences across the globe and drawn emphatic praise from many of the world's most demanding critics.
Later this month Celine will perform in Puccini's popular classic, La Bohème, at Dublin's Bord Gáis Energy Theatre, which opens on November 30th.
Symphisiotomy
A new report has found that as many as a third of applications to the Government's symphisiotomy redress scheme were unfounded, as the women were unable to show they had gone the procedure.
In her report to the Government assesor of the scheme Judge Maureen Harding Clarke says even some of those women who have been awarded compensation probably never had a symphisiotomy.
Dr. Peter Boylan, former master of National Maternity Hospital, Holles Street and Chairman of the Institute of Obstetricians and Gynaecologists joined us in studio this morning.
Kevin Myers - A Single Headstrong Heart
Kevin Myers is a reporter, controversialist, historian and autobiographer. His books include the novel Banks of Green Willow (2002), a memoir, Watching the Door (2006), and a series of historical essays, Ireland's Great War (2014). He writes a column for theSunday Times. He joined us this morning to talk about his new memoir, A Single Headstrong Heart.
Children's Court
From two friends breaking into an elderly woman's home.
to a youth facing 26 different charges, The Children Court in Smithfield in Dublin hears a wide range of cases every day.
The proceedings are held in camera, and our reporter Evelyn O'Rourke has spent the last few days visiting the courts. O Mio Babbino Caro
Celine Byrne
3:00