Today With Sean O Rourke Thursday 11 December 2014
Bailey Case
Ian Bailey's case against the state has made for riveting reading over the past five weeks. Bailey is suing the state for wrongful arrest on suspicion of the murder of the French woman Sophie Toscan du Plantier in west Cork in 1996. Bailey was twice arrested but never charged.
Dearbhail McDonald, Legal Editor of the Irish Independent has been covering the trial... Dearbhail reminds us of the case and why Ian Bailey is taking this action.
Keywords
Doping in Rugby
Paul Kimmage is a sports writer noted for being one of the first to raise questions about the endemic drugs culture in cycling – you may well remember that press conference where he tackled Lance Armstrong about his use of illegal substances – well, he has now turned his attention to rugby.
In recent weeks, he has been writing about the drugs culture in some international rugby teams....he joined Sean this morning to expand on that. He was also joined by former Ireland and Leinster player, Trevor Hogan and on the line another former Irish international, Shane Byrne.
Read More: Alan Quinlan: ' If there was a systematic doping culture in rugby, I'd have known about it' Alan Quinlan, The Irish Times, 10th Dec 2014
Keywords
Susan McKeown
Grammy award-winning and BBC Award-nominated vocalist and songwriter Susan McKeown, from Dublin, is widely acknowledged to be one of the most powerful and innovative voices in Irish music. In a distinguished career, McKeown has performed with Pete Seeger, Natalie Merchant, Linda Thompson, Billy Bragg, and Arlo Guthrie . She has one concert here in Dublin before she heads back to her old haunts in New York and beyond – it's in The Sugar Club this Sunday night at 7.30 and she sang live in studio this morning.
This morning she sang, 'Everything we Had was Good' and 'On the Bridge to Williamsburg'.
Keywords
Aras Attracta
The fall- out from the shocking RTE Prime Time programme on Aras Attracta in Swinford continues today. One newspaper has reported that staff at the centre have received death threats, while the HSE has described as "premature" any calls for a clean sweep of its management of residential centres for intellectually disabled people throughout the west of Ireland.
Responding to the Psychiatric Nurses' Association's demand, the HSE said it had already announced the initiation of a full assurance Review in all Áras Attracta's units.
Sheila Ryan, sister of Mary Garvin who featured in the RTÉ Primetime exposé of Bungalo 3, Aras Attracta in Swinford, Co. Mayo, shared with us her family's statement. Read it here.
Michael Griffin, of TMG Transport, lives in Swinford. His company provide transport to those living and working in Aras Attracta. He spoke of how the small community is in shock following the programme.
Keywords
Turkeys at Christmas
Near Maynooth, Co Kildare, Paddy O'Gorman visited Ger Myler's farm. He keeps cattle the year round, this is obviously a time when there's a strong demand for turkeys. He has about 3000 there. First thing Paddy had to do was put on protective footwear so as not to bring any diseases in to the birds on his shoes, then Ger brought him in to his turkey shed.
Keywords
CIA Follow Up
First came the Senate Intelligence Committee's report on the CIA's detention and interrogation program. Now comes the political fallout. Firstly we heard former American vice-president Dick Cheney speaking on Fox News last night.
Joining Sean on line was Terrence McCoy, reporter with the Washington Post.
Keywords
Christmas for Parents
Christmas can be a stressful time of year, especially for parents of young children. Roisin O'Hara joined Sean with some tips for reducing those stress levels in the run up to December 25th, first of all we find out what people are stressed about.
Fidelma Farrelly, a Mindfulness Practitioner, from the Oscailt Centre in Dublin, gave us a one minute mini-meditation.
Keywords
Gardening
Paraic Horkan from Horkans Garden and Lifestyle Centre in Castlebar joined Sean to talk about Christmas plants, herbs and fragrances.
We all like a Poinsettia around the house, Paraic answers our question on is this the most festive Christmas plant.
Visit Horkans.ie for all tips on Christmas care.
Read More: How to Care for your Real Christmas Tree
Read More: Christmas Kitchen Herb Collection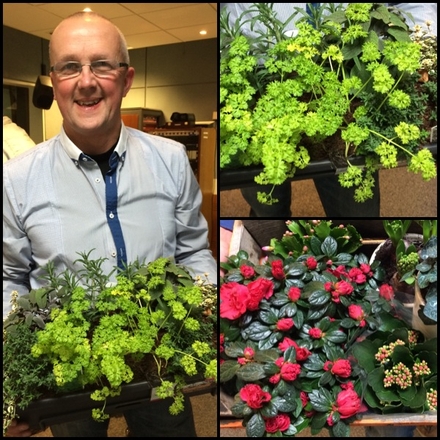 Keywords