Today With Sean O Rourke Thursday 16 October 2014
Tracy Coyne's Spooky Halloween Recipes
Tracy Coyne, winner of the Great Irish Bake Off, joins Sean with a couple of Halloween recipes which are easy and fun to do with children.
Jelly Monsters – Great treats for Trick 'r Treaters on Halloween Night!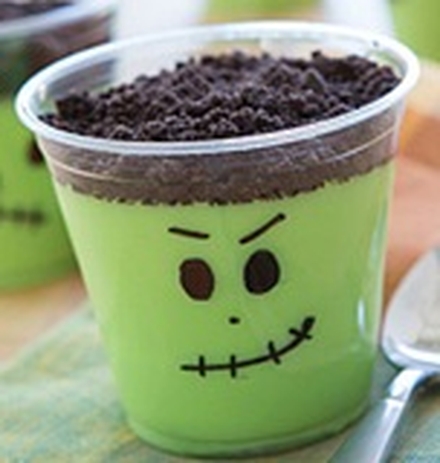 What you need…
1 Block of Vanilla Ice Cream
1 Pack of Lime Jelly
A package of Oreos Crumbled up
A couple of drops of food colouring to make it really hideous…
Small Jars or Disposable Clear Party Glasses
Permanent Black Marker
What you do
Allow the ice cream to melt at room temperature or in the microwave and set aside.
Melt the block of Jelly in the microwave and mix it with the ice cream until well blended and slimy green adding a few drops of green food colouring if it isn't gross enough…
Pour the mixture into little glass yoghurt jars or disposable clear party cups and allow to set in the fridge overnight.
In the morning, sprinkle the Oreo Hair onto each jelly and use the black marker to draw the scariest and funniest Halloween faces you can…
Hooting Owl Cakes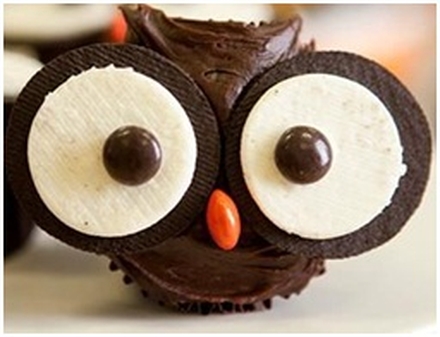 What you need…
125g Self Raising Flour
125g Caster Sugar
125g Softened Butter
2 Eggs
37g Milk
Pinch of Baking Powder
Drop of Vanilla Essence
400g Icing Sugar & 50g Cocoa Powder mixed with a few tablespoons of warm water to make a stiff icing
12 Oreo Cookies
24 Brown Smarties or M&Ms and 12 Orange Smarties or M&Ms
Line a 12 hole bun tin with paper cases.
What you do
Pre-heat the oven to 180c
Mix the Flour, Butter, Sugar, Eggs, vanilla and milk together in a mixer until you have a batter of dropping consistency. Don't worry about keeping air in this mixture because you want your little cakes to have a flattish top to decorate with the owls face.
Spoon a small amount into each bun paper using all of the mixture between the 12.
Bake for 16-18 minutes or until the buns are golden and spring back to the light touch of your finger.
Allow to cool on a rack while you mix the icing.
Mix the sugar and cocoa together and add the water a little at a time until you have a tight, but dropping consistency – if the icing is too runny it will take an age to dry so be cautious when adding the water. Spread this scantily on the top of each mini cake as a base for sticking on the Owl face.
Decorate the little faces by splitting each Oreo in half and using them as eyes, adding a brown Smartie to each for the pupils. Then add an orange Smartie on its side between the eyes as the little Owl's beak.
Halloween Smiles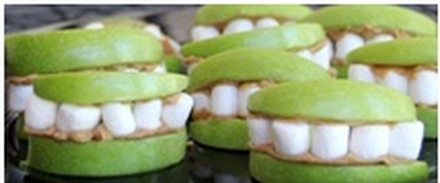 What you need…
2 Green or Red Apples, cored and sliced into wedges.
Peanut Butter or Nutella
A handful of Mini-Marshmallows
What you do
Spread one side of each apple slice with the peanut butter or Nutella, which ever you're using and stick the mini-marshmallows onto one slice to form little teeth, then top with a second slice securing the teeth in place.
Craft Ghost Pops for the Trick 'r Treaters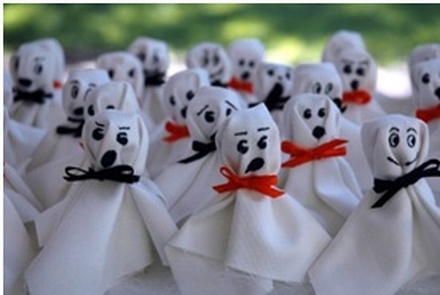 What you need…
Some Chuppa Chups or other pop stick lollipops
A piece of an old bed sheet torn into little 15cm x 15cm squares
Some Coloured Ribbon
A Fine Tipped Black Marker or Pen
What you do
Cut the ribbons into short lengths but long enough to tie around the pop sticks.
Wrap each pop in a square of cloth securing the ends on the stick with your fingers. Tie a bow with the ribbons and draw a ghost face on each pop.
If you're too little to tie the ribbons, use little elastic bands instead – you'll find them in craft shops, but if you're nice to your butcher he'll give you the little red elastic ties they use for stuffing meat which will add a little colour too!
See Tracy's Facebook page for more.
Keywords