Listen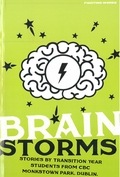 He may be known for his prizewinning novels but when he's not writing Roddy Doyle is busy helping students find their own writing voice in his Fighting Words project.
One group of students have just published a book of their short stories, which they wrote over the course of their transition year and Edel Coffey went along to the book launch last Monday night and she joined Sean in studio.
Visit their website here.
it's not just for school children, they do adult workshops too so if you want more information the best place to start with is their website or you can call them on (01) 8944576. And if you'd like to volunteer with them you can get in touch the same way.