The Mooney Show, Saturday November 14th 2015
LIVE Dawn Chorus
The countdown is on! Our epic LIVE Dawn Chorus programme will place this year on Sunday, May 5th, beginning at midnight. During our seven-hour journey, we'll travel from East to West, visiting locations from India to Iceland, as we team up with EBU broadcasters and BirdLife International ornithologists to bring you the very best of early morning birdsong from around the world!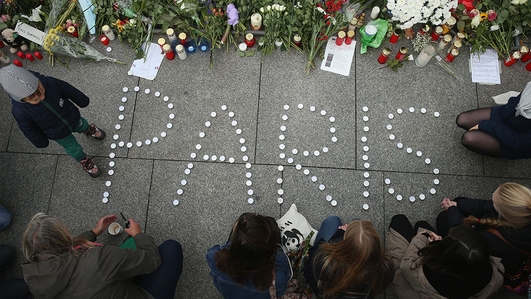 Paris, Remembered
A full day has passed now since those horrific attacks began in Paris. And we don't want to let this moment pass without reflecting on the events and expressing our profound sympathy with the victims and their families. That sympathy is, of course, accompanied by a very deep solidarity as well, with our fellow Europeans.
We Irish have enjoyed enjoyed extraordinary cultural bonds with the city of Paris over the centuries. Revolutionaries like Wolfe Tone and Robert Emmet. Diplomatic figures like Daniel O'Connell and Charles Stuart Parnell. All drew huge inspiration from the dynamic political ether that permeated the French capital.
Our cultural links go even deeper. Great Irish artists like Sir John Lavery and Eileen Gray drew similar creative inspiration from the Parisien art world.
But most significantly, two of the greatest literary figures we have produced, both rest in Paris today. Oscar Wilde , whose tomb can be found at the famous Père Lachaise cemetery. And Samuel Beckett, who is buried at Montparnasse. These days, not too far from Montparnasse, in central Paris, the Irish cultural centre, the CCI, drives cultural collaboration between Ireland and France.
And to everybody there, and everybody across Paris, and across France, we send our heartfelt best wishes.
Selling The Beatles
What is it about popstars' hair that gets their fans so worked up? Popstars like One Direction. "It's all marketing" says you! "It's all that money spent on videos and stylists and photo shoots circulated on Facebook." Well, we have news for you! This phenomenon is NOT something new!
Does that sound familiar? Girls talking about their pop idols, and obsessing over their hair? That was Dublin, 1963. And the band they were talking about?
Well, the Beatles mightn't have acknowledged the existence of a "Mersey Sound", but we certainly do. That's Day Tripper, released 50 years ago, on December 3rd, 1965. And doesn't it sound just incredible, even now? That clean, crystal clear guitar sound is very much a hallmark of early Beatles recordings. And it's something that helps maintain the freshness of their records, even half a century on.
Now can you imagine actually OWNING one of the key components of that sound? Maybe the foot pedal that John Lennon used for his guitar? Maybe the VOX AC-30 amplifier, from Abbey Road studios, that was used in those early recordings?
You'd probably need a few quid, mind you - even old Beatles guitar strings could make a dent in your pocket, if you could PROVE they were used in recording any Beatles classics.
But whatever about a guitar string - what about an actual guitar? What would a genuine, certified John Lennon guitar set you back? Like, for example, THIS guitar?
in case you're interested, John Lennon's guitar, as you heard there, was a Gibson J-160E. And if you're interested in buying it, you might be a little late. It sold last this week at auction for $2.4 million, to an undisclosed buyer.
2.4 MILLION dollars!
What we CAN disclose, however, is the name of the man who sold it. Or one of the men.
He's an Irish man, from Athlone. He now lives between New York and Los Angeles. He's Executive Director of Julien's Auctions, AND, as it happens, he's an old friend of Mooney.
Martin Nolan joins us on the line to tell us more...
A couple of weeks ago on the show, we did something on the "catchiest tunes of all time" - "as proven by scientists." at Goldsmiths University in London. Bizarrely, not ONE Beatles song came in the top 10. Which just goes to prove, there are areas where science should really take a backseat!
The Beatles could fill that top 10 on their own! Yellow Submarine, which we played on the show couple of weeks ago, would certainly be a contender. But for many, one Beatles song towers above all the others for its infectious chorus.
Earlier this week, on an ITV show, entitled The Nation's Favourite Beatles Number One, this particular song came out in top spot: number one out of all of the Beatles 27 number one singles! So if you're reading this on your laptop at home, on the tablet on the train, or on your phone in bed, there's only one thing to do right now. Hit play below and turn up your vocal chords. This is Hey Jude.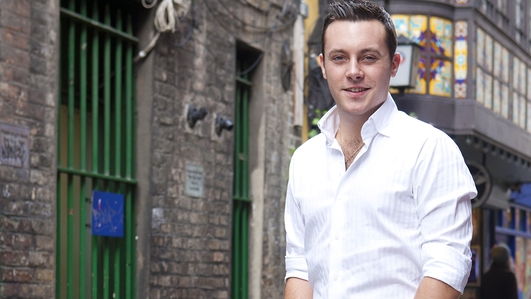 Nathan Carter
Unless you've been living under a rock, you're probably aware that country music is undergoing a serious renaissance across Ireland ... from Garth Brooks' record-breaking five-gig sellout in Croke Park – before it was controversially cancelled - to the recent Country special on The Late Late Show - which attracted an audience of over 700,000, making it one of the most watched TV events of the year!
Many would argue that no one song has done more for its revival than this one:
That was of course Nathan Carter with Wagon Wheel. It could be the hardest working song in Country, by the hardest working man in the business! We're absolutely delighted that Nathan joins us in studio this evening for a chat and a tune or two!
Nathan Carter in studio with Derek Mooney & Brenda Donohue
Nathan has just finished recording a new album, due for release in the Spring of 2016. His new DVD "LIVE AT THE MARQUEE, CORK" will be released on Monday, and is a must buy for the festive season. Nathan plays the TF Royal, Castlebar on December 28th and Vicar Street, Dublin on December 29th and 30th - but before that, do not miss Nathan and the band on Stetsons And Stilettos on RTÉ One television tomorrow at 7.30pm. For more information, click here - and for more information on Nathan and his upcoming tour dates, visit www.nathancartermusic.com.
Colour My World Winners!
A few weeks ago, The Mooney Show teamed up with the Sunday World and the Wyatt Hotel, Westport for it's tenth year of the Colour My World competition. We asked our young listeners to show off their artistic skills by colouring in the Hallowe'en spooktacular themed poster that was free in MagazinePlus, inside the Sunday World. And they didn't disappoint. We received thousands of entries. And after much deliberation we have the winners!!
This year's prize is two Westport Winter Wonderland Packages to The Wyatt Hotel in the heart of Westport plus €250 each. The lucky winning families will enjoy two nights B&B, plus a gourmet three-course evening meal in JW's Brasserie at The Wyatt Hotel on a night of their choice - plus a family pass to visit Santa at the magical Winter Wonderland at Westport House!
Brenda Donohue joins Derek in studio with details of one of the winners: Shelagh Gilbourne from Millstreet in Cork! Brenda went along to surprise Shelagh at her school, the Presentation National School in Millstreet, Cork.
Brenda Donohue interviewing the winner of the 2015 Colour My World Competition: Shelagh Jessica Gilbourne from Millstreet, Co. Cork - a pupil at Presentation N.S., Millstreet (Picture by Seán Radley)
Pictured in Presentation N.S., Millstreet at the recent awarding of the overall prize to the winner of the 2015 Colour My World Competition - from left: Joan O'Mahony, Principal; broadcaster supreme, RTÉ's Brenda Donohue, Margaux Gilbourne, Gillian Gilbourne (mother), Shelagh Jessica Gilbourne (winner), Patrick Gilbourne, Nora Murphy (teacher) and Angela Kelleher (aunt). (Picture by Seán Radley)
Congratulations also to Oisin Fleming from Castlerea in Co. Roscommon!
Plus we have five winners who will receive €100 each - and they are:
Sophia Breen, age 11, from Mallow, Cork
Jack Keogh, age 8, from Lucan, Co. Dublin
Laura Canning, age 9, from Co. Wexford
Katie Nolan, age 5 1/2, from Kill, Co. Kildare
Aideen Hickey, age 12, from Co. Clare
*** IF YOU WOULD LIKE TO TAKE PART IN OUR GENERAL KNOWLEDGE QUIZ, SIMPLY E-MAIL YOUR NAME AND CONTACT NUMBER TO MOONEY@RTE.IE!***
***To visit the Mooney Goes Wild website, click here!***
Follow us on Twitter - @rtemooney!
E-mail mooney@rte.ie if you'd like to win a hotel break in our general knowledge quiz!