The John Murray Show Monday 29 July 2013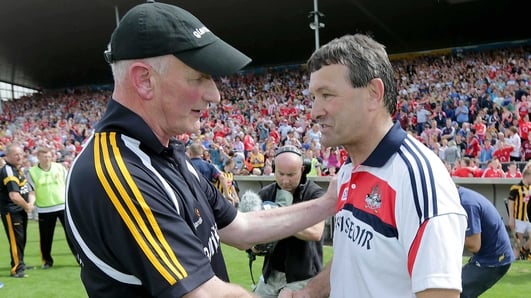 Pat Shortt on Kilkenny's Loss in the Hurling Championship
Kilkenny fans are waking up this morning to the harsh reality that their team is out of this year's hurling championship. For Pat Shortt the occasion has provided an opportunity for a bit of mischief..
Pat who is from Upperchurch, Co Tipperary. was watching the match over in London where he is currently appearing in the Cripple of Inishmaan. His kids were at the match.
He was so delighted with Kilkenny being beaten by Cork yesterday that he tweeted a picture of himself laughing as Kilkenny manager Brian Cody was interviewed on television behind him. Brian Cody is looking quite glum.. and Pat is throwing his head back and laughing his head off.
He wrote: Top is sad Kilkenny man. Below is happy Tipperary man.
It was supposed to be just a tweet to his friends, to have a laugh. But then the Independent picked it up and put it up on their website.
Keywords