The History Show Sunday 24 November 2019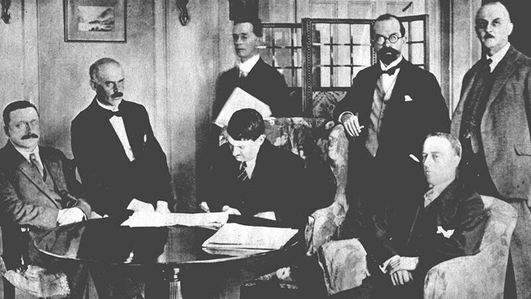 Irish War of Independence - Endgame
On this week's programme, we present the final episode in our series on The Irish War of Independence. Tonight – the conflict reaches its peak. By late 1920, the fighting in Ireland had reached savage levels of violence between the IRA and the Crown Forces – and, in early 1921, it showed no sign of slowing down. We'll explore why the stage was set for a negotiated solution, how the parallel political and military campaigns came together, and how the Anglo-Irish Treaty offered fresh hope for peace, while opening new divisions.
Myles is joined throughout the programme by three guests:
Dr Pat McCarthy is a historian and the author of Waterford: The Irish Revolution 1912-1923, which is part of the county by county series from Four Courts Press.
Dr Adrian Grant is a historical researcher at Ulster University and the author of Derry: The Irish Revolution, 1912–23, taken from that same Four Courts Press series.
Dr Michael Kennedy is Executive Editor of the Royal Irish Academy's 'Documents on Irish Foreign Policy' series, and a co-editor of the recently published Ireland: a voice among the nations.
Throughout this series we've been drawing on witness statements from the Bureau of Military History at the Irish Military Archives.These statements show important perspectives on military engagements, intelligence work, and many other aspects of the conflict. In some cases, they also reveal the effect the war had on some of the combatants' mental state. Earlier, Lorcan Clancy spoke to psychiatrist Brendan Kelly about the case of Charles Dalton.
About The Show
Bringing the past to life! Discover how our world was shaped as Myles Dungan and guests explore events ranging from medieval times to the recent past.
We want to help explain ourselves to ourselves. We will search out fresh angles on familiar topics, seek out the unfamiliar and will not shy away from bizarre or controversial issues. Our ultimate goal is to make The History Show the primary port of call for those with an intense or even a modest interest in the subject. We want to entice the casual and the curious to join us in celebrating the past.
Our aim is to create informative, reflective, stimulating and above all, entertaining radio.
Join us on Sundays from 6.05pm for The History Show with Myles Dungan on RTÉ Radio 1.
A Pegasus production for RTÉ.