The History Show Sunday 17 November 2019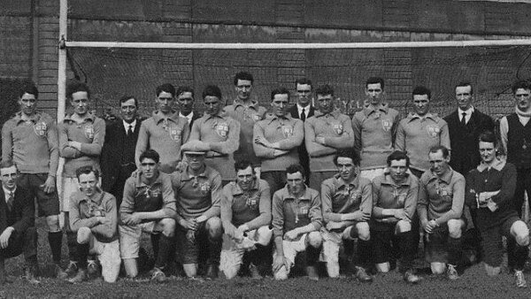 Irish War of Independence - The Dublin War
As we continue our series on the Irish War of Independence, tonight, we turn our focus to one of the most active and intense theatres in that conflict – Dublin.
We'll hear about the Twelve Apostles – more commonly known as the Squad – Michael Collins' Assasination Unit – which targeted key figures in the British Intelligence Network.
Plus…Bloody Sunday. One of the most violent days in the War of Independence, when The Squad carried out an audacious series of co-ordinated shootings on unsuspecting British agents. And – the carnage that followed at Croke Park, when the Crown Forces carried out a brutal reprisal, opening fire on a crowd of innocent civilians.
But we begin this evening at 6 Harcourt Street in Dublin. There stands an elegant Georgian Townhouse, that today serves as the Headquarters of Conradh na Gaeilge. The building has a long association with the nationalist movement – serving at one time as the Headquarters of Sinn Fein, and as the Dáil's ministerial offices in the early part of the war. Lorcan Clancy visited 6 Harcourt Street to meet curator Cuan O'Seireadan, and find out more about the buildings revolutionary heritage.
Myles is joined throughout this programme by three guests – Brian Hughes is a Lecturer in History at Mary Immaculate College in Limerick.
Cathy Scuffil is a Dublin City Council Historian-in-Residence for the South Central Area.
And from our Cork studio w'ere joined by Michael Foley, a journalist with the Sunday Times, a member of the GAA's history and commemorations committee, and the author of the 2014 book The Bloodied Field – an account of Bloody Sunday in Croke Park, in November 1920.
About The Show
Bringing the past to life! Discover how our world was shaped as Myles Dungan and guests explore events ranging from medieval times to the recent past.
We want to help explain ourselves to ourselves. We will search out fresh angles on familiar topics, seek out the unfamiliar and will not shy away from bizarre or controversial issues. Our ultimate goal is to make The History Show the primary port of call for those with an intense or even a modest interest in the subject. We want to entice the casual and the curious to join us in celebrating the past.
Our aim is to create informative, reflective, stimulating and above all, entertaining radio.
Join us on Sundays from 6.05pm for The History Show with Myles Dungan on RTÉ Radio 1.
A Pegasus production for RTÉ.