The History Show Sunday 27 October 2019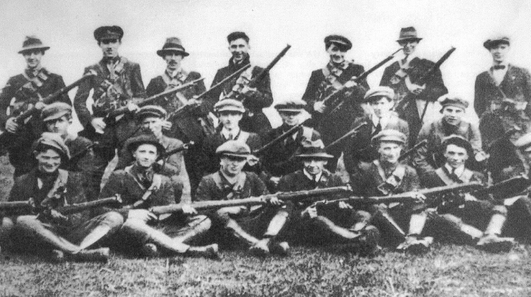 Irish War of Independence - The Dirty War, Part Two
Following our last programme, where we explored the atrocities and reprisals carried out by the Crown Forces, in this episode we'll look in more detail at the IRA - including the kidnapping and executions of spies and the burning of big houses.
We'll hear more about certain aspects of an often ruthless military campaign – including the burning of the big houses, and, the kidnapping and executions of spies.
We begin this evening with a look at the weaponry the IRA use to prosecute their campaign. Guns and ammunition were always hard to come by. We visit the Midlands National Shooting Centre near Tullamore, and find out more from Lar Joye, Port Heritage Director at Dublin Port, and Captain Alan Kearney, a serving officer in the Irish Defence Forces.
Our main focus tonight is the darkest and most ruthless elements of the IRA's military campaign - principally the executions and 'disappearances' of alleged spies and informers. Myles is joined throughout the programme by two guests.
Dr John Borgonovo is a lecturer in the School of History in University College Cork, and a co-Editor of the Atlas of the Irish Revolution. And, Dr Pádraig Óg Ó Ruairc is an historian and author, who's currently working on a project with UCC to identify all the 'Disappeared' in the War of Independence.
In a report from Lorcan Clancy on the burning of Country Houses, we'll hear how and why these houses were targeted by the IRA. He speaks to Professor Terence Dooley the director of the Centre for the Study of Historic Irish Houses and Estates at Maynooth University. We also hear from Jean Young, the owner of Rokeby Hall, a Neoclassical Country House in County Louth.
About The Show
Bringing the past to life! Discover how our world was shaped as Myles Dungan and guests explore events ranging from medieval times to the recent past.
We want to help explain ourselves to ourselves. We will search out fresh angles on familiar topics, seek out the unfamiliar and will not shy away from bizarre or controversial issues. Our ultimate goal is to make The History Show the primary port of call for those with an intense or even a modest interest in the subject. We want to entice the casual and the curious to join us in celebrating the past.
Our aim is to create informative, reflective, stimulating and above all, entertaining radio.
Join us on Sundays from 6.05pm for The History Show with Myles Dungan on RTÉ Radio 1.
A Pegasus production for RTÉ.