The History Show Sunday 20 October 2019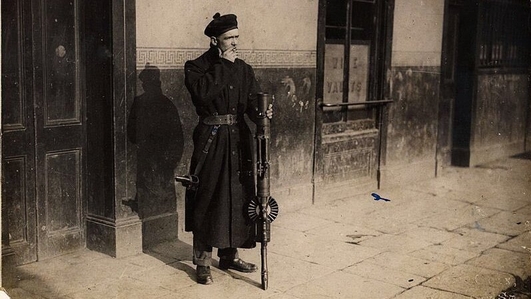 Irish War of Independence - The Dirty War, Part One
As we continue our series on the Irish War of Independence, we look in detail at the 'Dirty War'. This is the first of two episodes exploring the attacks and reprisals that came to define the conflict. We'll ask, who were the Auxiliaries and the Black and Tans? And, we'll investigate some the war's most infamous atrocities, like the Burning of Ennistymon and the Burning of Cork.
Throughout the programme, we hear voices from the RTÉ Radio Archives, and voiced material from the Bureau of Military History, sponsored by our partners at the Military Archives.
Myles is joined by four guests: Paul O'Brien is a military historian and author - his 2017 book Havoc: The Auxiliaries in Ireland's War of Independence examines the origins and operations of the Auxiliaries.
Ernest McCall is a researcher and author who has written three books about the Auxiliaries, which are available on his website.
Liz Gillis is an historian and the author of a number of books on the Irish revolutionary period.
Tomás MacConmara is an oral historian and the author of the book The Time of the Tans: An Oral History of the War of Independence in County Clare, published earlier this year.
About The Show
Bringing the past to life! Discover how our world was shaped as Myles Dungan and guests explore events ranging from medieval times to the recent past.
We want to help explain ourselves to ourselves. We will search out fresh angles on familiar topics, seek out the unfamiliar and will not shy away from bizarre or controversial issues. Our ultimate goal is to make The History Show the primary port of call for those with an intense or even a modest interest in the subject. We want to entice the casual and the curious to join us in celebrating the past.
Our aim is to create informative, reflective, stimulating and above all, entertaining radio.
Join us on Sundays from 6.05pm for The History Show with Myles Dungan on RTÉ Radio 1.
A Pegasus production for RTÉ.