The History Show Sunday 13 October 2019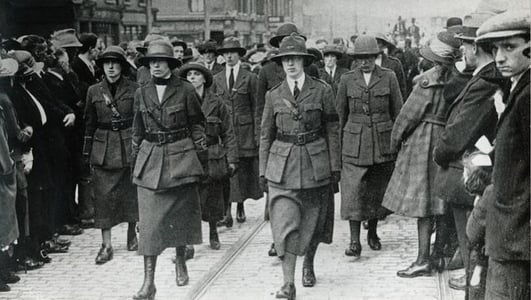 Irish War of Independence - Women of the Revolution
As we continue our series on the Irish War of Independence, tonight our focus is on the women of the revolution. We'll hear about the vital role they played in the conflict and how Cumann na Mban served as the eyes and ears of the republican campaign. We'll also discuss the physical and mental trauma of the war, and the gendered violence, perpetrated by both the IRA and the Crown Forces.
Myles is joined by Marie Coleman, Senior Lecturer in history at Queen's University Belfast, Mary McAuliffe, an historian with University College Dublin, Tomás Mac Conmara, an oral historian and author, and Ailbhe Rogers, an historian and a PHD candidate at Maynooth University.
In a report from Colette Kinsella, we hear from Lindie Naughton on the experience of Countess Constance Markievicz during the war. Lindie is the author of two books on the Countess, including last year's volume Markievicz: Prison Letters and Rebel Writings
About The Show
Bringing the past to life! Discover how our world was shaped as Myles Dungan and guests explore events ranging from medieval times to the recent past.
We want to help explain ourselves to ourselves. We will search out fresh angles on familiar topics, seek out the unfamiliar and will not shy away from bizarre or controversial issues. Our ultimate goal is to make The History Show the primary port of call for those with an intense or even a modest interest in the subject. We want to entice the casual and the curious to join us in celebrating the past.
Our aim is to create informative, reflective, stimulating and above all, entertaining radio.
Join us on Sundays from 6.05pm for The History Show with Myles Dungan on RTÉ Radio 1.
A Pegasus production for RTÉ.