The History Show Sunday 22 September 2019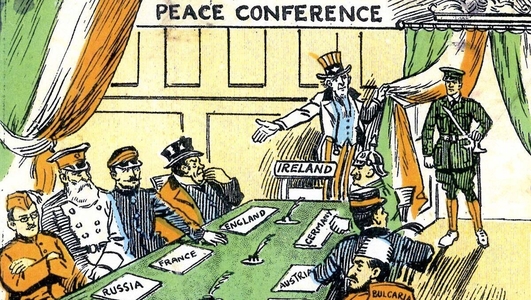 Irish War of Independence - The Gathering Storm
As we return for a new season, tonight we present the first in a special series of episodes on The Irish War of Independence. For the next few months, we'll be exploring different aspects of the conflict – from the meeting of the First Dáil in January 1919, to the signing of the Treaty in December 1921.
Tonight's programme – The Gathering Storm. How the war began with early ambushes, attacks on RIC Barracks, and skirmishes. How Dáil Eireann set about building and financing the new Republic, and how the government emphasised its legitimacy through the new institution of the Dáil Courts.
Myles Dungan is joined in studio by Brian Hanley, an historian and author; and Heather Laird, a lecturer in the school of English at University College Cork, and the author of the 2018 book Commemoration and the 2005 book 'Subversive law in Ireland, 1879–1920.
Also joining Myles is Daithí Ó Corráin, a lecturer in history in the School of History & Geography at Dublin City University. Dáithí is also co-editor, with Marian Lyons, of the county-by-county Irish Revolution series published by Four Courts Press.
Also, in a report from Lorcan Clancy, we''ll hear about the revolutionary diplomats of Dáil Eireann's nascent foreign service, and their attempts to garner international support for the Republican cause. Historian John Gibney shares his research into the lives and work of several of these diplomats.
About The Show
Bringing the past to life! Discover how our world was shaped as Myles Dungan and guests explore events ranging from medieval times to the recent past.
We want to help explain ourselves to ourselves. We will search out fresh angles on familiar topics, seek out the unfamiliar and will not shy away from bizarre or controversial issues. Our ultimate goal is to make The History Show the primary port of call for those with an intense or even a modest interest in the subject. We want to entice the casual and the curious to join us in celebrating the past.
Our aim is to create informative, reflective, stimulating and above all, entertaining radio.
Join us on Sundays from 6.05pm for The History Show with Myles Dungan on RTÉ Radio 1.
A Pegasus production for RTÉ.