The History Show Sunday 15 April 2018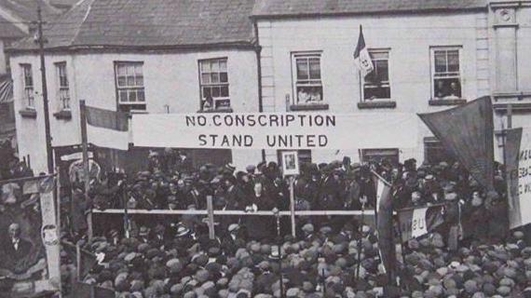 The Conscription Crisis
One hundred years ago this week, the British moved to impose conscription in Ireland. It was an attempt to force Irishmen into the carnage of World War One, at a time when anti-war feeling had never been stronger or more widespread. On this programme, we'll explore this watershed moment in Irish history, when the country faced down the British government, and rallied together to oppose the plan.
In a report by Lorcan Clancy featuring military historian Paul O'Brien, we hear how Britain's shortage of manpower led them to take the drastic step of imposing compulsory military service on Ireland.
Myles is joined throughout the problem by historian Ciarán Wallace from Trinity College Dublin, Labour historian and author Padraig Yeates, and historian Liz Gillis.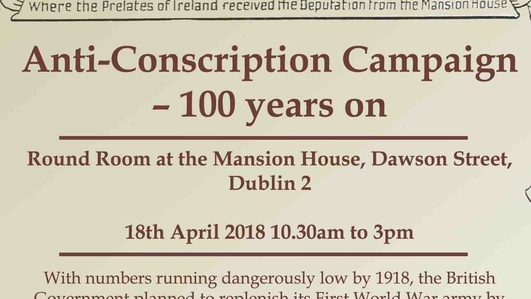 Event: 'Anti-conscription campaign: 100 years on'
On Wednesday 18th April 2018, Dublin City Council will host a one-day conference to mark the Mansion House Conference against conscription which was convened and chaired by Lord Mayor Laurence O'Neill on 18 April 1918 at Dublin's Mansion House.
The conference will begin at 10.30am in the Round Room at the Mansion House, Dawson Street, Dublin 2. Speakers on the day will include Ciarán Wallace (TCD), O'Neill's biographer Thomas J. Morrissey SJ, Brian Hanley (Edinburgh), Liz Gillis, Dr Micheline Sheehy Skeffington (NUIG), Francis Devine (SIPTU) and Roger Cole. The seminar will also look at the crisis as recalled in song. Admission is free and lunch is included, but advance registration is required by e-mail to dublinpubliclibraries@dublincity.ie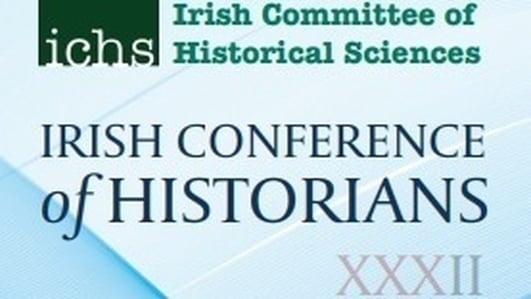 Event: 32nd Irish Conference of Historians
The 32nd Irish Conference of Historians: Sex, Sexuality and Reproduction: historical perspectives takes place at the University College Cork campus, 26-28 April 2018.
It will feature twenty-two panels addressing topics relating to the history of sex, sexuality and reproduction from antiquity to the 1990s.
Click here for more information.
About The Show
Bringing the past to life! Discover how our world was shaped as Myles Dungan and guests explore events ranging from medieval times to the recent past.
We want to help explain ourselves to ourselves. We will search out fresh angles on familiar topics, seek out the unfamiliar and will not shy away from bizarre or controversial issues. Our ultimate goal is to make The History Show the primary port of call for those with an intense or even a modest interest in the subject. We want to entice the casual and the curious to join us in celebrating the past.
Our aim is to create informative, reflective, stimulating and above all, entertaining radio.
Join us on Sundays from 6.05pm for The History Show with Myles Dungan on RTÉ Radio 1.
A Pegasus production for RTÉ.