The History Show Sunday 4 March 2018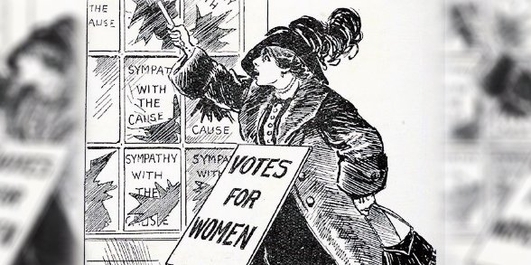 The Women's Suffrage Movement
On this week's programme, we're marking the centenary of the Representation of the People Act. That piece of legislation, one hundred years ago, saw some women in Ireland get voting rights for the first time. On tonight's show, we'll trace the origins of the suffrage movement, and look at the lives of its key activists. We'll explore this struggle for women's empowerment as it took place all over this island, highlighting individual stories, and the resistance that suffragettes faced. And, in light of this centenary, we'll reflect on women's rights in Ireland over the past hundred years. Myles was joined throughout the programme by the following guests:
Margaret Ward, a visiting research fellow at Queen's University. She is editor of the recent book Hanna Sheehy Skeffington - Suffragette and Sinn Feiner: Her Memoirs and Political Writings, that's published by UCD Press.
Professor Linda Connolly, Director of the Maynooth University Social Sciences Institute, and author of the book From Revolution to Devolution: the Irish Women's Movement.
Claire McGing, a specialist in gender and politics, also with Maynooth University. And our researcher, historian Liz Gillis who is the author of a number of books, including Women of the Irish Revolution.
We also hear a report from Rhona Tarrant, who speaks to Leann Lane of Dublin City University about the suffragette Rosamond Jacob. Leann's biography of Jacob, Rosamond Jacob: Third Person Singular, is published by UCD Press.
About The Show
Bringing the past to life! Discover how our world was shaped as Myles Dungan and guests explore events ranging from medieval times to the recent past.
We want to help explain ourselves to ourselves. We will search out fresh angles on familiar topics, seek out the unfamiliar and will not shy away from bizarre or controversial issues. Our ultimate goal is to make The History Show the primary port of call for those with an intense or even a modest interest in the subject. We want to entice the casual and the curious to join us in celebrating the past.
Our aim is to create informative, reflective, stimulating and above all, entertaining radio.
Join us on Sundays from 6.05pm for The History Show with Myles Dungan on RTÉ Radio 1.
A Pegasus production for RTÉ.