The History Show Sunday 7 January 2018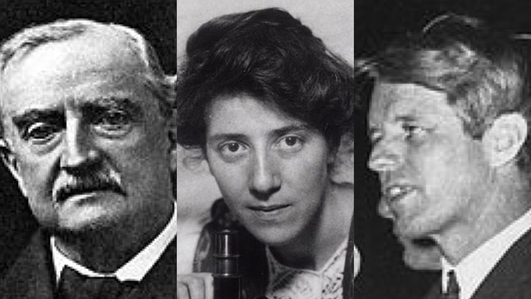 Anniversaries Coming Up in 2018
On this week's programme, we're looking ahead to some of the many significant and interesting anniversaries that will fall during the coming year.
1918 of course saw a momentous general election in Ireland; a conscription crisis; the introduction of voting rights for women on these islands, and the outbreak of the deadly so-called Spanish Flu.
Aside from the events of 1918, we'll also be looking at other anniversaries which are coming up in this new year, including some of the many important events of 1968. That was a tumultuous year of protests around the world, and notably in the United States. the year when two of the most iconic American political figures of the 20th century - Martin Luther King and Robert Kennedy - were assassinated.
Our guests throughout the programme are Mark Duncan, a director of Century Ireland, Katherine McSharry of the National Library of Ireland and Daniel Geary, Associate Professor in American History at Trinity College Dublin.
We also hear a report from Lorcan Clancy about the sinking of the mailboat the RMS Leinster in 1918 - he speaks to Stephen Ferguson, Assistant Secretary of An Post and author of the book The Post Office in Ireland: An Illustrated History.
Plus, to mark 50 years since Chester Beatty's death and the donation of his vast collections to the people of Ireland, Rhona Tarrant reports from the Chester Beatty Library in Dublin and speaks to its director Fionnuala Croke.
About The Show
Bringing the past to life! Discover how our world was shaped as Myles Dungan and guests explore events ranging from medieval times to the recent past.
We want to help explain ourselves to ourselves. We will search out fresh angles on familiar topics, seek out the unfamiliar and will not shy away from bizarre or controversial issues. Our ultimate goal is to make The History Show the primary port of call for those with an intense or even a modest interest in the subject. We want to entice the casual and the curious to join us in celebrating the past.
Our aim is to create informative, reflective, stimulating and above all, entertaining radio.
Join us on Sundays from 6.05pm for The History Show with Myles Dungan on RTÉ Radio 1.
A Pegasus production for RTÉ.