The History Show Sunday 31 December 2017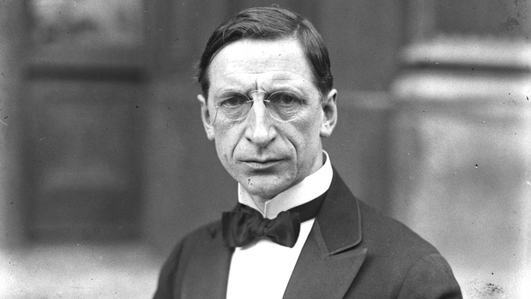 Éamon de Valera
On this week's programme, we'll be looking at the life of teacher, revolutionary fighter, statesman, Taoiseach, and President – Éamon de Valera. This year marked one hundred years since the first time he was elected as a public representative, in the Clare By-Election of 1917. From his early life to his disputed legacy, on tonight's show we explore the long and remarkable career of the most dominant political figure of 20th century Ireland.
Throughout the programme, Myles is joined by journalist and broadcaster David McCullagh, who is author of the recently published book De Valera – Rise: 1882 to 1932; and Diarmaid Ferriter, Professor of Modern Irish History at University College Dublin, and also a biographer of the political leader – his 2007 book Judging Dev analysed De Valera's career and correspondence, reassessing him as a deeply misunderstood figure.
In a report from Lorcan Clancy featuring Mícheál Ó Doibhilín and Sean Enright, we investigate the oft-repeated claim that De Valera was saved from execution in 1916 because he was born in the USA.
We also hear from historian and researcher Liz Gillis who shares material from the RTÉ Archives, and archivist Catriona Crowe who brings an interesting 1957 letter written by De Valera where he talks about his lifelong love for the game of rugby.
About The Show
Bringing the past to life! Discover how our world was shaped as Myles Dungan and guests explore events ranging from medieval times to the recent past.
We want to help explain ourselves to ourselves. We will search out fresh angles on familiar topics, seek out the unfamiliar and will not shy away from bizarre or controversial issues. Our ultimate goal is to make The History Show the primary port of call for those with an intense or even a modest interest in the subject. We want to entice the casual and the curious to join us in celebrating the past.
Our aim is to create informative, reflective, stimulating and above all, entertaining radio.
Join us on Sundays from 6.05pm for The History Show with Myles Dungan on RTÉ Radio 1.
A Pegasus production for RTÉ.