George Boole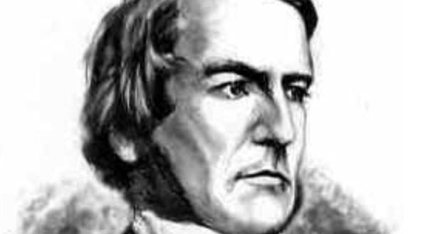 This year marks the bicentenary of the birth of George Boole, one of the leading mathematicians of the nineteenth century. Lorcan Clancy found out more about the life and work of a man who's often described as 'the father of the information age' and whose contribution to mathematics provided the basis for modern computers.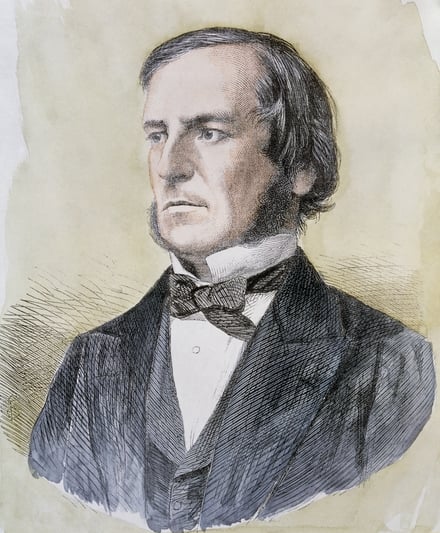 George Boole 200 Inaugural Lectures
In 2015, University College Cork celebrates the bicentenary of George Boole, first professor of mathematics at UCC and forefather of the information age. The year kicks off with the George Boole 200 Inaugural Lectures on the 5th February.
The co-founder of the world's two largest electronic design automation companies (EDA) and the former Chief Scientific Adviser for Scotland will be the guest speakers at the Inaugural Lectures which will take place in Boole Lecture Theatre 4 on UCC's main campus at 6pm.Professor Alberto Sangiovanni-Vincentelli, University of California Berkeley and Professor Muffy Calder OBE, University of Glasgow, will discuss how Boolean thought has influenced our modern world.
To register for this free lecture visit https://georgeboole200-inaugurallecture.eventbrite.ie/
The event will be live streamed, visit tinyurl.com/GB200InauguralLectures.
For enquiries and more information email georgeboole200@ucc.ie or visit http://www.georgeboole.com/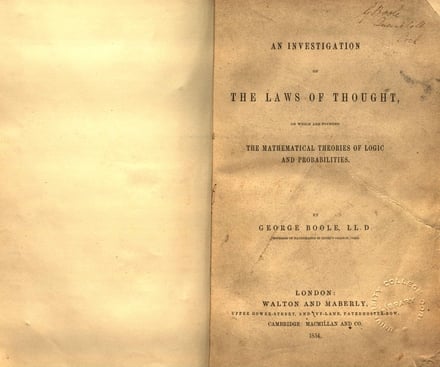 Below is an outline of UCC's plans to celebrate the bicentenary of George Boole
Legacy
o Republication by Cork University Press of Professor Desmond MacHale's Biography of George Boole, with a Foreword by Ian Stewart, Professor Emeritus in Mathematics, University of Warwick
o Commissioning and filming of a documentary film on Boole
o Refurbishment, in collaboration with Cork City Council, of 5 Grenville Place where Boole wrote his magnum opus
o Creation of the George Boole Institute
Conferences
o Mathematics: the Boole legacy in mathematics
o Bicentenary Boole Conference: his achievements and his multiple legacies
o Computer Science: the Boole legacy in information technology
o Electrical Engineering: "Where Boole meets Shannon"
Exhibitions
o Exhibitions of Boole's writings and heritage centred on the UCC Boole Library, in Lincoln (in collaboration with the University of Lincoln and City Council of Lincoln), in London (in collaboration with the Royal Society), in California (proposed in collaboration with the Computer History Museum, Mountain View)
o Exhibition of Artworks on the theme of Boole's legacy at the UCC Glucksman Gallery
Cultural
o Family tree of Boole's descendants and gathering at an event in Cork
o Conferring of Honorary Doctorates on leading academics and researchers and leaders from the world of information technology
Outreach
o Inaugural Lectures of the George Boole 200 year in February 2015
o "Conversations on George Boole", a series of filmed interviews with internationally renowned speakers on the influence of George Boole in mathematics, engineering and computer science
o Engagement with schoolchildren on the legacy of George Boole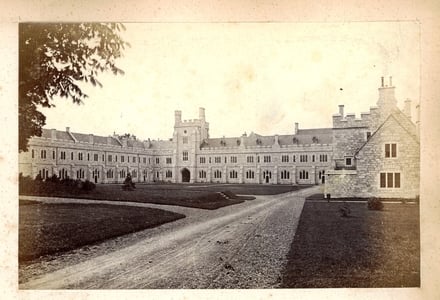 About George Boole
George Boole (2 November 1815 – 8 December 1864) was an English mathematician and philosopher, most recognized as the inventor of Boolean Logic, which is the basis of modern digital computer logic. He was awarded the first Royal Medal in mathematics for his 1844 On a General Method in Analysis, published in the Transactions of the Royal Society, and was in 1849 appointed first Professor of Mathematics at the Queen's College in Cork (now University College Cork).
Born in 1815 to Mary Ann Joyce (1780-1854) and John Boole (1777-1848) in Lincoln, England, Boole was the son of parents of modest means. His father, a cobbler by trade, had an abiding love of science, literature and mathematics much to the detraction, and ultimate collapse, of his business affairs. George Boole being a deeply religious man had intended as a young man to enter the Ministry but was forced owing to his family's circumstances to teaching, working in Doncaster, Waddington and Liverpool before establishing his own school in Lincoln at age 19.
Though Boole published little except his mathematical and logical works, his acquaintance with general literature was wide and deep. From an early age he was fluent in Greek and Latin, later teaching himself French and Italian so that he might understand continental developments in mathematics. He continued to create new and translated poetical works throughout his life, coming first to fame in 1830 when, as a fourteen year old, the Lincoln Herald published his translation from the Greek of Meleager's Ode to the Spring. It caused controversy as it was thought too good to be a 'juvenile production'. His reflections upon scientific, philosophical and religious questions are contained in four addresses upon The Genius of Sir Isaac Newton, The Right Use of Leisure , The Claims of Science and The Social Aspect of Intellectual Culture, which he delivered and printed at different times.
Having though his own self-education and industry secured himself a situation of relative comfort Boole was active in attempting to raise the societal and educational prospects of those less fortunate. His involvement with Lincoln's Mechanics' Institute, whose object was the '…cultivation of Experimental, Natural and Moral Philosophy; and of knowledge in all departments—avoiding Political and controversial Divinity, and also the Lincoln Early Closing Association, whose aim was to reduce the working day for many to explore, in leisure, their continued education was consuming, though not to the detriment of his mathematical research.
Boole's father died in December 1848 before the decision had been made concerning the Irish chairs but an announcement came in August 1849 that Boole was to become the first Professor of Mathematics at Queen's College, Cork, and he took up the position in November. Augustus De Morgan (1806 – 1871), Philip Kelland (1808 – 1879), Arthur Cayley (1821 – 1895), William Thomson (Lord Kelvin, 1824 - 1907) are amongst several distinguished mathematicians who wrote in strong support of his appointment. He taught at the University for the rest of his life, gaining a reputation as an outstanding and dedicated teacher. However the position was not without difficulty as the College became embroiled in religious disputes.
The personal character of Boole inspired all his friends with the deepest esteem. He was marked by true modesty, and his life was given to the single-minded pursuit of truth. Though he received a medal from the Royal Society for his memoir of 1844, the Keith Medal from the Council of the Royal Society of Edinburgh, and the honorary degree of LL.D. from the University of Dublin, he neither sought nor received the ordinary rewards to which his discoveries would entitle him.
On 8 December 1864, in the full vigour of his intellectual powers, he died of an attack of fever, ending in effusion on the lungs. He is buried in Blackrock, a suburb of Cork.
In 1855 George Boole married Mary Everest (1832-1916), daughter of the minister Thomas Everest and niece to Colonel Sir George Everest (1790-1866) a Welsh engineer after whom Mount Everest is named. They had five daughters:
Mary, who married the mathematician and author Charles Howard Hinton and had three children (Howard, William and Joan)
Margaret, whose son Geoffrey Ingram Taylor became a mathematician and a Fellow of the Royal Society
Alicia, who made important contributions to four-dimensional geometry
Lucy, a chemist
Ethel Lilian, who married the Polish scientist and revolutionary Wilfrid Michael Voynich and is the author of the novel The Gadfly.
Further Reading
If you're interested in learning more about this influential mathematician, you can read Des MacHale's biography: The Life and Work of George Boole: A Prelude to the Digital Age, which was recently republished by Cork University Press.
Keywords
Jews in Eastern Europe During World War II
Dr. Maria Fallina of UCD's School of History and Archives talked about the experience of Jews in Eastern Europe during World War II.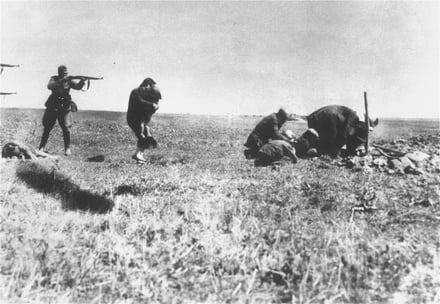 She first talked about the Jews in Eastern Europe before WWII to explain the situation and how it was different to Western Europe.
- Eastern European Jews were less assimilated.
- High number were in the Pale of Settlement in the former Russian Empire (today's Poland, Ukraine, Belarus).
- Rural population.
- Yiddish culture.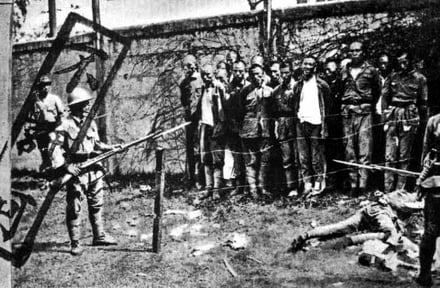 All of this was destroyed during WWII - part of Europe that is no longer there.
Maria talked about the war experience and how Jews in Eastern Europe (outside Poland) were more likely to be killed by a bullet (often by neighbours) than in a concentration camp.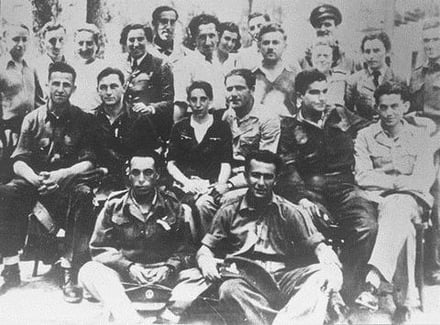 Jedwabne and pogrom in Lviv in 1941 have been very well documented and researched and have been very much discussed in academia and by the general public.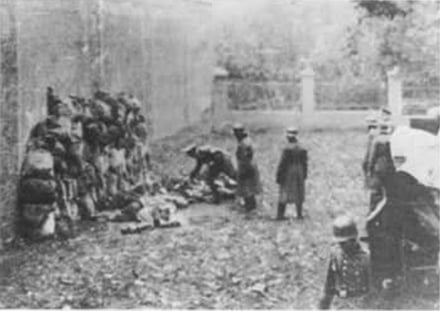 In terms of commemoration, the common and shared problem is - the role of the local population in the killings.
Further reading/viewing:
Jan Gross's book Neighbours.
Pasikowsi's movie "Aftermath" (original title Poklosie) http://www.imdb.com/title/tt2209300/
Keywords
About The Show
Bringing the past to life! Discover how our world was shaped as Myles Dungan and guests explore events ranging from medieval times to the recent past.
We want to help explain ourselves to ourselves. We will search out fresh angles on familiar topics, seek out the unfamiliar and will not shy away from bizarre or controversial issues. Our ultimate goal is to make The History Show the primary port of call for those with an intense or even a modest interest in the subject. We want to entice the casual and the curious to join us in celebrating the past.
Our aim is to create informative, reflective, stimulating and above all, entertaining radio.
Join us on Sundays from 6.05pm for The History Show with Myles Dungan on RTÉ Radio 1.
A Pegasus production for RTÉ.