The History Show Sunday 11 May 2014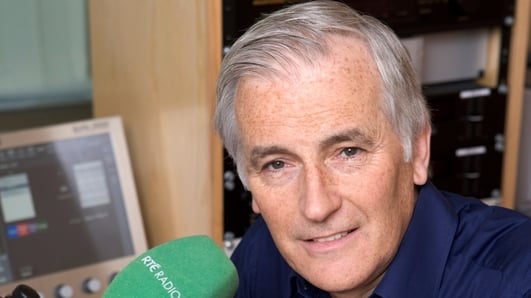 The History Show 11 May
Bringing the past to life! Discover how our world was shaped as Myles Dungan and guests explore events ranging from medieval times to the recent past
Our offerings this week:
Rebel doctor, Dorothy Stopford Price – anglo-Irish ascendancy turned committed nationalist. And later, she helped eradicate TB in this country.
The Lynch Tribe of Galway and their famous associations
What documents from the National Archives tell us about tensions between the IRA and the Blueshirts in 1934.
The Green Mile – a new historical walking tour of St. Stephen's Green
To mark the National Famine Commemoration at Strokestown Park House, we hear about its extensive archive.
Dorothy Stopford Price: Rebel Doctor
Dorothy Stopford Price's life spanned World War 1 and the ensuing Spanish influenza pandemic, the 1916 Rising, the War of Independence and civil war, as well as World War 2. Her personal and professional lives were touched by all of these events.
She was born into an Anglo-Irish ascendancy family and spent Easter 1916 as the guest of Sir Matthew Nathan in the Undersecretary's Lodge in the Phoenix Park. A couple of years later, she was a committed nationalist, a member of Cumann na mBan, a campaigner for a Sinn Fein candidate in Wicklow, and, subsequently, doctor to a brigade of the West Cork IRA during the War of Independence.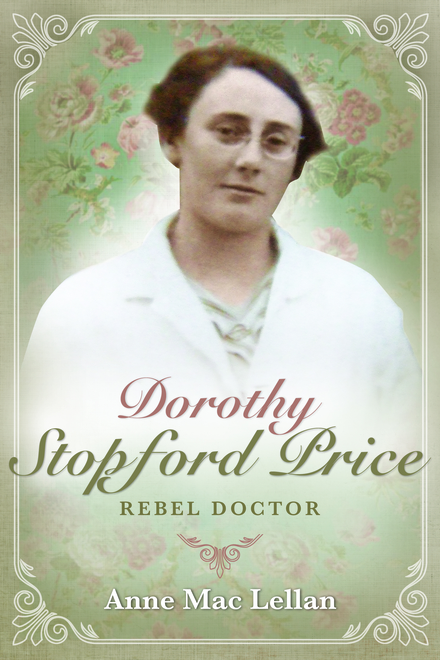 She remained a committed Republican for the rest of her life but she turned her attention from politics to medicine in the early 1920s.
Dorothy Price became a paediatrician with a particular expertise in tuberculosis. She championed the use of the tuberculin test for more accurate diagnosis and the use of the BCG vaccine for prevention of tuberculosis. She was the first person to use the vaccine in Ireland.
Anne MacLellan, author of a new biography on Dorothy Stopford Price, talked about the life and work of this extraordinary woman.
Early life and her family
Dorothy was born in 1890. Her father was Jemmett Stopford, an accountant who came from a long line of Church of Ireland clerics. His father – Dorothy's grandfather – was Archdeacon of Meath, his grandfather had been Bishop of Meath. Her mother was Constance Kennedy whose father, Evory Kennedy, was master of the Rotunda from 1833-1840. Dorothy had two sisters Alice and Edie and a brother Robert.
When Queen Victoria died in 1901, the three sisters, aged 11, 12 and 13 were put into black mourning coasts and skirts on the day of her funeral. The Blinds were drawn in their home.
The following year, tragedy struck when Jemmet died from typhoid. Constance took the family to London where she had two sisters and a brother-in-law. Jemmet's sister Alice also lived there. Dorothy, Edie and Robert went to school in St Paul's.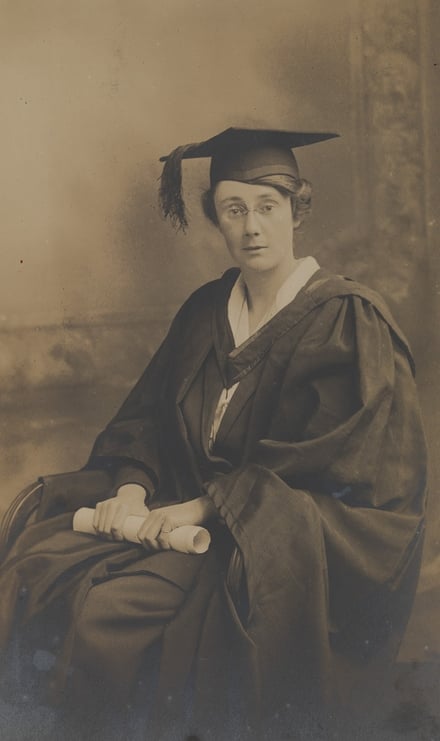 Dorothy Stopford, graduating as a Bachelor of Medicine, Trinity College Dublin. 1921
Life at Trinity College Dublin
The college first admitted women in 1904 and they were still in the minority when she enrolled there in 1916. Male and female medical students attended the same lectures although the female medical students had their own dissecting rooms. However, women led largely separate lives while at college – they had to leave the grounds at 6 p.m., they were not welcome in many college societies, they were looked after by a female registrar and female academic staff were a rarity.
So, in third year, Dorothy decided it was time to launch an assault on the male bastion that was the Dublin University Biological Association or the BI. She drafted a petition to the BI asking for membership to be opened to female medical students from third-year onwards. The response from the corresponding sectary was uncompromising:
At an ordinary meeting of the Association held on the 12st inst your communication was read 'inextremo' to the members by the Record Secretary. In order to obtain an authoritative expression of the attitude of the Association the following resolution was moved:
'That the election of women students to the membership and privileges of the DUBA is desirable'. After exhaustive discussion this motion was defeated by 120 votes to 2. The views expressed were in no way hostile towards the women students, but he consensus of opinion was that this election would inevitably lead to the disruption or atrophy of the association'.
In 1929, eight years after Dorothy left TCD, female medical students were allowed to attend meetings. Six years later again, some of Dorothy's work was presented at the Bi but she was not allowed to present it herself.
The male Dr Hardiman who presented the case on her behalf prefaced his talk with the words that it was unfortunate that Dorothy's sex debarred her from showing it herself but he told her he did not notice anyone saying 'hear, hear'. He suggested that in another 50 years or so they might admit women members. It didn't take quite that long. In May 1941, women were first admitted to full membership.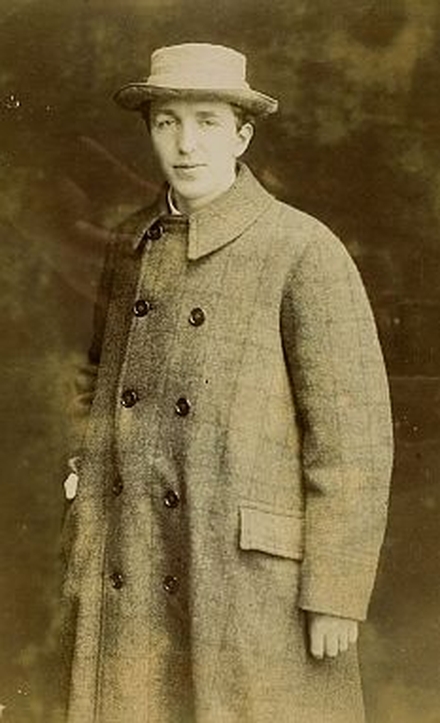 Stubbornness - a family legend
Dorothy was stubborn and once she made up her mind to champion a cause such as Irish politics, she did with gusto..
Dorothy's stubbornness was a family legend. There is one incident that stands out in my mind. When the liberal MP Sir John Simon, a distant family relation, asked Edie and Dorothy to a dinner with a couple of hundred guests organised by the Birmingham liberal club. Dorothy was seated between the chairman of the local Liberal party and Sir John.
Just before the speeches, the 'loyal toast' to the King (George V) was proposed. Everyone, including Edie, got to their feet. Dorothy remained seated. According to Edie, Dorothy remained calm and rooted to her chair. Sir John seemed amused rather than horrified although Lady Simon who had stayed at home was rather shocked. The next day the Birmingham Liberal Club chairman and his wife came to family lunch with the Simons. The chairman was 'absolutely entranced' with Dorothy's courage and would talk to no-one but her. Dorothy's conquest of Sir John was complete when she proceeded to beat him at billiards. He afterwards told Edie that Dorothy strode around the billiard table, a cigarette hanging out of one corner of her mouth and curses streaming out of the other.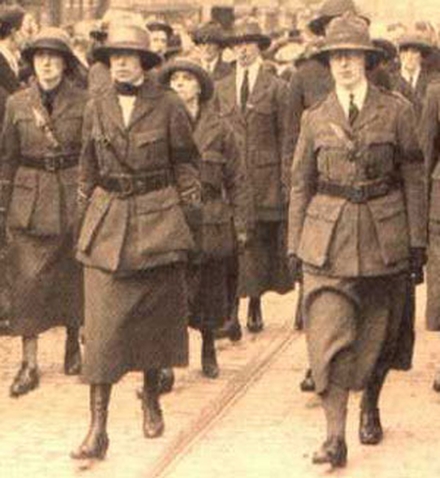 Cumann na mBan
Cumann na mBan sent Dorothy to West Cork, while she was still a medical student.
Dorothy first went to Kilbrittain while she was a final-year medical student. She was asked to go there by Cumann na mBan to give first-aid lectures to the IRA lads and the Cumann na mBan women.
She concentrated on the essentials of wartime medicine such as stopping a haemorrhage. One of the lads, John Murphy, whose brain, in Dorothy's words, had 'all gone to brawn' ripped off his coat displaying gigantic biceps and challenged Dorothy to stop the blood flow. She was watched in breathless silence as she applied a tourniquet to the brachial artery and twisted a pencil to tighten it. Dorothy recalled: 'Yes, the pulse stopped and I was accepted as worthy to doctor the West Cork IRA'. Despite this heroic demonstration, Dorothy realised the real needs of the mean centred on personal hygiene rather than medical measures. Although later, one of her pupils Jackie O'Neill did apply a tourniquet to the wrist of a man and then drove him two hours to get medical help. The man lived and might not have done so.
When she went back to Dublin she told Jennie Wyse Power in the Cumann na mBan headquarters that the West Cork column did not need dressings or first aid. Rather, they required sulphur powder, instructions on bathing and the treatment of scabies which plagued them as they darted around the countryside without the luxury of proper baths.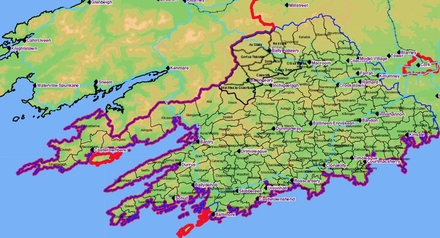 Dispensary Doctor, Kilbrittain
In May 1921, Dorothy was fully qualified as a medical doctor but jobs were in short supply. She knew, from her trip there, that the post of dispensary doctor in Kilbrittain was vacant. The previous incumbent was supposed to have run away in his slippers during a raid by auxiliaries who took pot shots at him as he ran. Anyone was welcome to take his place, according to Dorothy, even a gurral. Although this was a real job, the British administration were suspicious of Dorothy's appointment to a job that was right in the heart of IRA country.
They refused her a permit for a bicycle so the IRA supplied her with a small grey pony and a saddle. The letter which accompanied the gift was signed by the Adjutant of the first battalion of the 3rd Cork Brigade and informed 'Miss Dr Stopford that the Brigade and Battalion staff wished her to have the animal and its belongings for a present, not including the saddle'. When she got a car, she was to return the saddle. So, Dorothy began her career clanking along on the back of Maria, with saddlebags full of bottles and instruments.
She found it challenging being a dispensary doctor with no-one to confer with. So, when she gave a powder to a man and heard he died the next day, she was worried. Although she knew he couldn't have died from the powder, she was relieved when she met the relatives and they said he had not taken it. Later, when she had to admit a boy to hospital, she worried that her written diagnosis might not be correct.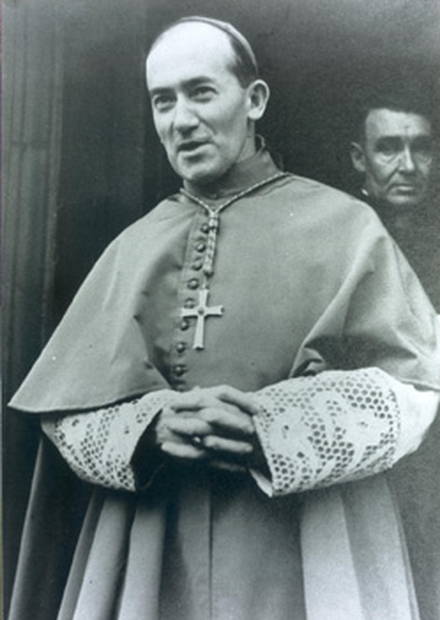 Dorothy crossed swords with John Charles McQuaid - and lost.
In 1939, the Swedish professor and tuberculosis expert Arvid Wallgren suggested to Dorothy that she might set up a national anti-tuberculosis league to raise consciousness about the topic. He had suggested that she make this an inclusive organisation: mixing up Catholics and Protestants, laymen and doctors as well business men, republicans and those of other political persuasions. She was ill and then busy so didn't get around to it until 1942. That year, more than 4,000 people died in Ireland from tuberculosis – it was arguably Ireland's greatest public health problem in the first half of the 20th century.
Dorothy first called together a few doctors including a Catholic Dr John Duffy. He informed Archbishop McQuaid about the group's plans and assured him that there was nothing in it contrary to Catholic thinking. His Grace initially seemed inclined to approve. However, the group grew and was chaired by Prof Robert Rowlette, another Protestant who also a professor at TCD (of which McQuaid was suspicious) while Dorothy and John Duffy were honorary secretaries.
After a year's planning the group called a public meeting in the Hibernian Hotel, Dublin. They asked McQuaid to attend. Unknown to them, he had other plans. While they were organising a league that would span North and South and cross political and religious divides, he was making sure that any anti-tuberculosis campaign would be in Catholic hands.
On the night of the meeting, his emissary Monsignor Daniel Molony stood up and read out a letter stating the Archbishop's opinion that the anti-tuberculosis campaign should be undertaken by the Red Cross, which was effectively under Catholic control. There was some dissent but in the end no-one there seemed to think the Archbishop could be contradicted. Indeed, he gone out of his way to ensure that he would not be contradicted and had sought the support of the Minister for Local Govt and Public Health, Sean MacEntee, as well as the support of Frank Aiken, and through him, the Red Cross. Later, he even put his case to the Taoiseach Eamon de Valera.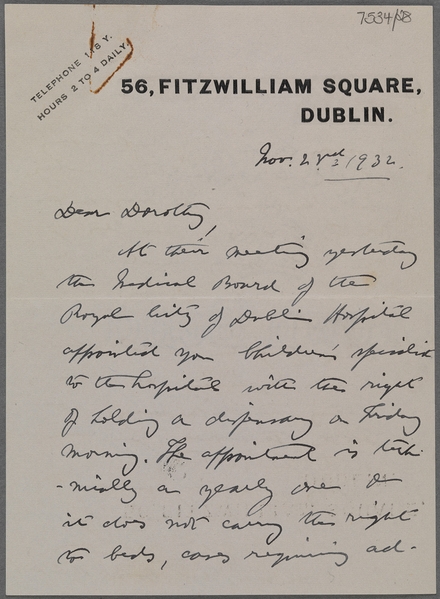 Letter appointing Price as Children's Specialist of the Royal City of Dublin Hospital. 23 November 1932
Dorothy's approach to tuberculosis differed from that of the Irish medical profession.
Dorothy was open to continental as well as British ideas. For instance, in 1931 she went to Vienna and saw Prof Franz Hamburger using tuberculin to test for tuberculosis in children. This test was seen as faddy when she was a medical student in TCD. She bought some of his ointment and subsequently tried it out on twin boys in St Ultans. She attended a postgraduate course in Scheidegg in Bavaria and learned German to read German-language literature on tuberculosis.
She mused:
'It is extra-ordinary that tuberculosis in children should have been a closed book in Ireland for 20 years after methods of diagnosis were well established on the continent, and at least ten years after methods of treatment had been evolved. One can only ascribe it to the fact that doctors in Ireland did not read or visit German-speaking centres and took everything via England.'
She came to believe more and more in the value of tuberculin testing and began to use it on all and sundry. There was a dramatic indication of its value and under-use in Ireland when she used it on 53 patients in Peamount Sanitorium. Fourteen of them tested negative meaning that they did not have tuberculosis. Even worse, they were now in an environment where they were surrounded by the disease which was contagious. These children were sent home with letters explaining to their county medical officers of health that they did not have tb.
She was also a proponent of BCG vaccine which was controversial – its value was not recognised in Ireland or Great Britain. In 1936, on holiday in Scandinavia, she met with some of the leading BCG advocates in Sweden and Denmark and when she went home she promptly applied for a licence to import the vaccine. In 1937, she began to use the vaccine in a small way – vaccinating a handful of children.
The vaccine became unavailable during World War 2 but she was very vocal in her support of it, insisting that when the war ended Ireland should start a mass BCG campaign.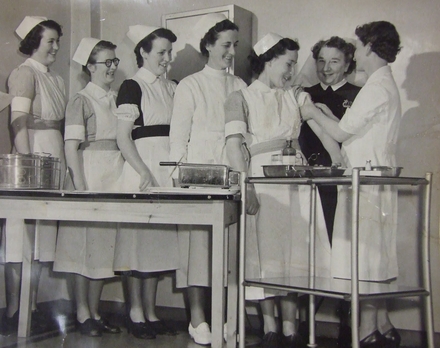 The BCG campaign
When the war ended, Dorothy once again imported vaccine from Sweden and began to vaccinate on a larger scale. In Dublin Corporation, another female doctor, Mairead Dunlevy, began to vaccinate also, this time using a Danish version of BCG. There were various fights with respect to the value of BCG, the necessity for a mass campaign and who should control and carry out the campaign. Eventually, on Noel Browne's instructions, a national BCG committee was set up in 1949 and chaired by Dorothy Price. Sadly, she suffered a stroke in 1950 and although she remained highly influential with respect to the mass BCG campaign in Ireland for the next four years, she had to resign her work as a doctor as well as give up her committee work.
Was BCG instrumental in ending the tuberculosis epidemic or was it antibiotics?
Very difficult to disentangle the various interventions which all came around the same time – 1950s – antibiotics, mass BCG, better diagnosis (mass x-ray; tuberculin etc), improved socio-economic circumstances with better diet and housing, more hospital beds…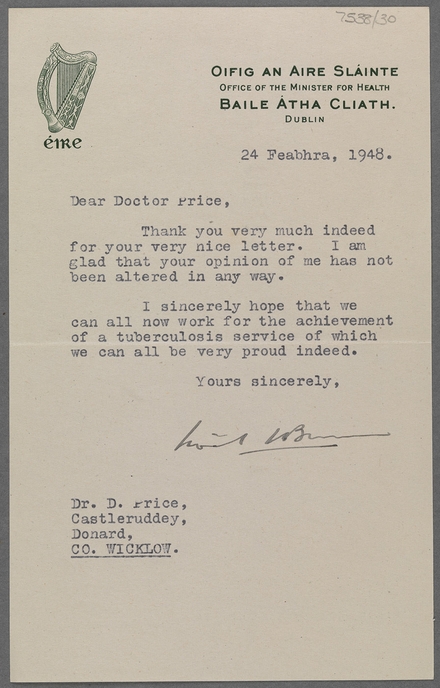 Letter from Noël Browne to Dorothy Price, on his appointment as Minister for Health
How did Dorothy get on with the notoriously difficult Noel Browne?
Although they occasionally clashed, strangely robust relationship – she was frankly delighted when he was elected as an independent following the Mother and Child controversy.
The Lynch Clan of Galway
The Lynch Tribe of Galway and Their Famous Associations
by Paul B McNulty
I love a glass of wine of an evening. One of my favourites is a Michel Lynch white Bordeaux. What an odd name for a French wine-maker, I thought. Intrigued, I soon discovered that Thomas Michel Lynch was one of many famous people descended from the Lynch Tribe of Galway. Such provenance is not surprising given that the Lynches have held the Mayoralty of Galway more than eighty times, and more than any other family.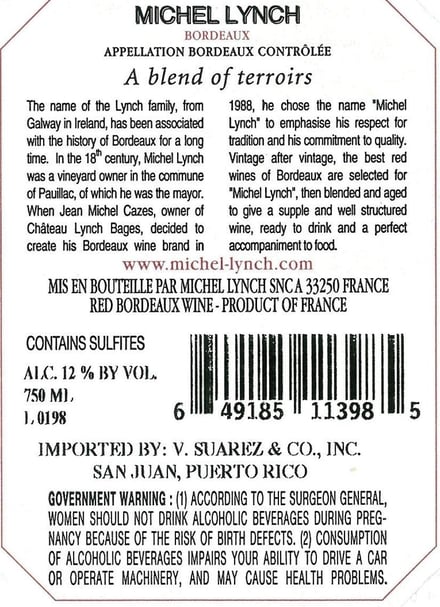 I then found that the pioneer of the Michel Lynch winery is the grandson of Colonel John Lynch, who moved to France after the Jacobite defeat at Aughrim in 1691. Having married a Frenchwoman in Bordeaux, Colonel Lynch became the proud grandfather of the wine expert.
Another grandson, Jean Baptiste Lynch, was lucky to escape the guillotine after he opposed the French Revolution. Napoleon later appointed him Mayor of Bordeaux. Jean Baptiste became a legend due to his ability to survive in turbulent times. His appointment as a Count and a Peer of France was his crowning glory.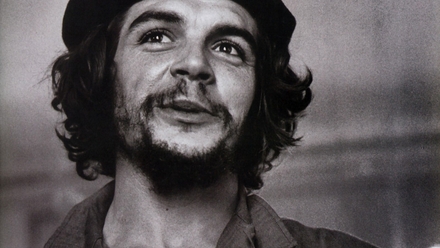 Che Geuvara
A descendant of the Lynches who embraced rather than eschewed revolution is Che Geuvara. His lineage stretches back to Patrick Lynch of Claregalway who fled from political persecution at home. Having moved to Argentina, his offspring Ana Lynch became the grandmother of Che Guevara. The Marxist revolutionary graduated from medical school in 1953. He visited Ireland on a number of occasions including a stopover in Dublin. On that occasion, he was en-route to Algeria as the Cuban Minister for Industries. Following Che's execution in Bolivia, his father said that the blood of Irish rebels flowed in his son's veins. The recent furore over plans to erect a monument to Guevara's memory in Galway underscores what an iconic figure he has become.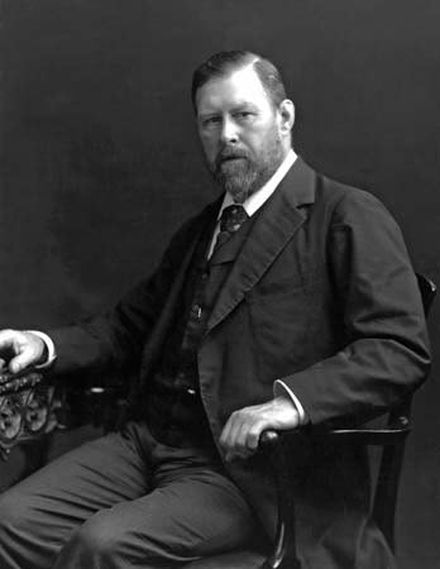 Bram Stoker, the author of Dracula, is also iconic but in a different context. How could the Dublin boy be linked to the Lynches of Galway, I wondered? The answer lies in the ancestry of his mother, a descendant of the famous Galwegian Tribe. She told her young son that his granduncle, General George Blake of Mayo was executed for his role in the 1798 Rebellion. That story has influenced Stoker's writing. Some assert that Dracula is the narrative of a decayed aristocracy with a glorious warrior past.
Wine merchants, revolutionaries and novelists are but a few of the noted descendants of this trailblazing Lynch Tribe. I could have dwelt on their associations with "Humanity Dick" Martin, Grace O'Malley and Patrick Sarsfield, as well as their influence in exploration and religion. But that is for another day – a fascinating saga with much more to unearth.
Keywords
1934 Documents from the National Archives: IRA and the Blueshirts
In the early 1930s, emotions were still running high around the country. A decade after the civil war, it was still very much in recent memory.
Catriona Crowe's documents from the National Archives related to 1934 and tensions between the IRA and the Blueshirts.
Ireland in 1934
In 1934, Ireland was 11 years away from the end of the Civil War. So it was still fresh in a lot of memories. The country had been ruled by Cumann na nGaedhal from 1922 to 1932, when Fianna Fail began an uninterrupted period of 16 years in power. Fianna Fail immediately embarked on an economic war with Britain, which gravely affected agricultural exports and was extremely unpopular with farmers.
The decade was to end with the 1937 Constitution and the 1938 Anglo-Irish Agreements, which ended the economic war and the land annuities which gave rise to it. Then came World War 2 and Ireland's neutrality, which isolated the country again from the UK.
Despite the remarkably peaceful handover of power from one civil war enemy to another, there were still deep political divisions in Irish society. Some of these were reflected in the two main paramilitary groups, one old (the IRA) and one new (the Blueshirts).
The 1930s are full of skirmishes and battles between these opposing forces, involving burning each other's dancehalls, disrupting each other's meetings, and writing derogatory slogans on the roads in the middle of the night.
Here are a selection of Garda reports from 1934 about such skitmishes.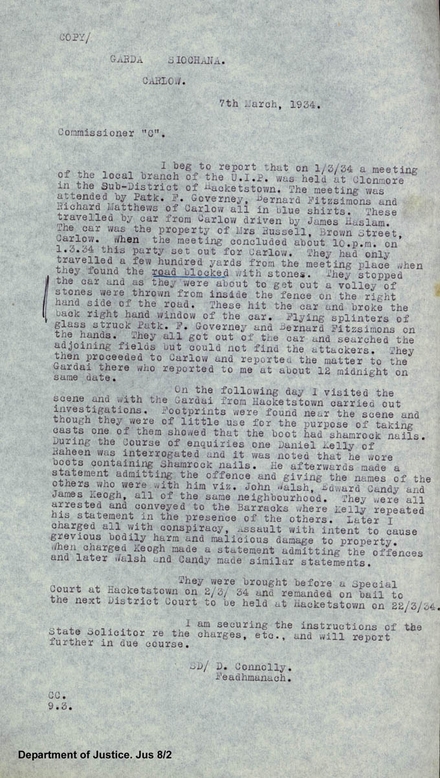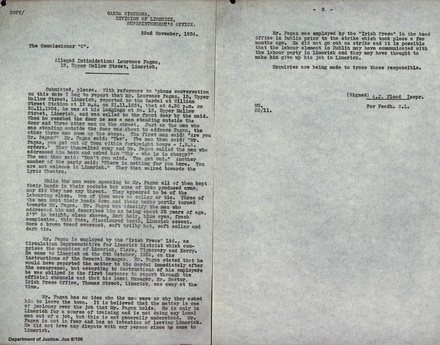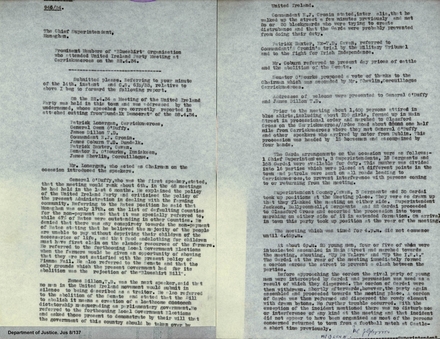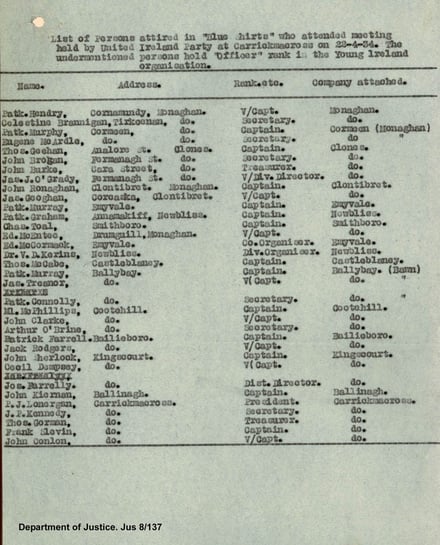 Wearing of Uniform (Restriction) Bill 1934
In 1934, the Dail banned the wearing of blue shirts with the Wearing of Uniform (Restriction) Bill 1934, which went on to be more honoured in the breach than the observance. The Government also set up a new Volunteer Force with its own uniform as a way of giving theunreconstructed RA something of their own to wear. That didn't work either.
The Head of The Army Comrades Association, or the Blueshirts, was himself briefly Chief of Staff of the IRA, before becoming Commissioner of the Garda Siochana in 1922, a post from which he was dismissed by Eamon de Valera in 1933.
Chief of Staff of the IRA
The Chief of Staff of the IRA, the rump of the Irregulars who had foughtagainst the Irish Free State in the civil war, most of whom had joined Fianna Fail in the late 1920s, was Moss Twomey, who was interned from 1936 and 1938, and departed the IRA in 1939.
Both the IRA and the Blueshirts later got their chance on the international stage in the Spanish Civil War - 1936 – 39, in which some old IRA men fought with courage and casualties on the Republican side, and the Blueshirts embarked on an ill-advised excursion to support Franco, ended up in Lisbon, and saw no action.
Keywords
The Green Mile Walking Tour
If someone mentions The Green Mile, you're likely to think of the Stephen King novel or the Oscar nominated movie. But now, it's also the name of a historical walking tour of Ireland's best know Victorian public park, St. Stephen's Green. Louise Denvir joined tour guides Donal Fallon and Ronan Sheehan to get a sense of what to expect.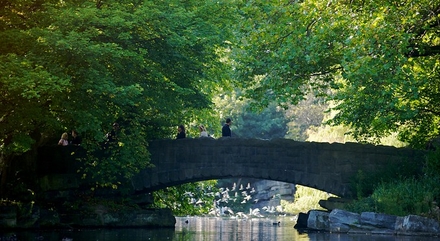 St Stephen's Green started its existence as a marshy common on the edge of Dublin. In 1663, Dublin Corporation decided to enclose the centre of the common and to sell land around the perimeter for building. A wall was built around the park in 1664.
The current landscape of the park was designed by William Sheppard. It officially opened to the public on Tuesday, 27 July 1880.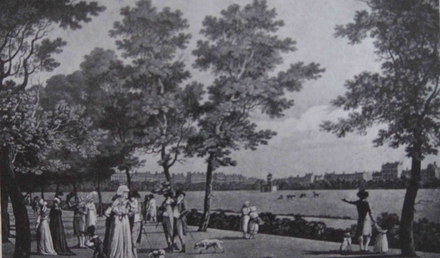 St Stephen's Green in the 18th century
The Green Mile Walking Tour
Every year 8.1 million people walk through St Stephen's Green, but it has also played a key role in Irish history: for example, James Joyce studied on the south side of the Green and the Free State Constitution was drafted at the Shelbourne Hotel. The Green has long served as a backdrop for public and private drama, as well as the setting for many great love stories.
The tour tells the story of St Stephen's Green, a square which has been at the centre of Irish history for hundreds of years.
For a sense of what to expect, click here to watch this short film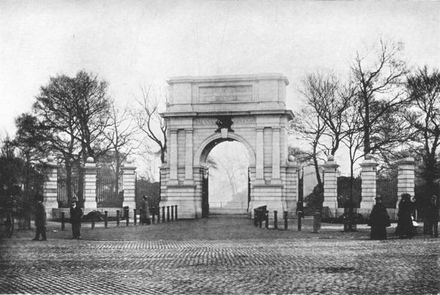 Memorial Arch - St. Stephen's Green
The tour begins with a short presentation at the Little Museum of Dublin.
Click here for Little Museum website
Participants in the tour then embark on a 90-minute walk in the company of a local guide:
Tour details
The tours take place on Saturdays and Sundays at 11.30am; free with tickets to the Little Museum of Dublin, 15 St. Stephen's Green.
Saturday's guide is Donal Fallon – historian and co-author of Come Here to Me, Dublin's Other History.
Sunday's guide is Ronan Sheehan – author of Heart of the City.
Famine Commemoration at Strokestown Park House
The Great Famine was one of the most catastrophic events in our history. The worst affected county was Roscommon whose population decreased by over 80,000 people (or 31%) in the decade following 1841.
Fitting therefore, that Srokestown Park House in Roscommon was selected as the venue for this year's National Famine Commemoration.
During the famine, the Strokestown Estate kept detailed records of daily life – and these now provide an invaluable resource for historians. Liam Geraghty visited NUI Maynooth's archive and research centre to talk to the people who were examining the collection.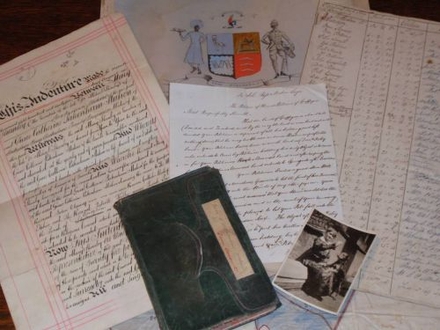 The Strokestown Park House Archive is one of the most important and extensive nineteenth-century estate collections in Ireland
NUI Maynooth historian, Dr. Ciaran Reilly joined Myles from Strokestown Park House to talk about the Famine Commemoration.
The big event took place this afternoon was when the Taoiseach unveiled a memorial wall with names of 1,490 people who emigrated in 1847.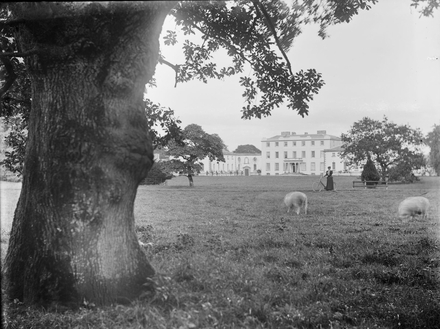 'Missing 1490': In search of Irish Famine emigrants
The project
'Missing 1490': In search of Irish Famine emigrants aims to locate the destination and lives of more than 1,490 people who emigrated from county Roscommon in 1847. The research is led by Dr Ciarán Reilly of the Centre for the Study of Historic Irish Houses & Estates, NUI Maynooth in conjunction with Strokestown Park House. Much of the information on emigrants is gleaned from the voluminous Strokestown archive, a collection of more than 50,000 documents, the vast majority of which pertain to the Great Irish Famine.
In autumn 2014 Dr Reilly will publish Voices of the Great Irish Famine: The Strokestown archive revealed.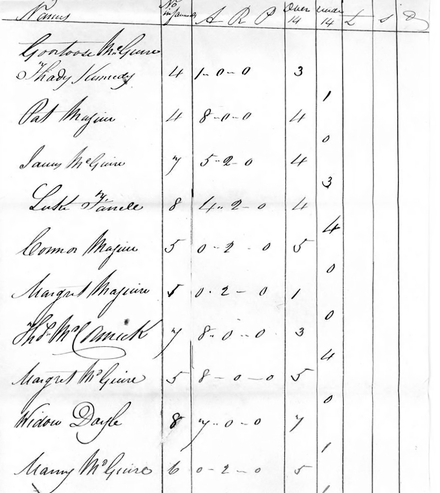 1847 Emigrant List
Background to the emigration scheme
Upon the death of Rev Maurice Mahon, third baron Hartland, in November 1845 Major Denis Mahon inherited the 11,000 acre Strokestown estate in county Roscommon.
Years of neglect and mismanagement meant that the estate was now almost £30,000 in debt. In an effort to radically overhaul the problems of gross overcrowding, subdivision of the land and mounting arrears, John Ross Mahon, the land agent, devised a scheme of assisted emigration.
For the estate administration this made economic sense; to keep the people in Roscommon workhouse would cost over £11,000 annually whereas a once off emigration scheme would cost £5,800. In May 1847 1,490 tenants left from the Strokestown estate for Quebec in British North America (Canada). They were accompanied on their walk to Dublin, by the Royal Canal footway, by the bailiff, John Robinson who was instructed to stay with them all the way to Liverpool and ensure that they boarded the ships.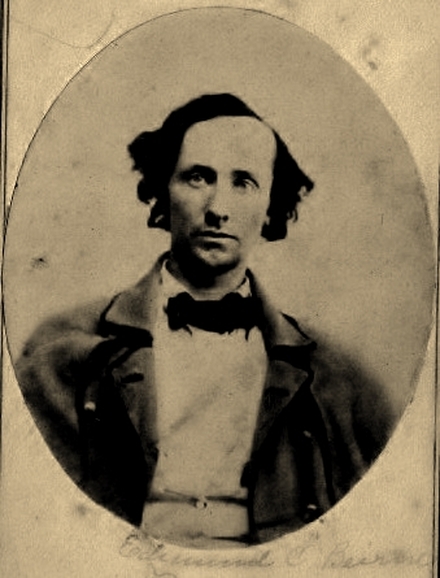 Edward O'Beirne
Leaving Liverpool on four ships the Virginius, Naomi, John Munn and the Erin's Queen, the Mahon tenants were amongst the first to be characterised as sailing on coffin ships during the Famine. With Cholera and typhus rampant the emigrants were exposed to the ravages of disease. The Toronto Globe newspaper was amongst the first to highlight the problems encountered by the passengers on board the Virginius and thus reported its arrival at Grosse Île:
The Virginius from Liverpool, with 496 passengers, had lost 158 by death, nearly one third of the whole, and she had 180 sick; above one half the whole will never see their home in the new world.
Those who managed to emerge from the ship were described as 'ghastly, yellow-looking spectres, unshaven and hollow cheeked'. Dr George Douglas who treated and spoke with the Mahon tenants at Grosse Île noted that some had even died at the River Mersey in Liverpool. It was also claimed that on arrival at Grosse Île the ship's master had to bribe his crew, at the rate of a sovereign per corpse, to remove the dead from the hold. On the ship Erin's Queen, the situation was no better, 78 passengers had died and a further 104 were sick. Again, according to the Globe 'the filth and dirt in these vessels hold creates such an effluvium as to make it difficult to breathe'. While in harbour the ship was abandoned by the crew and captain who feared for their lives. On the ship John Munn more than 100 were sick and 59 were dead, while on the Naomi 78 were dead.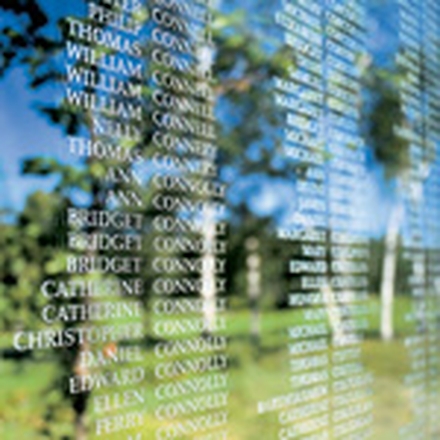 Over 6,000 names of immigrants and employees buried on Grosse Île appear on the glass memorial
Today, many of these people are remembered on the glass memorial wall in Grosse Île which also records the deaths of 5,424 people in the summer of 1847. It was fitting then in 1997 that Jim Callery, owner of Strokestown Park House donated a Celtic cross in their memory. The following year, on 25 May 1998, the Irish National Famine Museum at Strokestown twinned with Grosse Île as sites of remembrance.
Memorial Wall - Strokestown
To mark the hosting of the National Famine Commemoration in Strokestown on 11 May a memorial wall is being unveiled containing the names of 1,490 people who emigrated in 1847.
The names have been extracted from the Strokestown Park Archive, which also documents more than 3,000 others emigrated from the Strokestown estate in the latter years of the Famine. The memorial wall is being unveiled by An Taoiseach, Enda Kenny TD and will for the first time make available the names of those who were assisted in emigration in 1847. The Mahon tenants were amongst the first to be characterised as travelling on coffin ships.
In addition, an exhibition, Emigrant faces from county Roscommon, detailing the lives of more than twelve of these people will ran during the week 5-11 May as part of the Famine Commemoration. This exhibition will travel throughout the country.
The exhibition contains the stories of those such as Michael Flynn, James Higgins and Thomas Fallon who fought in the American Civil War; Catherine O'Keefe a Roscommon emigrant in Melbourne; Michael Calhoun Dufficy, an eight-year old emigrant from Roscommon who later became a lawyer and justice of the peace in California; Patrick McNamara a labourer on the construction of the Blue Ridge Mountain Railroad Tunnel, while also highlighting the continued search for those like Frank Coggins and his family who appear to have simply 'disappeared' in early 1850s America.
Irish Famine Pots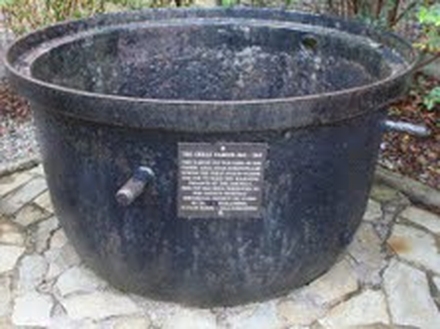 Famine pot - Kilrush
In 2011 John Cassidy found an old famine-pot, broken in pieces, in south Donegal. He had it welded, restored and mounted outside Leghowney Community Hall.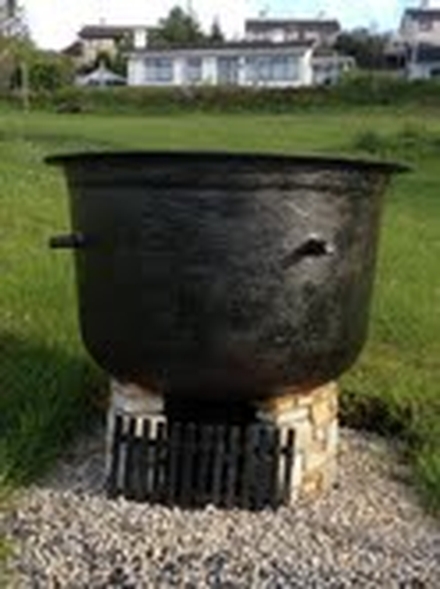 Famine pot - Donegal town
Such was the interest shown by American tourists that John Cassidy and Mattie Lennon decided to do some research on the whole Famine-pot/Soup–kitchen aspect of the famine. They found that because of bigotry, pride, misguided patriotism and inherited false information, this aspect of the potato failure was almost air-brushed from our history.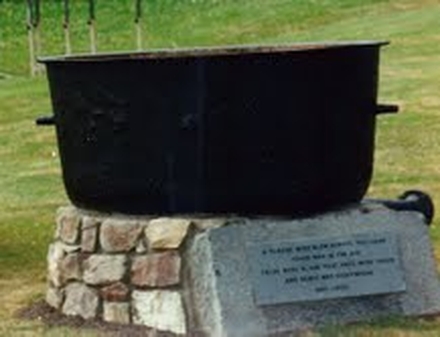 Famine pot - Clogheen
They have tracked down about 50 famine pots from around the country and are keen to hear from people who have a pot such as the ones in these photos in their garden or on their land.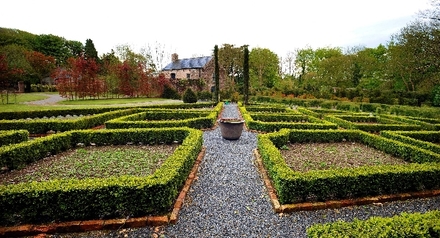 Famine pot at Ashton Grove House
Click here to check out the Irish Famine Pots website.
Keywords
On next week's programme.....
Is James Connolly an overrated icon of Irish history?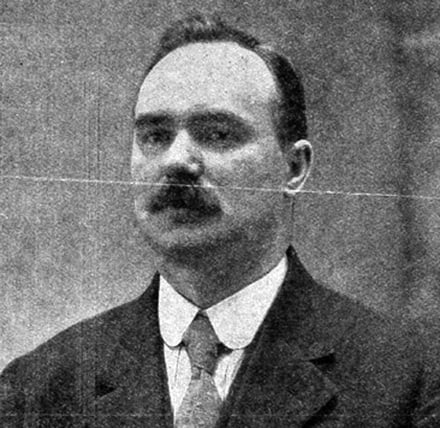 Email us with your views
Keywords
About The Show
Bringing the past to life! Discover how our world was shaped as Myles Dungan and guests explore events ranging from medieval times to the recent past.
We want to help explain ourselves to ourselves. We will search out fresh angles on familiar topics, seek out the unfamiliar and will not shy away from bizarre or controversial issues. Our ultimate goal is to make The History Show the primary port of call for those with an intense or even a modest interest in the subject. We want to entice the casual and the curious to join us in celebrating the past.
Our aim is to create informative, reflective, stimulating and above all, entertaining radio.
Join us on Sundays from 6.05pm for The History Show with Myles Dungan on RTÉ Radio 1.
A Pegasus production for RTÉ.
Famine Song
Academy Of Irish Music
0:10 Life Is Beautiful
Misako Yamashita
3:06 Impromptu For 12 Fingers (From Schubert's "Impromptu In G Major, Op. 90, No. 3")
Michael Lang, Ryan Dorin
2:54 Slieve Gallion Braes-Steal Away
James Galway / Phil Coulter
4:05
Famine Song
Academy Of Irish Music
0:10
Famine Song
Academy Of Irish Music
0:10