The History Show Sunday 27 April 2014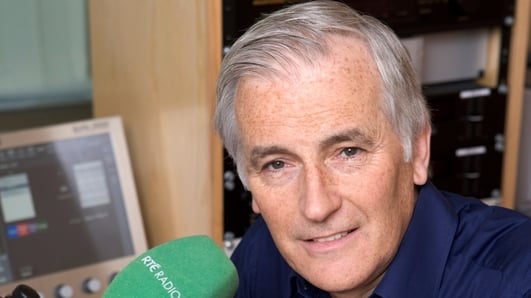 The History Show
Bringing the past to life! Discover how our world was shaped as Myles Dungan and guests explore events ranging from medieval times to the recent past
Irish who served in Australian army during WW1
Each year on 25 April, Anzac day commemorates Australians and New Zealanders who served and died in wars. And in particular, those who fought at Gallipoli in Turkey during World War One. Among them were thousands of Irish born men and women who enlisted in the Anzacs.

Prof Jeff Kildea, who holds the Keith Cameron Chair of Australian History at UCD has researched the connections between the Anzacs and the Irish in World War One. He joined Myles to talk about some of those who were involved.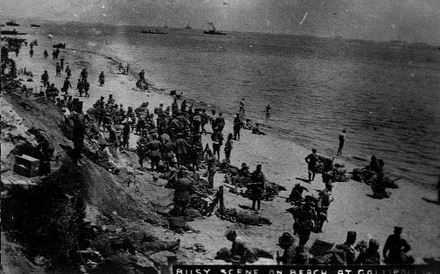 Jeff estimates that 6,600 Irish-born men and women served in the Australian Imperial Force (AIF) during the First World War, of whom approximately 970 paid the ultimate price. Most already called Australia home, having emigrated to the new land of opportunity in the South Seas.
Some, however, found themselves in Australia by chance when war broke out and enlisted here rather than returning home to join up, perhaps fearful that the war might end before they did so or in the hope that they might get a free passage home when the AIF sailed.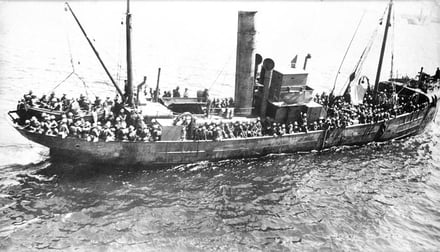 The Australian Irish generally supported the war, they had generally prospered in Australia under the British crown, and tended to put the conflicts of the old world behind them.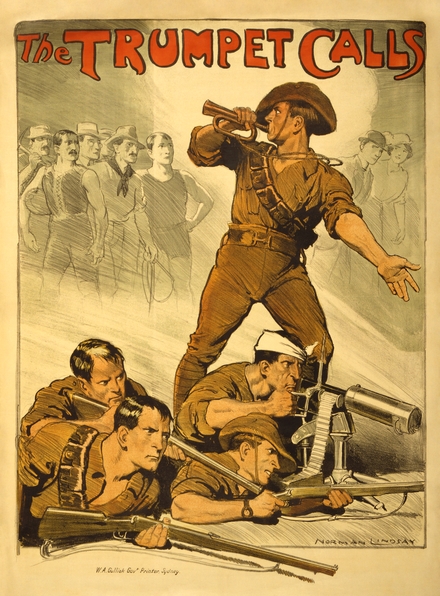 One Irish-born soldier, Martin O'Meara, won the Victoria Cross - that's the highest award for gallantry that a British and Commonwealth serviceman can achieve.
- In August 1916, at the battle of the Somme, he reportedly went out and brought in wounded men from 'No Man's Land' under intense fire.
- He was wounded several times during the war.
- He returned to Australia in late 1918, soon after he was admitted to a mental hospital. He spent the rest of his life in mental institutions.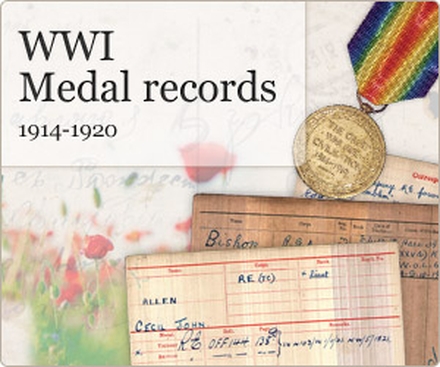 The AIF or "Australian Imperial Force" had 68 Generals during the First World War, two of whom were Irish. One of these was Lieutenant General James Whiteside McCay.
- Born in Ireland in 1864, he grew up in Castlemaine in Victoria.
- He was elected to parliament and served as Minister for Defense
- Oversaw a disastrous AIF attack on the Western Front in 1916.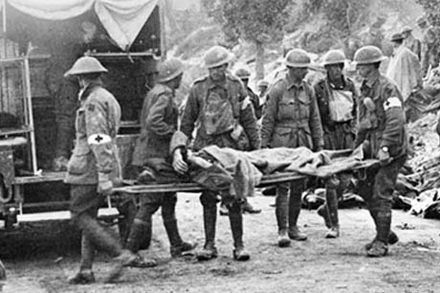 Many Chaplains of various denominations served in the Australian forces throughout the war. Although they weren't combatants, that didn't stop them being killed or wounded, or receiving awards for their service. A good example is Father John Fahey.
- He was originally from Tipperary. Noted for his bravery at Gallipoli
- Some doubt the veracity of his 'gung-ho' reputation
- Experienced numerous close calls, he narrowly avoided being killed.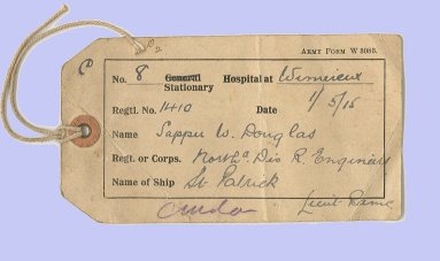 A leading character in one of the war's great stories of daring was Dacre Stoker, an Irish-born submarine captain who was a cousin of Bram Stoker.
- He captained a submarine, the AE2, during the Gallipoli campaign
- He surrendered and spent the rest of the war in Turkish captivity. He escaped twice and was recaptured on both occasions.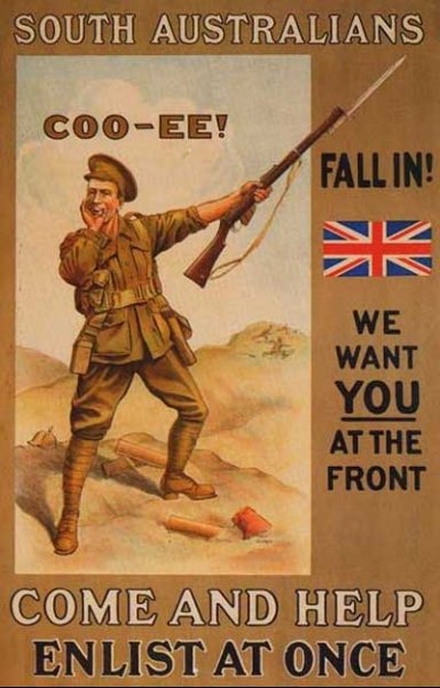 Another Irishman who became a prisoner of war was David Curran from Tipperary.
- He emigrated in 1902, eventually settling in Melbourne
- After enlisting he was posted in Mesopotamia (now Iraq) on 18th Sep 1915
- He was captured when the Siege of Kut ended in April 1916
- His parents corresponded for years with the Australian Department of Defence, trying to find out details of his death.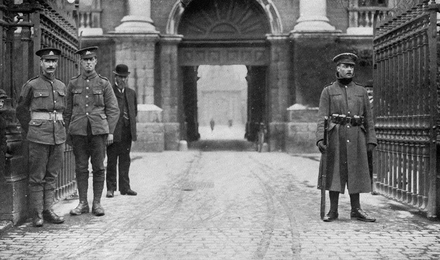 Trinity College 1916
The first Anzac Day, commemorating the Australians and New Zealanders who fought at Gallipoli, took place on the 25th of April 1916 - in the midst of The Easter Rising. That week, Australian soldiers fighting in WW1 for the British Crown werew on leave in Ireland. They were called to arms to help put down the Easter Rising in Dublin.
One incident, the shooting of a rebel bike messenger, Gerald Keogh, by an Anzac sharpshooter who was positioned on the roof of Trinity College, inspired a song - Digger in Dublin was written by Kevin McCarthy and Geoff McArthur.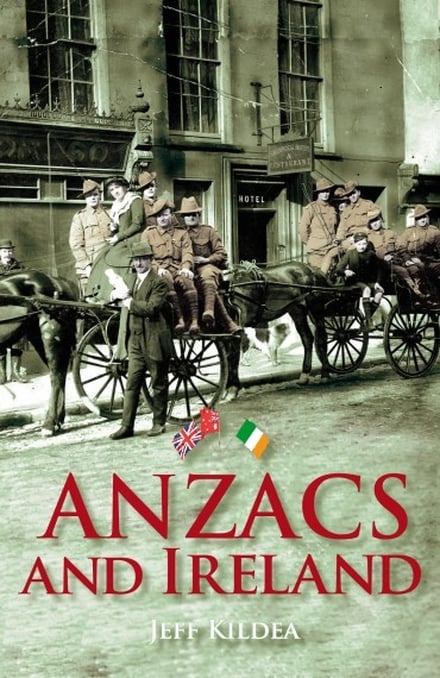 Anzacs and Ireland by Jeff Kildea is published by Cork University Press
Irish Anzacs: the contribution of the Australian Irish to the Anzac tradition
Click here to read Jeff Kildea's article
Jeff Kildea's website: http://jeffkildea.com
Gallipoli 1915 Exhibition
An exhibition and series of talks on the Gallipoli Campaign during the Great War will be held at Griffith College, South Circular Road Dublin 8, in the New Conference Centre Room AF101.
Time of Exhibition: 11am to 4pm
Date: Saturday 3 May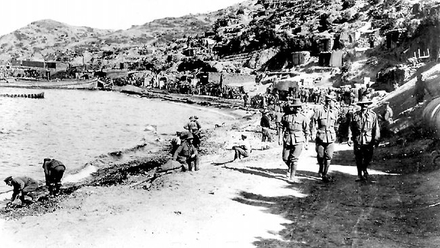 The Exhibition is being hosted by the Medal Society of Ireland and will comprise displays of artefacts, medal, badges, diaries, photographs, stories, uniforms etc. relating to those who served during the campaign.
The focus for the day will centre on the narratives of those who served during the campaign and brought to light by displays of the material culture which tells the stories of the micro histories and global perspectives of the events on the Peninsula during the First World War.
Keywords
Rufus Rigney, Aborigine soldier in WW1
Rufus Rigney, Aborigine soldier in WW1
by Mary Russell
On a lovely warm April day, two weeks ago, I took a train from Brussels to the small Flanders town of Harelbeke. I had a map to tell me where to go – not a map that showed streets or railway stations but one that marked the row upon row of white grave stones in the small grassy cemetery where a solitary bee buzzed among the aubretia. Plot eleven, the map said, Row D, Grave number 7. And yes, there it was – a stone like all the others and marked with the name Rufus, Rufus Rigney. The stone had carved into it the rays of the sun, a crown and the words: Australian Imperial Forces.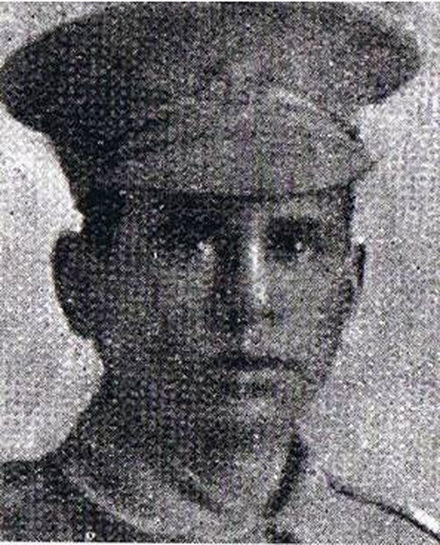 In 1914, the population of Australia was relatively small – under 5 million but nearly half a million of them enlisted and among them was Rufus.
Rufus lived close to the Murray River, in a place called Raukkan, in South Australia. But in order to enlist, he had to get special permission from what was called his Protector, for Rufus was Aborigine, a member of the indigenous Ngarrindjeri people, and the organisation appointed to protect Aborigine people - well meaning as it was - was really appointed to control them.
But anyway, Rufus was given permission to join the army – as was his older brother – and in January 1917, he arrived in Flanders a fully-fledged soldier aged all of seventeen years for, like many lads at that time, he lied about his age, saying that he was seventeen when in fact he was only sixteen and nine months. However, within a year, just short of his eighteenth birthday, Rufus was dead.
He'd been injured previously and sent back to England to recuperate but returned to Flanders a few months later.
In October, injured again and probably trapped by the mud that had been churned up by boots, horses and tanks, he was taken prisoner by the Germans and died behind enemy lines four days later. His brother too was killed though his body was never recovered.
But though Rufus is gone, he is still remembered.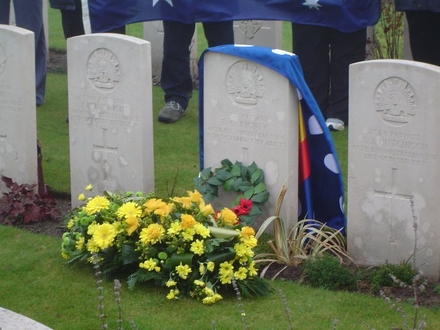 A few years ago, a group of students from Raukkan, visited the grave, carrying with them earth from their ancestral home to scatter on the grave. Then they took back some earth from Harelbeke and carried that to the Murray River.
Of the 500.000 or so Australians who enlisted, 60.000 never returned home.
On 25 April which marks Anzac Day, there wase a dawn service of remembrance in Dublin for those Australians and New Zealanders who perished in that terrible war. The Last Post was played, a few prayers were said and then, courtesy of the Australian Ambassador, a drop of rum was offered to guard against the chill of the morning air – a good a way as any of remembering young Rufus.
If you ever find yourself in Australia, have a look at the 50 dollar note. On it is a picture of the little church in Raukkan, where Rufus came from.
Keywords
Michael Manning Executed in 1954
Between 1923 and 1954, the Irish State executed twenty-nine people who had been convicted of murder.
Almost all of these executions were carried out in the hanghouse at Mountjoy Prison. The prisoners' remains were buried in unmarked graves behind the prison walls.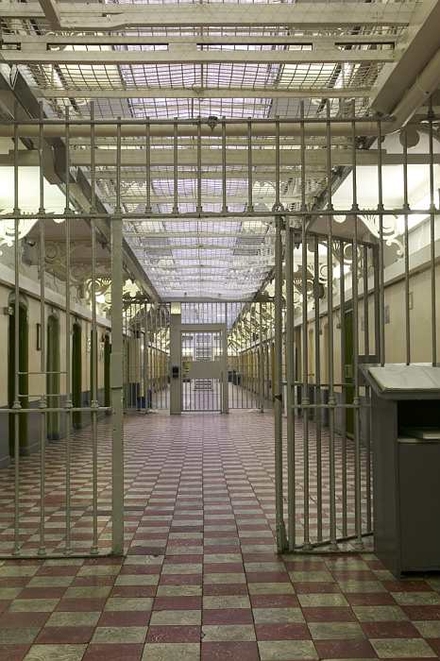 The last person to meet this fate was Michael Manning, who was hanged sixty years ago this month.
Tim Carey told Lorcan Clancy the story of Michael Manning.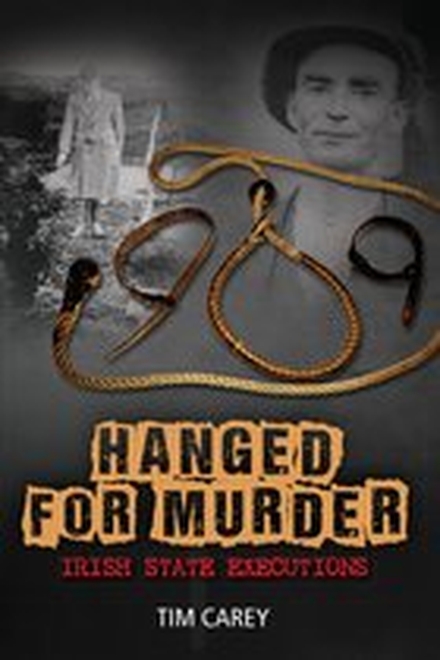 Hanged for Murder: Irish State Executions by Tim Carey is published by The Collins Press.
Centenary of the Larne Gun-running
On the night of 24 April 1914, shipments of 25,000 rifles and 3 million rounds of ammunition that had been smuggled from Germany landed at Larne in County Antrim. The operation was organised to equip the Ulster Volunteer Force, formed the previous year. This week is the centenary of The Larne Gun Running, which was a central episode in the Unionist Campaign at the time.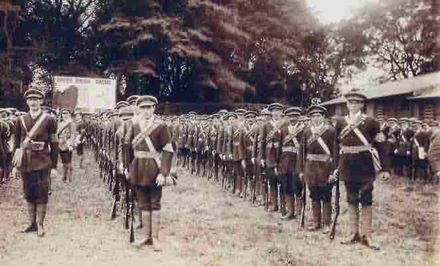 Timothy Bowman, senior lecturer in History at the University of Kent and Conor Mulvagh, lecturer in Irish History at UCD and their man looking after the decade of Commemorations discussed this important centenary.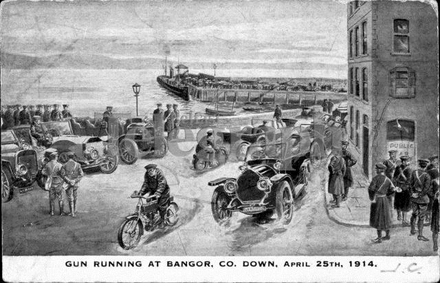 How the Larne Gun Running operation managed to evade the authorities
- A decoy ship known as "The Hoax" was intentionally dispatched into Belfast Lough, to distract the authorities
-Only 12 people knew the full details of the operation.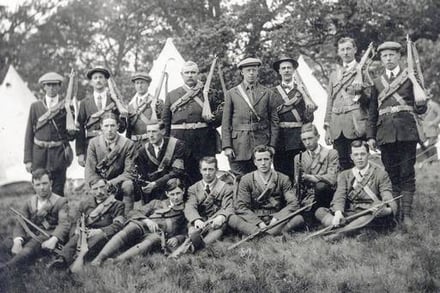 The Ulster Volunteers 1913-1914: force or farce?
Click here to read Timothy Bowman's History Ireland article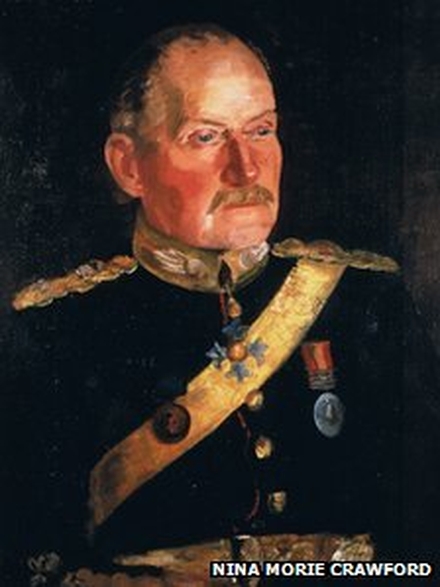 Major Frederick H Crawford Major Crawford believed God had chosen him to help save Ulster
One of the main instigators in the Larne Gun Running was Major Frederick H. Crawford.
Crawford was a member of the UUC (Ulster Unionist Council)
Throughout 1913, he attempted to smuggle in Arms bought in Great Britain and Imperial Germany, these were seized by customs officials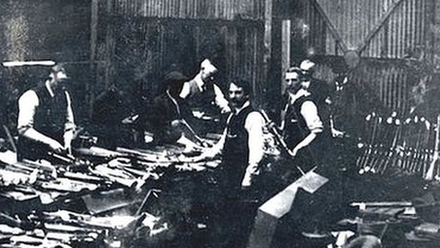 Ulster Volunteers unpack their guns smuggled from Germany
The guns that were landed at Larne weren't exactly state of the art military technology. They were single shot rifles. Some were former Italian army rifles that hadn't seen service since 1887.
What happened to the weapons once they were landed at Larne?
- They were swiftly distributed and effectively concealed. Some caches so well hidden that they only came to light in the routine searches for weapons conducted by the British Army since 1969.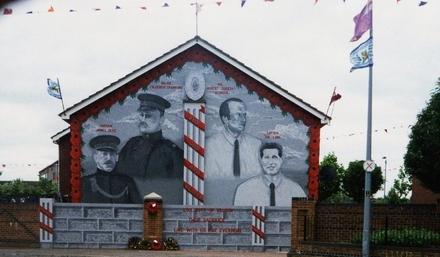 Mural of a Donaghadee roadblock during the Larne gun-running. Shankill Road, Belfast
Larne Gun Running Belfast Telegraph Report
Report from The Belfast Evening Telegraph, April 25th, 1914
The night of Friday, 24th April, 1914, is a date which will find a permanent place on the page of history. On it there were enacted happenings for which Great Britain's long and chequered story affords no parallel. However prosaically the record may be set down, it will send a thrill of amazement through every man and woman who reads the simple matter of fact account of what actually took place.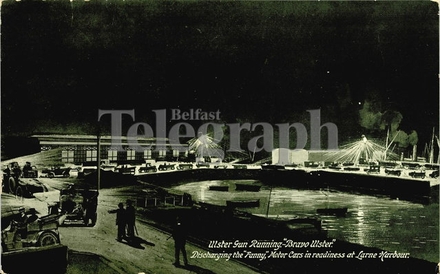 MILES OF PICKETS.
Meanwhile strange events were happening on all the highways leading to the town. Members of the Ulster Volunteer Force had been notified that they were immediately to repair to stated points to discharge such duties as might there be allotted to them. A like order had been issued to the local companies stretching from Larne away to the north, to the west and to the south. The result was that by eight o'clock, right from Belfast to Larne the whole coast road was under close patrol by strong bodies of pickets posted at intervals of a few perches. The roads leading to Glenarm, Ballyclare, Ballymena, &c, were similarly manned, and everything was in readiness for beginning operations. In Belfast itself and in all the neighbouring towns every battalion of every regiment mobilised in like fashion, and the public began to dimly suspect that something stirring was afoot, though what it really was they never imagined. Very few of the public or of the Volunteers had any idea of the actual business in hand, for that secret was well kept and confined to a few.
THE "MOUNTJOY" ARRIVES.
In the neighbourhood of Larne Harbour and throughout the streets of the town strong bodies of men wearing armlets stood in line silent as soldiers on parade, while officers moved about and conversed in low tones. At nine o'clock the throb of an approaching steamer's engines could be heard coming up the Lough; then masthead lights were discernible, and presently the grey, gaunt outline of the "mystery ship" took definite shape. In a few minutes she was alongside the landing stage and made fast to her moorings. A. little earlier Larne had been cut off from the outside world in so far as telegraphic or telephonic communication was concerned. At the same moment of time, ingoing and outgoing vehicular traffic was brought to a standstill, and only motors whose drivers possessed a pass indicating that they were concerned in the business on hand were allowed to pass through the strong line of pickets drawn like a ring fence around Larne. Cordons blocked the road and vehicles, for which a permit could not be produced, were politely but absolutely held up, and their detention notified to the proper quarter for further instructions. It was a bewildering experience to find one's path barred by a score of men leaping into the glare of an advancing car's headlights, to the accompaniment of a mandatory shout of "halt." A few short, sharp interrogations followed, and as those held up were almost invariably sympathetic, there was prompt and implicit compliance with any request made. Cars duly fiated sped through and took their places in the line that ultimately swung into the dock yard to receive their consignments, and speed off into the silence and blackness of the night.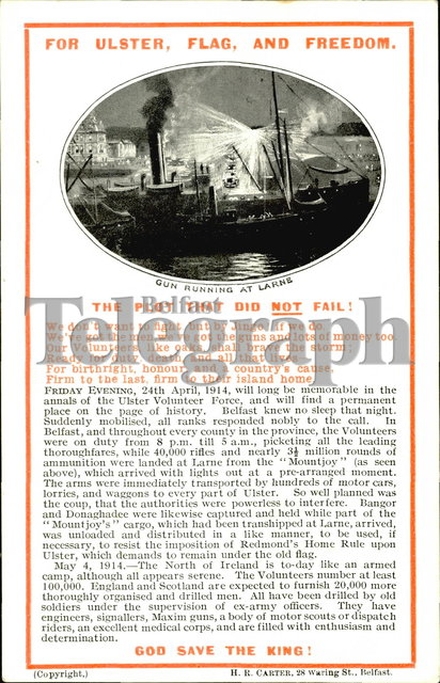 SOME STRENUOUS WORK.
The "mystery ship," it was noticed bore on her bows the name "Mountjoy"?no doubt, readers of Derry's history will draw their own parallel. As she came alongside the lines of men in waiting on shore were divided up, part being assigned to sentry duty at the gate approaches; while others were quickly aboard. No one was permitted to enter the gates upon any pretext unless engaged in the task that was being tackled. Hardly had the hatches been removed before bands of great sturdy fellows stripped to their shirts and pants plunged into the vitals of the ship to join the crew in getting her cargo ashore.
The rifles had been carefully packed, five to each case, with ammunition and bayonets to suit, and the chains sang in the runners as they shot down into the hold to reappear in a few seconds embracing weighty parcels of rifles and ammunition. Volunteer clerks checked those oft one by one with amazing rapidity, and as fast as packages were checked they were seized by strong hands and dumped into the cars?the load of one large lorry numbered 700 rifles. As each car received its complement, the driver accelerated his engine, let in his clutch, and slipped away in a cloud of smoke; while another moved into the vacant space and thus the work went on hour after hour without a pause.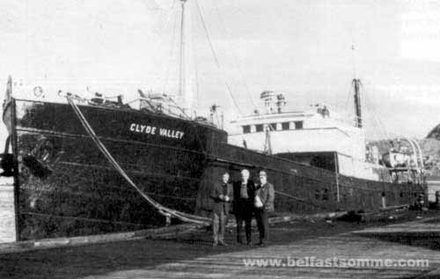 Major Crawford and arms dealer Benny Spiro, March 1914
Simultaneously transhipment was being carried on. The "Mountjoy" was only a few minutes berthed when another ship crept into the circle of the harbour lights and took up position alongside the floating arsenal. The cranes whirred and buzzed as they swung thousands of rifles over the side to the newcomer, which later on slipped swiftly and silently away to her appointed destination, and her position was taken up by a third, which was expeditiously loaded and despatched in the same fashion. Meantime the line of cars steadily melted down, and some were already well on their homeward journey. Such as had shorter distances to cover returned and made other trips, and so the work went on at express speed and without rest or pause. As one batch of perspiring stevedores tired a fresh batch relieved them. All "put their backs into it" in a way that well illustrated the old adage, "One Volunteer is worth three pressed men." They toiled like galley slaves.
NO SLEEP FOR LARNE.
In the town itself hardly a single person went to sleep. The town lamps, save those at corners, are always extinguished, but on Friday night every lamp blazed until daylight, and many a hearty good wish was: shouted to cars heading for the open road. Nearly every house had its windows alight, and the women and children lined the footpaths, exchanging salutations with neighbours, and proud of the fact that husbands or brothers were lending their best aid* to complete the business of the night. The race against time prospered, and just as the first faint streaks of the coming dawn crept over the horizon the last band of tired, but well-pleased, "stevedores" came ashore, leaving the "Mountjoy" empty. Her moorings were cast off, and in ten minutes she had passed into the melting shadows. It was an amazing piece of work, perfectly executed. The frank boldness of it leaves one almost breathless. There was no vacillation or timidity about it. Every man engaged knew perfectly well what he was about. The hazards simply mattered less than nothing. The plans seemed to have been contrived so as to prevent or to checkmate interference if it had been attempted. The very boldness of the scheme contributed to its success, and everything worked out with perfect smoothness.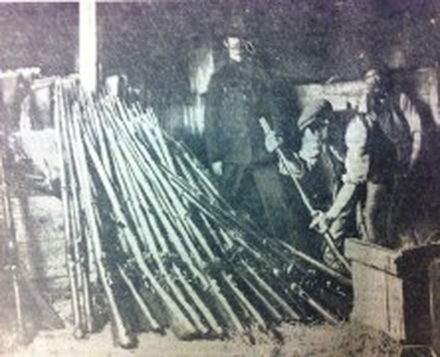 AUTHORITIES POWERLESS.
The authorities might as well have been in Timbuctoo in so far as knowledge or interference was concerned. The local forces, in any case, would have had no more effect in dealing with the situation than so many flies. They probably realised in the course of the night that some very big scheme was in full swing, for the whole town knew it by midnight, but it was impossible to do anything for the reasons already mentioned. The Excise officers were equally helpless. Some of them, it is stated, were in fact enjoying a performance of amateur theatricals when word was brought to them that the proclamation against the importation of arms, the enforcement of which is their business, was being violated wholesale. It is stated that some of them did make an effort to reach the harbour, but they quickly realised that they were "up against it," and it is alleged, in obedience to a pointed, suggestion, refrained from an attempt at the utterly impossible. Police and Excisemen combined would have been at most a couple of dozen men against an army.
As the "Mountjoy" drew away from Larne Harbour her skipper and crew stood to attention, and made the welkin ring with three lusty cheers for "The King" and three more for "The Volunteers," which were heartily responded to by those on ashore.
On next week's programme......
The fate of families living in Ireland and Britain's Big Houses during World War 1 is discussed by historians Christopher Ridgway and Terry Dooley.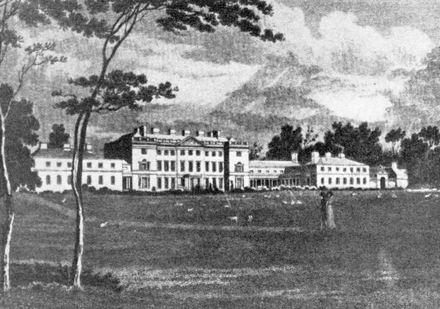 And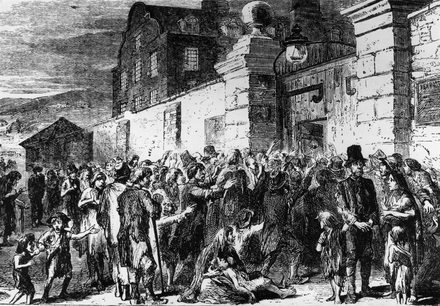 Human osteoarchaeologist, Linda Lynch on her analysis of individuals buried in 19th century workhouses.
Keywords
About The Show
Bringing the past to life! Discover how our world was shaped as Myles Dungan and guests explore events ranging from medieval times to the recent past.
We want to help explain ourselves to ourselves. We will search out fresh angles on familiar topics, seek out the unfamiliar and will not shy away from bizarre or controversial issues. Our ultimate goal is to make The History Show the primary port of call for those with an intense or even a modest interest in the subject. We want to entice the casual and the curious to join us in celebrating the past.
Our aim is to create informative, reflective, stimulating and above all, entertaining radio.
Join us on Sundays from 6.05pm for The History Show with Myles Dungan on RTÉ Radio 1.
A Pegasus production for RTÉ. Digger In Dublin
Kevin Mc Carthy/Geoff Mc Arthur
2:50 The Far Side Of The World
Iva Davies
9:18 Andante Cantabile From Piano Trio
Beaux Arts Trio
13:27