The History Show Sunday 23 March 2014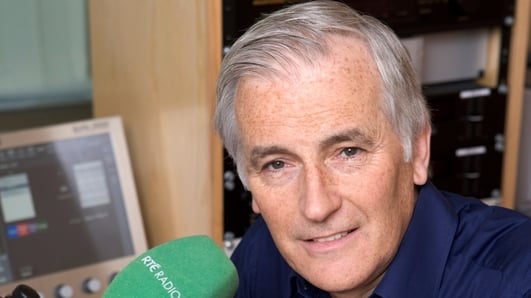 The History Show
Bringing the past to life! Discover how our world was shaped as Myles Dungan and guests explore events ranging from medieval times to the recent past
Death of Shane MacThomais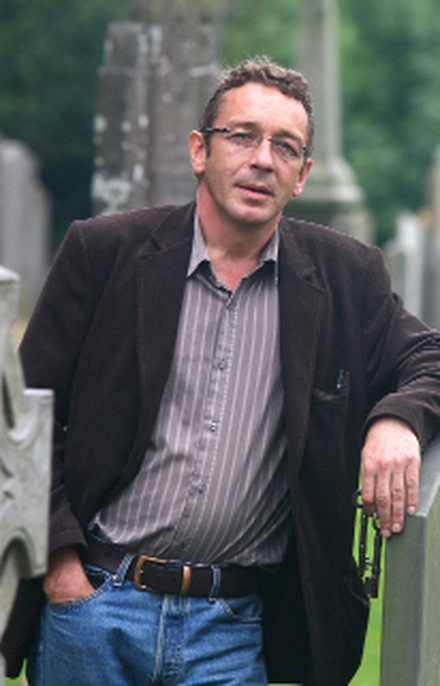 It was with great sadness that we learnt about the death of Glasnevin historian, Shane MacThomais.
Shane has been a great friend of this programme over the years. He had a passion for history and an exceptional knowledge, not only of Glasnevin Cemetery itself, but of the lives and stories of those who are buried there. He was always careful and conscientious in showing all those who rest in the cemetery (from humble unknown citizens to great historical figures) the respect they deserve.
He had a great gift of communicating his enthusiasm to his audience. He was exuberant, charming and scholarly – and was a man of great empathy.
Shane wore that scholarship lightly however and was always willing to share his knowledge and to argue his corner.
Shane MacThomais will be greatly missed.
May he rest in peace.
Ar Dheis De go raibh a anam uasail.
Keywords
Horses and Other Animals in World War I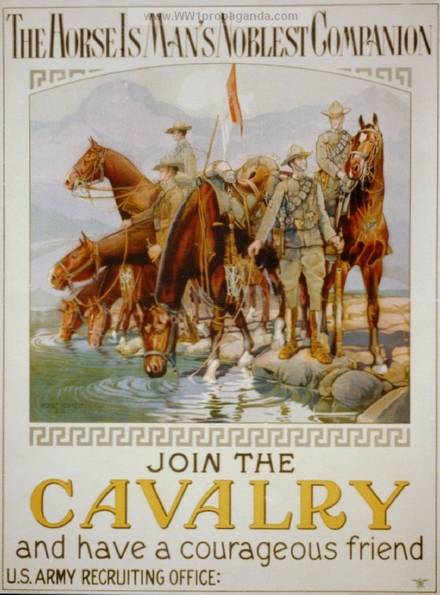 8 million horses were killed on all sides during World War I.
Steven Benedict, author of Paschendeale, a novel set during the Great War, talked about the role of horses and other animals in this war.
Click here for information about Paschendeale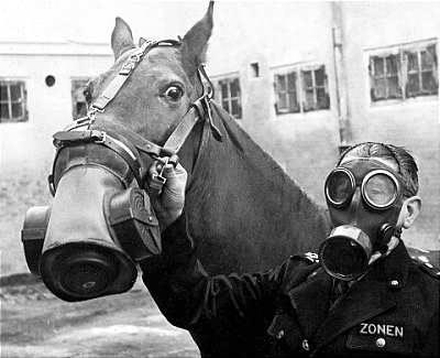 When war broke out in 1914, the British army only had 25,000 horses. The War Office was given the urgent task of sourcing half a million more to go into battle. In the first year of war the countryside was emptied of shire horses and riding ponies, a heartbreaking prospect for farming families who saw their finest and most beloved horses requisitioned by the government.
They were transported to the ports, they were hoisted onto ships crossing the Channel before being initiated into the horrors of the front line either as beasts of burden or as cavalry horses.
The supply of horses needed to be constantly replenished and the main source was the United States, with the British government arranging for half a million horses to be transported across the Atlantic in horse convoys. Between 1914 and 1917 around 1,000 horses were sent from the United States by ship every day. They were a constant target for German naval attack, with some lost en route. The horses were so vital to the continuation of the war effort that German saboteurs also attempted to poison them before they embarked on the journey.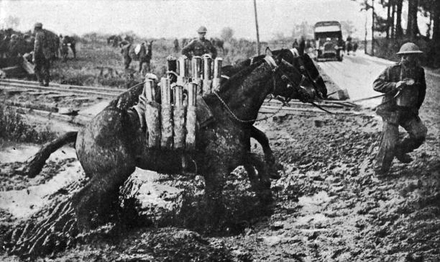 Horses were used primarily as a form of transport during the war. However, when the war broke out, both Britain and Germany had a cavalry force that each numbered about 100,000 men. Such a number of men would have needed a significant number of horses but probably all senior military personnel at this time believed in the supremacy of the cavalry attack.
The last great cavalry charge took place near Mons in August, 1914. Trench warfare made such charges not only impractical but impossible. A cavalry charge was essentially from a bygone military era and machine guns, trench complexes and barbed wire made such charges all but impossible.
However, though a cavalry charge was no longer a viable military tactic, horses were still invaluable as a way of transporting materials to the front. Military vehicles, as with any mechanized vehicles of the time, were relatively new inventions and prone to problems. Horses along with mules, were reliable forms of transport and compared to a lorry needed little upkeep.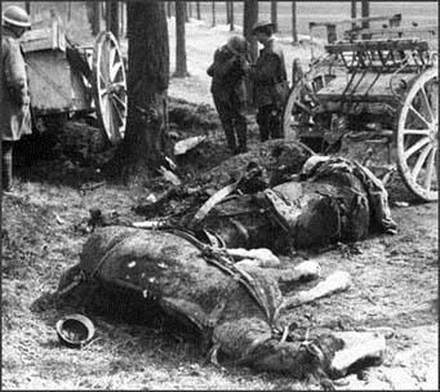 8 million horses died on all sides fighting in the war. Two and a half million horses were treated in veterinary hospitals with about two million being sufficiently cured that they could return to duty.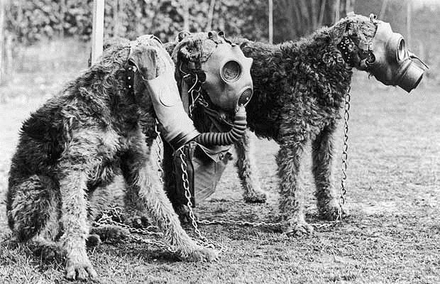 Dogs in World War One
It is estimated that by 1918, Germany had employed 30,000 dogs, Britain, France and Belgian over 20,000 and Italy 3000.
The most popular type of dogs was medium-sized, intelligent and trainable breeds; Doberman Pinscher's and German Shepherd Dogs, both native to Germany. Military dogs in World War One were positioned in a variety of roles, depending on their size, intelligence and training. Generally, the roles fell into the category of sentry dogs, scout dogs, casualty dogs, messenger dogs, explosive dogs, ratters and mascot dogs.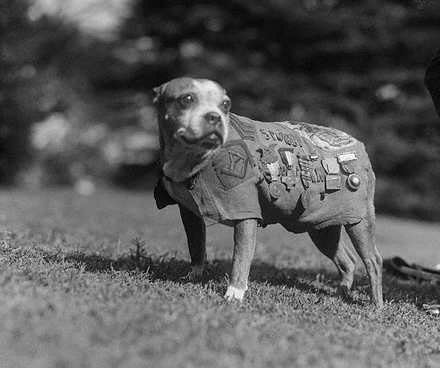 Sergeant Stubby
In 1917, a stray puppy wandered onto the Yale University campus, where members of the 102nd Infantry Regiment were training. The pit bull mix won over the unit with his antics, participating in drills and even learning how to salute with his right paw. Private J. Robert Conroy adopted the dog, named him Stubby and smuggled him to the front lines in France. There, exposure to mustard gas left Stubby highly sensitive to the noxious fumes and able to warn the 102nd of imminent attacks. He also learned to locate wounded soldiers during patrols. One day, Stubby spotted a German spy and attacked the bewildered man until reinforcements arrived; the achievement earned him the rank of sergeant. In his 18 months of service, Stubby participated in 17 battles, survived a series of wounds and provided a much-needed boost of morale to his fellow soldiers. After the war he returned to the United States with Conroy (who never made it past corporal himself) and became a national icon, leading parades and receiving awards until his death in 1926.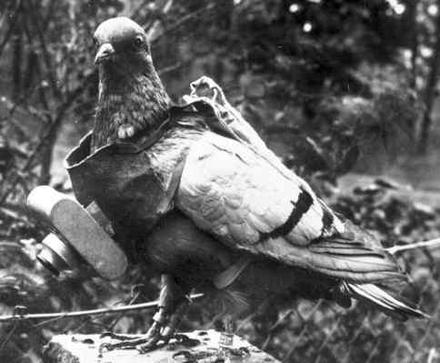 Pigeons in World War One
Pigeons played a vital part in World War One as they proved to be an extremely reliable way of sending messages. Such was the importance of pigeons that over 100,000 were used in the war with an astonishing success rate of 95% getting through to their destination with their message.
Shooting one down would have been all but impossible. The only natural way to counter them was to bring birds of prey to the front line and let one of nature's great battles occur.
An apocryphal tale about pigeons is as follows:
In October 1918, as the war neared its end, 194 American soldiers found themselves trapped by German soldiers. They were cut off from other Allied soldiers and had no working radios. The only chance they had of alerting anybody about their desperate situation was to send a pigeon with their co-ordinates attacked to its leg. The pigeon's name was Cher Ami. When released it flew 25 miles from behind German lines to the Americans headquarters. Cher Ami covered the 25 miles in just 25 minutes. The pigeon was, in fact, shot through the chest by the Germans but continued to fly home. With the "Lost Battalion's" co-ordinates, the Americans launched a rescue and the 194 men were saved. Cher Ami was awarded the Croix de Guerre with Palm for its astonishing flight. As with other pigeons, it would not have known where the American's nearest headquarters was - its natural homing instincts took over.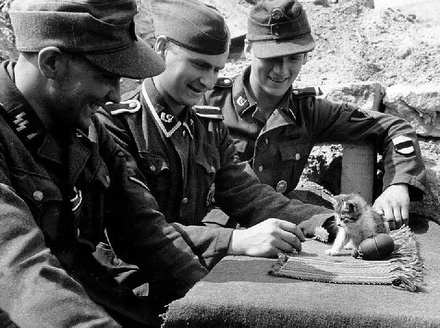 Cats in Combat
It is said that the ancient Persians took cats into battle against the Egyptians, because they knew it would give them an advantage. The Egyptians, with their reverence for cats, would do anything to avoid harming one, so would be reluctant to attack anyone with a cat. WW1 tank mascot In World War I, the British army employed 500,000 cats as gas detectors and ratters in the trenches. Soldiers have always felt better for adopting mascots, and many cat mascots have earned their keep as 'stressbusters' that was a tank mascot in WW1.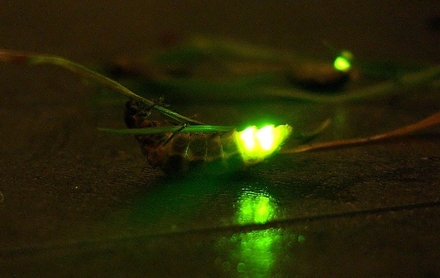 World War I soldiers brightened the trenches with glow-worms.
One of the most unlikely nonhuman contributions to World War I was made by Lampyris noctiluca, more commonly known as the European glowworm, which emits light through bioluminescence. Huddled in dank, dark trenches, enlisted men and officers alike turned to the incandescent insects for help, collecting them in jars by the thousands. According to a 2010 study, just 10 glowworms can provide the same amount of illumination as a modern-day roadway light.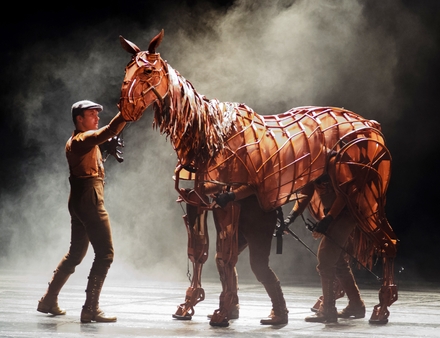 War Horse runs at the Bord Gais Energy Theatre from 26 March to 26 April 2014
Warrior the War Horse
Warrior the War Horse
by James Keating
By 1918 four years of rapidly changing war had made a relic of the warhorse. Despite this, a charger named Warrior managed to survive as machine guns and tanks made the cavalry obsolete. This warhorse would become a legend.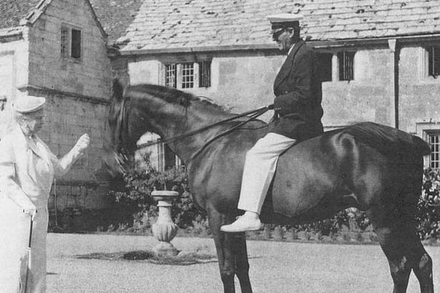 When Warrior first entered the Great War in 1914, the war was expected to be a short, open affair. Within months, opposing sides were fighting from trenches for every inch of ground. War horses didn't suit this kind of battle.
But Warrior didn't murmur the fight. Owned by General Jack Seely, the warhorse was quickly into the thick of things.
By 1915 Warrior had narrowly avoided capture, survived being shot at and avoided shelling. A promotion was in order for him General Seely. They took command of the Canadian Cavalry.
The Canadian Cavalry were a motley bunch of ranchers, mounties and native Americans. Seely and Warrior would lead them in battles across the front line over the next two years.
Warrior became a hero, and in 1918, as the Germans mounted their Spring Offensive, would face his greatest challenge.
At Moreuil Wood in France, Warrior stood at the head of the Cavalry. The Germans were advancing westward rapidly. Stopping them was crucial. A line was drawn at the Avre River.
Warrior rode out, followed by 11 other horses. The plan was for General Seely to plant a red pennant at the top of the hill above the river. The pennant would guide the rest of the cavalry into battle.
As soon as the pennant is planted, chaos erupts. The cavalry charges into battle. Horses are mown down by machine gun fire. Shells fall around them. Men thrown from their mounts fight with pistol and blade. Warrior, amazingly, stays in the battle. Soon the Germans are forced back. As light fades Moreuil Woods belongs to the Canadian Cavalry. The German advance is halted. It's a massive turning point in the war.
Shortly after the battle, an injury forced Warrior out of the war. It's remarkable he survived at all. Of a million horses sent to France, only 62,000 returned home. Only one of them, upon his death in 1941, had an obituary which read 'The horse the Germans could not kill'.
Keywords
The Kalem Film Company
Between 1910 and 1915, the Kalem Company made almost thirty films here dealing with, among other things, Irish history and emigration.
They made history by producing not only the earliest series of fiction films made in Ireland, but also the first films to be shot on both sides of the Atlantic.
Led by director and actor Sidney Olcott and daring leading lady Gene Gauntier, the Kalems first came here in the summer of 1910. Their first movie was The Lad from Old Ireland which was shot in and around Cobh.
Sunniva O'Flynn of the Irish Film Institute and Tony Tracy lecturer with Huston School of Film & Digital Media at NUIG discussed this groundbreaking film company, affectionately known as the O Kalems.
On the programme, extracts from Gene Gauntier's 1928 memoirs (held at MoMA) were read by Liz Hayes and from the documentary Blazing the Trail. https://wfpp.cdrs.columbia.edu/pioneer/ccp-gene-gauntier/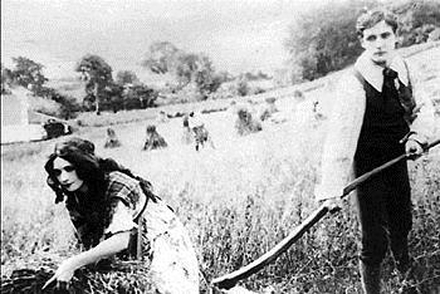 The Kalem's 1914 film Come Back to Erin is now available on the Century Ireland website.
Click here for Come Back to Erin on Century Ireland website
Come Back to Erin(1914) (Gene Gauntier Feature Players)
Director: Sidney Olcott / Scenario: Gene Gauntier
Summary by Tony Tracy
Sadly, only one reel of this three-reel film survives; recently discovered at Museum of Modern Art and restored for this disc.
According to a contemporary synopsis, the story was another trans-Atlantic emigrant tale, centering on a female character named Peggy O'Malley (Gene Gauntier), who leaves rural Ireland in search of a better life in America. Like those earlier films, it is a cautionary tale that follows her progress as an immigrant in New York where she gets into trouble with the law (accused of stealing a necklace) before being 'saved' by her Irish fiancé (Jack J Clarke). They marry and return to her father (Sidney Olcott) in Ireland. Come back to Erin is an interesting gender-reversal of the first Kalem film The Lad from Old Ireland, with the men now left at home waiting but shares with it an anxiety about leaving the homeland for the corrupting forces of modernity and America that clearly spoke to audiences of the period.
More than in the earlier films, the characters are contextualized in the real, everyday life of rural Ireland. Particularly striking in this regard are the scenes set in the Killarney cattle market and the blacksmith's forge.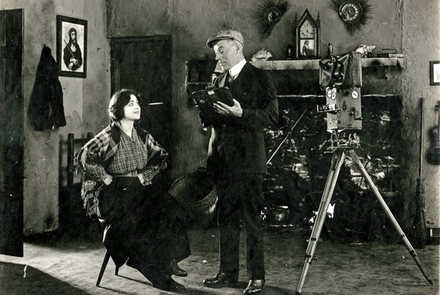 The DVD of the Kalem Collection is available at the IFI Film Shop and online at http://www.ifi.ie/ priced €11.99. That DVD set also includes the Blazing the Trail documentary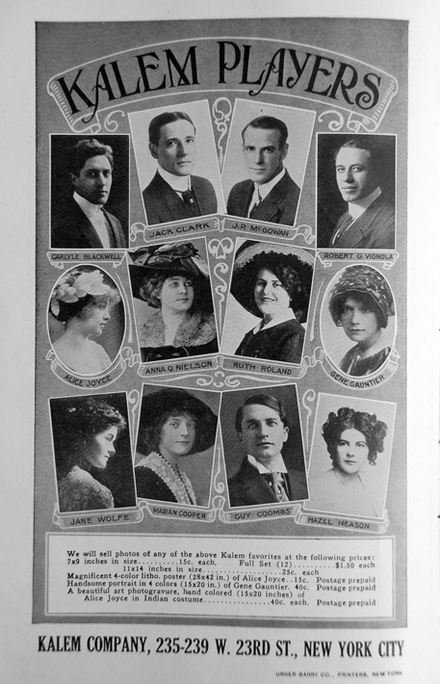 The O'Kalem Collection
By Tony Tracy
The 'O'Kalems' was an effective PR label created by New York based Kalem Film Company to advertise their success and specialisation with Irish subjects following a visit to Ireland in the summer of 1910 during which they shot several films including The Lad from Old Ireland. Leading the expedition, as was the case with future trips to Ireland and beyond (Europe, Egypt and Palestine), was actor/director/producer Sidney Olcott (1873-1949) along with actor/writer Gene Gauntier (1885-1966) and cameraman George Hollister. The distinctiveness and box office success of those films motivated further visits to Killarney, Co Kerry over the following three summers, resulting in an unrivalled output of Irish subjects that represent the first substantial fiction filmmaking in Ireland. Writing towards the end of this period in 1916, the trade magazine Motion Picture World noted:
'In the making of stories of Ireland, Sidney Olcott is in a class by himself. For that matter he has very nearly a monopoly in the staging of photoplays on the 'Ould Sod', and his experience in this particular section of the world covers a half dozen years. . . He has the unmatched art of creating Irish atmosphere, or portraying its interesting inhabitants.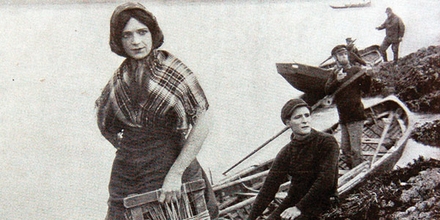 The Kalem Film Company was founded in 1907 by two former employees of Biograph Pictures, Samuel Long and Frank J Marion, and Chicago-based film distributor George Kleine (their surname initials - K-L-M - gave the company its name). The trio quickly poached Sidney Olcott and Gene Gauntier from Biograph as the fledging studio's principal directing and acting talents respectively.
In February 1907 Kalem released its first film and in the following decade went on to occupy an important place in the pre-Hollywood American film landscape. They distinguished themselves from the competition in a number of ways: they were the first company to put actors names on posters (thereby beginning the star system); they pioneered the commissioning of film scores; they filmed scores of distinguished literary adaptations; produced the first life of Christ film (From the Manger to the Cross, 1913) and initiated a number of successful, action/adventure serials featuring female heroes, including the Girl Spy series written by and starring Gauntier. As with many other independent companies, the move to California and the changed production practices ushered in by the studio-era ultimately overwhelmed Kalem. In 1917 its driving force and surviving shareholder Frank Marion closed the company and sold its assets to Vitagraph as the nascent Hollywood studio system began to consolidate into larger, vertically integrated units controlling all aspects of production, distribution and exhibition.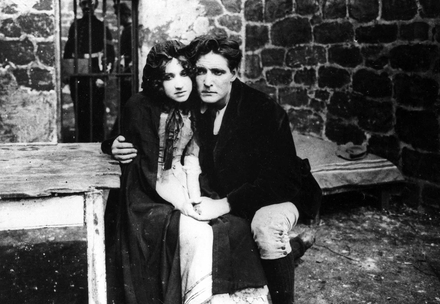 Kalem was unusual in that it had no indoor studios and so, by choice and necessity, became a forerunner in location shooting. Such a decision not only saved on the large costs associated with a permanent facility but also gave rise to a distinctive, action-driven style associated with the Kalem brand. In order to continue production during the New York winters of 1908 and 1909, the company became the first to move temporarily to Jacksonville, Florida, a decision subsequently imitated by other film companies. During these periods Olcott and Gauntier refined the practice of shooting in exterior locations and choosing stories that took full advantage of the natural settings and the use of locals as extras.
Despite the differences in their backgrounds and experience Olcott and Gauntier proved to be a dynamic team that exerted an enormous influence on the early Kalem films. Olcott was an accomplished and versatile actor capable of playing a variety of roles. As a director/producer he demonstrated a particular skill with actors, a keen enthusiasm and facility for physical action and a strong visual sensibility. Gauntier was fearless and charismatic as an actress, lending her parts a feisty appeal. As a scenarist she was imaginative and prolific, adapting a wide range of literary sources as well as writing original stories.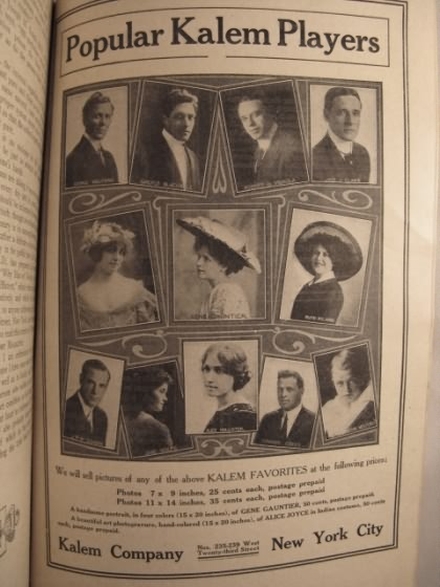 Between 1910 and 1914 the O'Kalems made almost thirty films in Ireland adapted from well-known songs, poems and dramas or original scenarios dealing with Irish history and the Irish-American immigrant experience. Although perhaps originally aimed at the large urban Irish-American communities, these films were well received wherever they were screened throughout the United States.
In late 1912, following disagreements with Frank Marion about screen credit, creative freedom and salary demands, Olcott left Kalem, followed by Gauntier and leading male actor Jack J. Clark. In reality, they wanted to continue to shoot in the manner and with the same freedom as before and returned to Ireland in August 1913 as the 'Gene Gauntier Feature Players', intent on making more Irish-set dramas.
Quite why it was Gauntier, not Olcott that formed an independent production company is not entirely clear, although it has been suggested that Olcott had gained a reputation as 'difficult'. More likely, her stardom was a more marketable commodity, as directors were not yet credited. During this, their fourth visit, they made two important Irish titles: For Ireland's Sake (1914) and Come Back to Erin (1914) both with a more pronounced female characterization that took fuller advantage of Gauntier's acting skills. Despite the success of these and other films, Olcott and Gauntier had professionally split by summer 1914 and, unable to find work, her film career went into steep decline.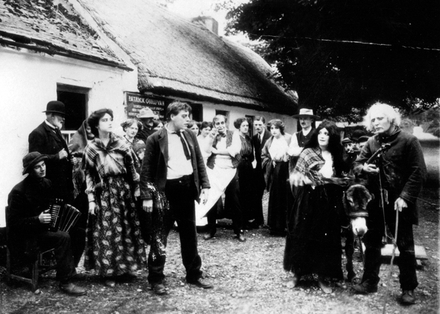 Olcott returned to Ireland, without Gauntier, one last time in 1914. Bold Emmett: Ireland's Martyr and All for Old Ireland (not included here) were the last films he directed in Kerry. Both were made for the Lubin company (one of the last pre-Hollywood production companies left on the east coast) and both centered, as Rory O'More and For Ireland's Sake had done, on the general period of the 1798 rebellion and its aftermath. Then he too disappeared from the business for a time, before re-emerging in Hollywood in the 1920s where he enjoyed a successful career.
In 1923 Olcott made his final Irish subject, a historical light comedy entitled Little Old New York, filled with clichés and stereotypes. and starring Marion Davies as an Irish emigrant in 1800s New York. Now working at the behest of the powerful William Randolph Hearst (who was acting as Svengali to his mistress' Davis' career), Olcott's reconstruction of an Irish village in the film's early sections belied his earlier experiences and the acuity of his Irish portraits of a decade earlier.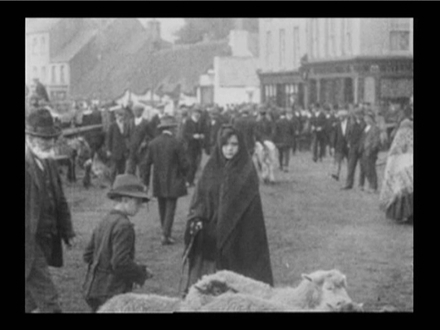 After Gene Gauntier disbanded her company and ended her professional relationship with Sid Olcott, he returned to Ireland one last time. Where he made Bold Emmett and All for Old Ireland. Jack Melville starred in a number of O'Kalem films from The Kerry Gow (1912) to All for Old Ireland (1915) which are no longer extant. This is his sole surviving appearance, as the eponymous hero. Despite the misspelling of Robert Emmet's name throughout and some historical inaccuracy, (Emmet fought in the 1803 rising not 1798) the film is typical in its pursuit of authenticity in character and setting. Emmet is here positioned as an exceptionally courageous and cunning figure (who evades capture by English troops by hiding up a chimney or playing his tin whistle) among a nation of courageous individuals. In fact, the leading figure in the film is not Emmet at all but fellow United Irishman Con Daly, played by Olcott (who also directed and wrote the screenplay). The English are represented as gallant and fair-minded rather than brutal oppressors but their occupation of Ireland is viewed as foreign and based on force. The scenario is least sympathetic to local informer Fealy (Robert Rivers)– a despised figure central to much romantic literature of Ireland's struggle for independence.
A year after the production of Bold Emmett, the O'Kalem's representations of historical subjects would seem outdated, displaced by the violence of the 1916 rising.
*These notes have made use of production information contained in Kevin Rockett's The Irish Filmography, now online: www.tcd.ie/irishfilm
Keywords
Cigarette Advertising
10 years ago this week, we were the first country in the world to impose an outright ban on smoking in the workplace. It's been so successful that these days, most people wouldn't dream of lighting up inside – even in their own homes.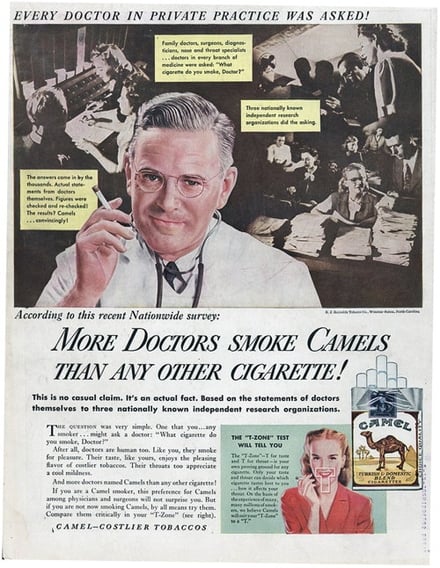 We rolled the clock back a few decades, to a time when cigarettes were being endorsed by athletes and doctors, as part of a campaign which featured what is perhaps one of the world's first publicity stunts. So outrageous were the campaign's claims at the time, they could actually be considered quite comic now – as Louise Denvir reported.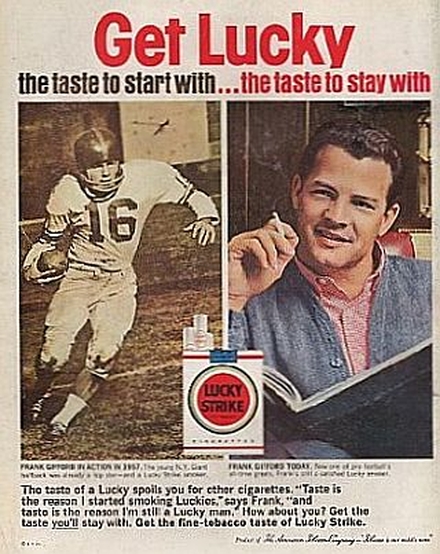 Smoking & the development of modern marketing
by Paul Anderson
The employment of females on the farmyards and factory floors of America during WW1 served as a huge boost to the women's equality movement in the US. By the mid-1920s they had won the right to vote; they were succeeding their husbands as State governors (Texas and Wyoming); and more were at college and in the workforce.
But while women gained greater economic freedom, socially, progress was less advanced. Women were still second-class citizens expected to conform to male-conceived constructs of femininity.
One of the discriminations they faced was restrictions on smoking in public (in 1908 a woman was arrested for lighting a cigarette on a New York street). There was also a general public perception that cigarettes were for men only and the only 'disreputable' women smoked.
But as the US consumer economy began to boom in the 1920s George Washington Hill, president of American Tobacco Company, maker of Lucky Strikes, recognised females were a market not being properly tapped. He believed cigarette sales would soar if women were allowed smoke in public and in 1928 hired one of America's first PR men, Edward Bernays, to help.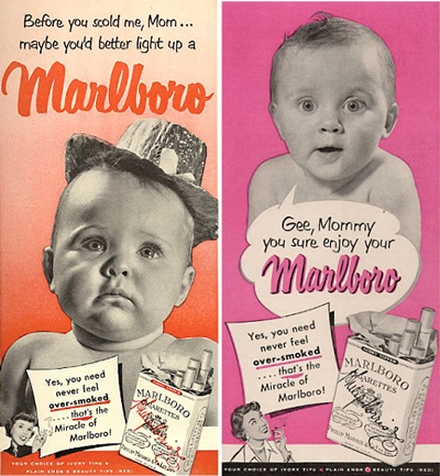 Background to Edward Bernays
The War Effort
Edward Bernays had established his reputation working for the Creel Committee on Public Information, which was formed by President Woodrow Wilson to encourage a sceptical public to support US involvement in WW1. Led by ex-journalist George Creel, it became one of the first examples of the modern communications office generating positive news stories about US war activities through earned and paid-for media. While its output was supposed to be more subtle than conventional propaganda, it very quickly started having to field media queries about bad news stories and soon found itself resorting to "spin" to fulfil its mission.
The Committee was an early adopter of the theory that the public's full attention span was four minutes. The Committee sent out 75,000 people know as four-minute men who would address pretty much any gathering they could find (workplaces, town halls, social clubs) about the war effort. This was also an early example of the technique of public conditioning that is used in so regularly PR and marketing.
The public mind
Bernays was not considered the first PR practitioner. That honour is more commonly accorded Ivy Lee, inventor of the press release. Lee was a consultant to corporate America who advocated a more proactive – though despite his claim to the contrary, not always spin-free – approach to public communication. He and Bernays were competitors and were generally quick to adopt any innovation developed by the other. Bernays, however, was initially ahead of the curve on marketing – and was therefore more focused on the public mind.
Lipp service
Bernays was also influenced by political advisor and journalist, Walter Lippmann, who had by the mid-20s established himself as the guru of public opinion. He identified that the media use generalisations and stereotypes because they resonate with a wider audience. "The mass of the reading public is not interested in learning and assimilating the results of accurate investigation," he wrote. The masses generate "pictures in their heads"; reading the world around them through symbols. In the main, they only pay attention to public policy issues if they pertain to pressing local issues or their personal interests.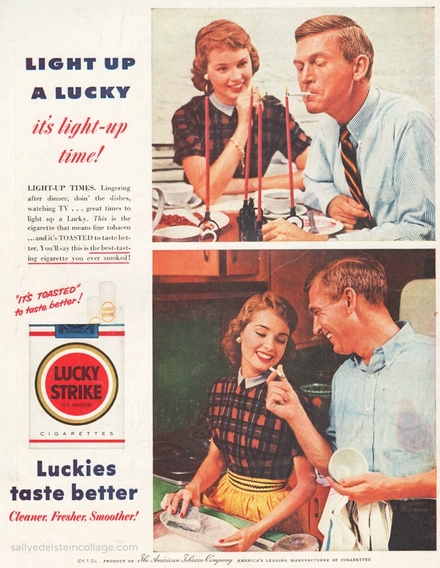 Uncle Sigmund
Austrian-born Bernays, was nephew of Sigmund Freud and an advocate of psychoanalysis. He had written two landmark texts on mass behaviour, Crystallizing Public Opinion (1923) and Propaganda (1928). He argued in Propaganda, that manipulation of public opinion was necessary to maintain social cohesion. It was for "our own good and the only way that democracy can work efficiently," he wrote. He also described PR as "an invisible government which is the true ruling power in our country".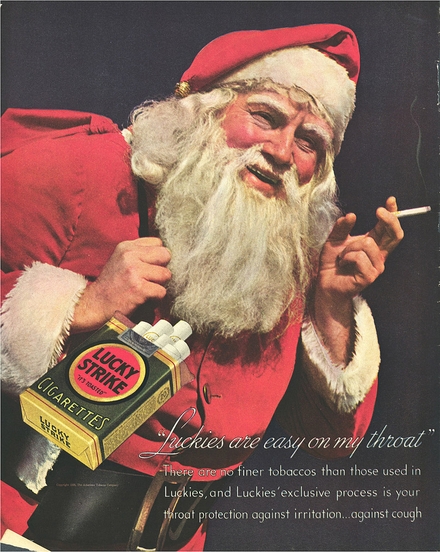 Lucky's break
In 1929, Bernays set about an integrated marketing campaign for Lucky Strikes. By this stage market research – the first example of which was a newspaper opinion poll in 1824 – was an established practice in the advertising industry.
But Bernays saw how it could be adapted. Up 'til then, research was largely about public reaction to campaigns rather than products. And Bernays had made his name predicting reaction rather than measuring it after the fact, so he contracted psychoanalyst Dr AA Brill, to find the psychological basis for women's smoking. Dr Brill opined that women felt empowered by cigarettes. Smoking established behavioural equality with men and as a phallic symbol it gave them, subconsciously, the same thing as men.
Brill said: "The emancipation of women has suppressed many of their feminine desires. More women now do the same work as men do. Many women bear no children; those who do bear have fewer children. Feminine traits are masked. Cigarettes, which are equated with men, become 'Torches of Freedom'." [1]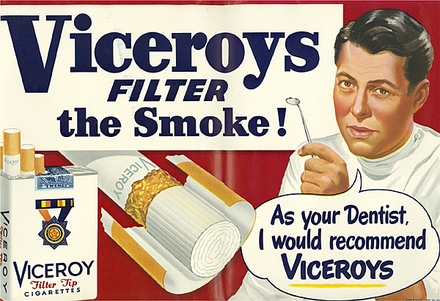 Torches of Freedom
So Bernays determined that if women equated equality with cigarettes they would smoke a lot more. But he needed a subtle strategy so leveraged the public smoking ban.
He planted pretty debutantes in New York's Easter parade down Fifth Avenue. He also planted members of the media at 34th St (Empire State building) and 57th (upmarket shops and art galleries etc.,). He then asked his debutantes to light up as they approached these intersections. He made them walk back and forward along the route to ensure the media saw them and could capture them on camera and report it in the newspapers and on the newsreels.
The stunt got widespread coverage and within three days, women smoked in public in other major US cities; within 6 weeks the League of Theaters allowed women smoke in their establishments. Bernays had made women's smoking socially acceptable.
Bernays supported the stunt with the "Torches of Freedom" advertising campaign using female celebrities such as Amelia Earhart often explicit referring to torches of freedom or the connection between liberation and smoking.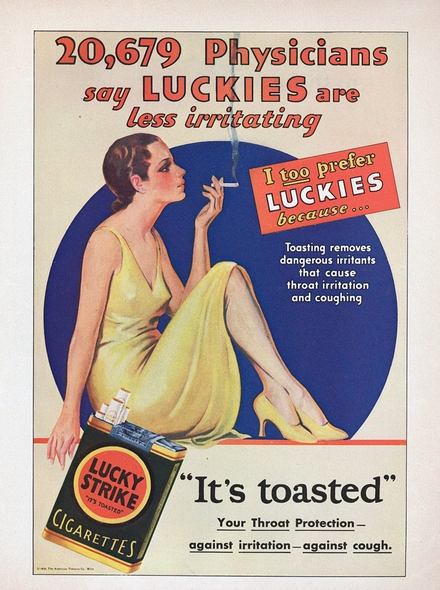 Green is the new black
While the torches campaign worked well Luckies' chairman George Hill wanted higher dales. Bernays carried out research which showed women didn't like the colour of the packets which they found clashed with the fashionable colours of the day. But Hill said changing the packaging would be too expensive and ordered Bernays to change the fashion instead.
So when he surveyed his target market, females, he found they didn't much like Lucky Strikes' green packaging because the dark shade was unfashionable.
So Bernays aped the world premier fashion show at the time, the Paris Bal de L'Opera where the latest couture were launched. He offered the President of Women's Infirmary in New York a $25,000 budget to host a fundraiser called the Green Ball.
Notices were placed in the city's society columns advertising the event; and Parisian couturiers were arranged to provide green gowns for the event. He also organised an exhibition for fashion editors in which an art historian and psychologist to explain the significance of green.
He met with clothing manufacturers shortly afterwards to promote the ball and said they already knew green was going to be the premier colour of the season and were already making the green stockings, gloves and shoes that after the fashion of the day would be needed. Within weeks fashion magazines were depicting models wearing dark green.
So when the green couture dresses were worn by the select group of New York socialites who were invited to the ball at the Waldorf Astoria, which was bedecked in green décor – even the food was green – naturally, the media were also invited. And so the "Green Ball" got extensive coverage for the forest green shade on Lucky Strikes packs. (The form eventually abandoned the colour during the WWII because a great deal of the green dye it used came from Germany.
As an aside, another PR technique was used by Philip Morris, makers of Marlboro, in response to social commentary suggesting that the many women's execution of the performance of smoking was gauche. So the company hosted public information evenings on how to smoke while avoiding the etiquette pitfalls which so annoyed men such as lipstick on the filter looking too affected/posed while smoking.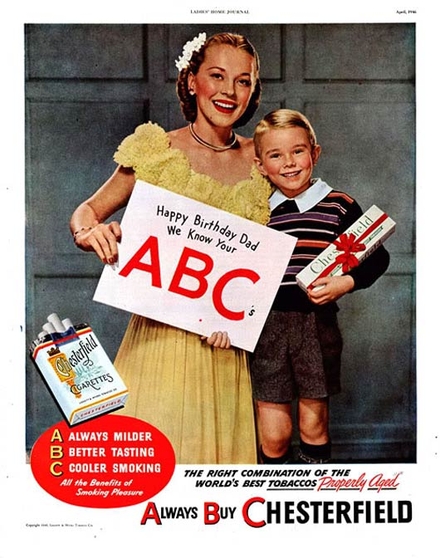 Ask the expert
In his book, Propaganda, Bernays expressed concern that public sentiment was having too much influence on the behaviour of politicians who were, he felt, afraid to make progressive policy decisions, ie legislate for corporate interests. Similar to Lippman, he believed the public did not make up its own mind but instead people allied themselves to the opinions of favoured thought leaders such as journalists, politicians, the military or experts such as doctors and scientists.
He felt politicians and businesses could be bolder if they used better powers of persuasion. He said the techniques of manipulating public opinion included pandering to prejudices; and providing cliches or verbal formulas which would frame the public's view on an issue.
He used the technique of expert endorsement to create another of his most famous campaigns. He was by Beech-nut bacon to promote their product. So he conducted a survey of physicians and reported their recommendation that people should eat "heavy breakfasts" to other doctors.
This was also a form of Word-of-Mouth (WoM) advertising because these doctors would then recommend bacon and eggs to their patients. As usual, Bernays supported this work by an advertising campaign referencing physicians promoting bacon and eggs as a healthier breakfast than regular coffee and toast. Bacon was not a common breakfast food at the time so Beech-Nut saw their sales soar.
So much like the red-suited Santa Clause being a creation of Coca-Cola, so Beech-nut manufactured a tradition.
The technique of expert endorsement was also deployed for cigarettes as a means of combating claims, which until the 60s we rot underpinned by scientific proof, that cigarettes were harmful.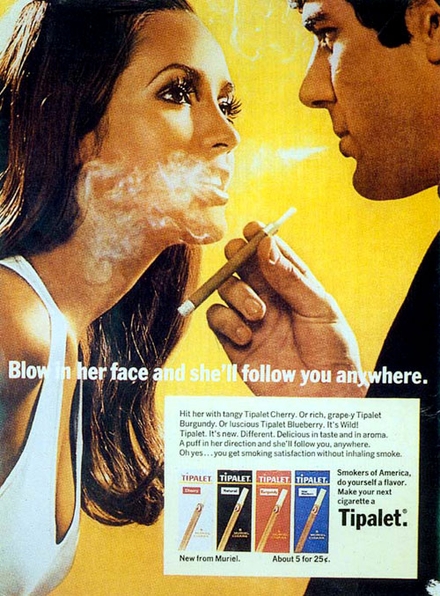 Magazines, billboards TV and cinema advertising were awash in the 40s and 50s with claims that cigarettes were good for clearing up ailments such as chesty coughs. And doctors were used to endorse particular brands. Camel, one of the more disingenuous operators who also used a cartoon character to target young people, were particularly fond of using doctors to endorse their product.
So stepping back to 1930s, by the time the campaign for Lucky Strikes was in full flow, Bernays was combining lobbying, market research, expert endorsement, advertising, direct mail and PR – what we now call integrated marketing. Overall, the chief characteristic of his work was that he pioneered the principle of making a product – or message – attractive to the public by focusing less attention on the product's characteristics and putting greater focus on its associative benefits which were rooted in the satisfaction of latent human desires (Freud's influence again). This is the principle we now recognise as branding.
Within six years of Bernays being contracted by American Tobacco, the number of women smoking had gone up 50%.
Other techniques used by cigarette makers included the development of collectibles cards, firstly using the latest lithographic printing techniques to make attractive looking images on the card used as a protection on the soft packaging of early tobacco products. At a later stage, these cards became coupons for use in getting products from catalogues created by the tobacco firms (loyalty marketing) or collectible sports star cards.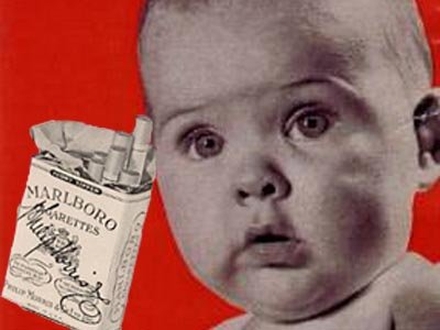 The first real innovators in tobacco advertising was a firm called Blackwell & Co makers of Bull Durham rolling tobacco. They drove a boom in Durham, North Carolina by cornering the market in tobacco products through production automation and an early example of branding, in which their trademarked bull featured prominently in billboard and magazine advertising. Their product was popular among baseball players so the company also bought sponsored fencing at baseball grounds which is the presumed reason the term bullpen for the pitcher's warm-up area emerged.
Today the new frontier in the West is lobbying were companies spend millions trying to assure governments they are against encouraging smoking (particularly among young people). They are developing new products and supporting anti-smoking lobbies but at the same time are aggressively pursuing new markets in the developing world and trying to circumvent advertising codes everywhere.
For instance in Malaysia, the display of cigarette packets in advertisements has been banned since 1995. However, tobacco firms have continued to advertise on TV and elsewhere by using brand names on other products and advertising them instead. Want to go on holiday? Try the Mild Seven Seafarers Club, or Peter Stuyvesant Travel, Kent Holidays or Salem Holidays. These brands also sponsor entertainment events. You could alternatively staycation eating out at Benson & Hedges Bistro and use the money you saved on new clothes from the likes of Dunhill, Marlboro Classics, Pall Mall, Winfield and Winston.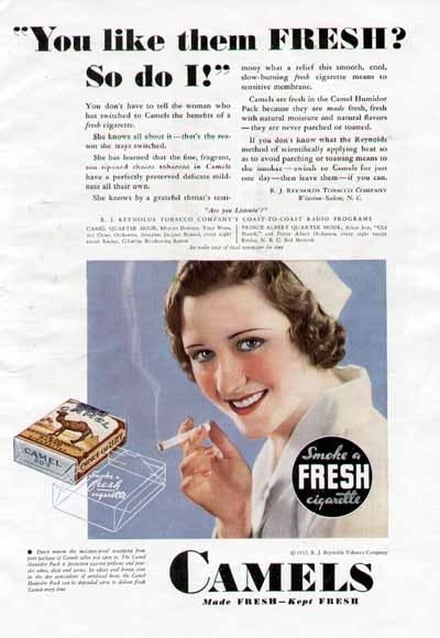 One of the main weapons lobbyists in Ireland are using in Ireland – and elsewhere – at the moment, is that efforts to discourage smoking through high prices, curbing availability and introducing plain packaging, will lead to more illicit cigarettes which are often more dangerous being consumed. They also warn that if all avenues of promotion are cut off they will be forced into a price war which will increase consumption. One argument that did not go so well at a recent Oireachtas Committee hearing was advanced by the Law Society who was concerned about plain packaging infringing on copyright entitlements. They also reckoned that detecting the increase in cigarette smuggling they arises from greater tobacco control will cost money and resources for gardai and customs officers. Unfortunately, they appear not have noticed that representatives of both had already been before the committee where they dismissed the suggestion.
Resources
Short summary of Bernays by the Discovery Channel:
http://www.youtube.com/watch?v=druOAHVKHCQ
http://www.youtube.com/watch?v=JQZFTbPh4jM
http://www.youtube.com/watch?v=cSPRKL0xzVg
Tobacco.org timeline: http://archive.tobacco.org/resources/history/tobacco_history20-2.html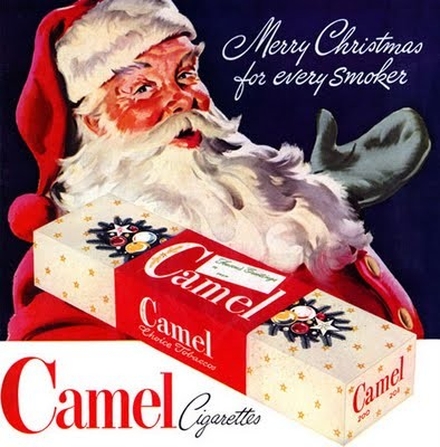 24 March 2014 at the Royal College of Physicians of Ireland
6 Kildare St.
ASH Ireland, the Royal College of Physicians of Ireland and TobaccoFree Research Institute are marking the 10th anniversary of the smoking ban with a breakfast of invited guests that will be addressed by the Minister for health followed by a seminar with looking at how Ireland has benefitted as a society from the ban. Public welcome.
Keywords
Hubert Latham
Hubert Latham received public acclaim as one of the brightest stars of aviation in the early 1900s, but nowadays his name means very little to most people. Historian, Barbara Walsh joined Myles to talk about the man and his adventurous exploits.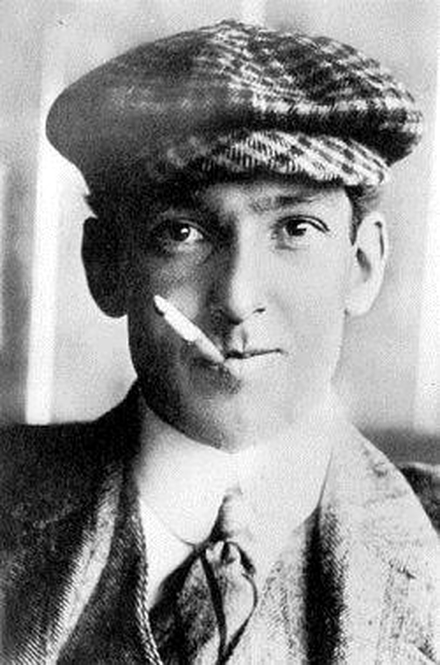 Latham was wealthy, charming and good looking. And he was also a traveller, sportsman and aviator.
In 1905, he made his first newsworthy mark in aviation with a record breaking balloon trip across the Channel.
He was keen on motorsports and his next achievement was to win prizes as helmsman of a motor launch in the Monaco Regatta.
He also led an exploratory expedition from the Sudan into Abyssinia (now Ethiopia) to collect specimens of flora and fauna for the Natural Museum of Paris.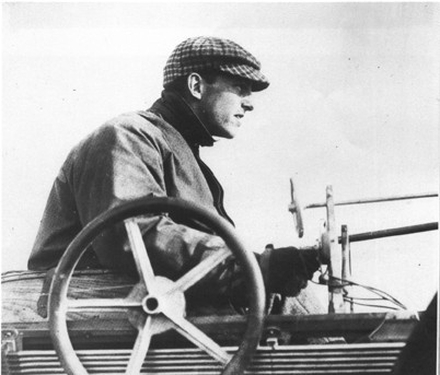 On his return to Paris in 1908, he was invited to learn to fly a newly designed monoplane, the Antoinette.
He was soon breaking flying records for height and endurance and he almost became the first man to fly across the British Channel. He made two attempts. When he came down the first time, he passed the time bobbing through the waves by smoking in the cockpit of his wrecked plane.
Although he didn't get to the White Cliffs of Dover, his flight proved to be historic in another way. He completed the world's first landing of an aircraft in the sea.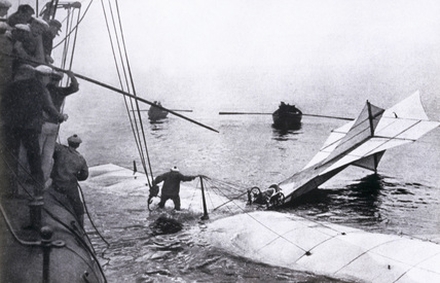 His next attempt was due to take place on the 26th of July, 1909. But he was pipped at the post by Louis Bleriot.
But a daredevil doesn't live for accolades alone, so Latham's story doesn't end there. His skill in piloting the Antoinette monoplane won him many prizes and he continued to break records for height and speed.
In 1910, The Baltimore Sun gave him $5,000 for dazzling the crowds by flying high above the city.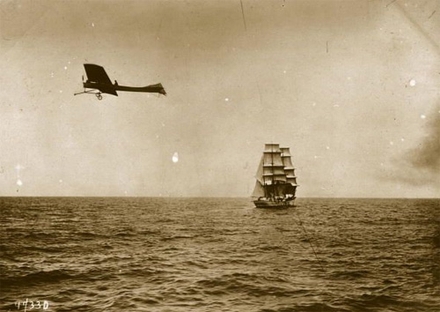 He had a violent and untimely death at the age of 29 in a remote outpost of the French Colonial Empire. The official historical record of his death reads "killed by buffalo" but his death raises uneasy questions. Was it truly an accident or was it murder?
Barbara Walsh's book – Hubert Latham: Forgotten Aviator
is published by Odyssey.
Keywords
About The Show
Bringing the past to life! Discover how our world was shaped as Myles Dungan and guests explore events ranging from medieval times to the recent past.
We want to help explain ourselves to ourselves. We will search out fresh angles on familiar topics, seek out the unfamiliar and will not shy away from bizarre or controversial issues. Our ultimate goal is to make The History Show the primary port of call for those with an intense or even a modest interest in the subject. We want to entice the casual and the curious to join us in celebrating the past.
Our aim is to create informative, reflective, stimulating and above all, entertaining radio.
Join us on Sundays from 6.05pm for The History Show with Myles Dungan on RTÉ Radio 1.
A Pegasus production for RTÉ.