A Century of Irish Dance
On this St. Patrick's weekend, our focus is on the history of an integral part of our culture – dancing.
In the decades after Independence, where and how we danced was of huge concern to the Gaelic League, the State and the Catholic Church.
What was to emerge gives us a fascinating insight into attitudes to sex, sensuality and sin in Irish society.
Programme guests:
Barbara O'Connor, author of recently published The Irish, Dancing – cultural, politics and identities, 1900 to 2000 .
Deirdre Mulrooney, author of "Irish Moves – an illustrated history of Dance and Physical Theatre in Ireland.
Diarmaid Ferriter, author of Sin, Sex and Society in Modern Ireland.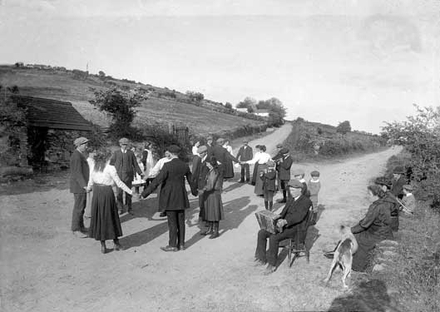 We started the programme with a brief discussion about when the Irish started dancing.
Then we moved to the Famine, a watershed which would change everything – utterly. Out of this came the Gaelic Revival movement whose objective was to revive the Irish language, customs and folkways of traditional Ireland. And as Diarmaid told us, out of this emerged a less relaxed attitude to sex and procreation.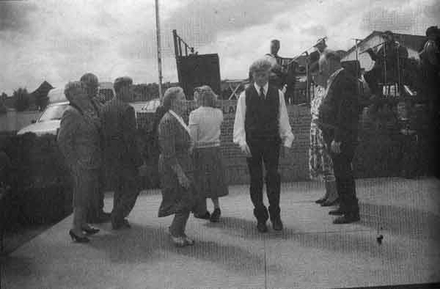 Central to the events that shaped the future of Irish dancing was the foundation of the Gaelic League in 1893. They were strongly influenced by European thinkers on the connection between culture and politics – in particular on the role of culture in the struggle for political independence.
In its early days, the Gaelic League was primarily concerned with Irish Language revival and it later turned its attention to dance. It believed that Irish dance reflected the spirit of the nation.
By the 1920s, the Catholic Church and later, the State, became involved in public debates on dance. Initially though public pronouncements in which "modern" women's morality and vulnerability was particularly an issue.
In the 1920s, "foreign dance" was becoming increasingly popular with the masses but was viewed with great distrust by the authorities.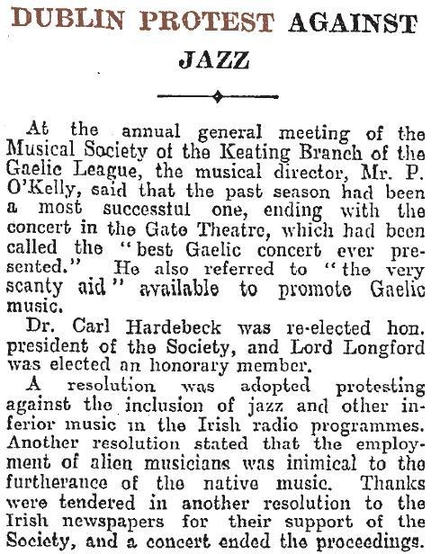 Then came the anti-jazz movement in the mid-1920s – spearheaded by the clergy. Co. Leitrim was the location for the most vociferous opposition to jazz – spearheaded by Fr. Peter Conefrey, parish priest of Cloone. He had strong views on the links between jazz and international communism and sexual promiscuity.
The 1929 Commission for Irish Dance resulted in members of the Gaelic League being banned for dancing foreign dances.
The State took things a step further in 1935 with the Public Dance Halls Act. It was born out of de Valera's notion of the "ideal Ireland". It drove dancing out of kitchens and barns into public dancehalls. Those who wanted to put on dances had to apply to the District Court for a licence.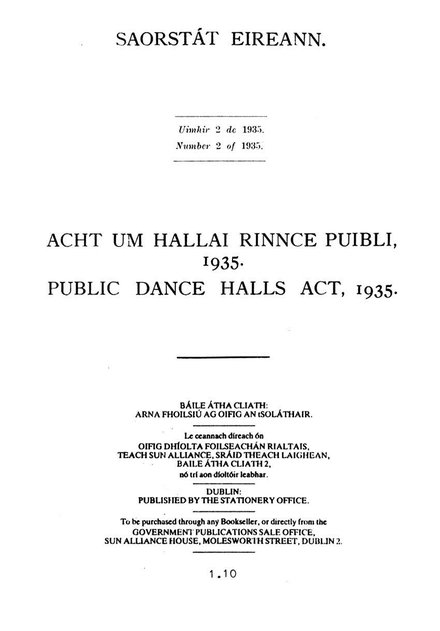 We heard on the programme that despite the new law, surreptitious dances continued to take place around the country.
The rules extended beyond the dancehalls. In Deirdre Mulrooney's radio series, Nice Moves, she quoted from the 1936 diary of Eilis ni Suibhleabhain describing new rules on bathing on the Blasket Islands:
"Great changes have come on the island lately with the visit of two Redemptorist Fathers. No mixed bathing allowed. No dancing in any house, day or night. And no one out later than half past ten".
In the following decades, unapproved dancehalls continued to be denounced from the local pulpit.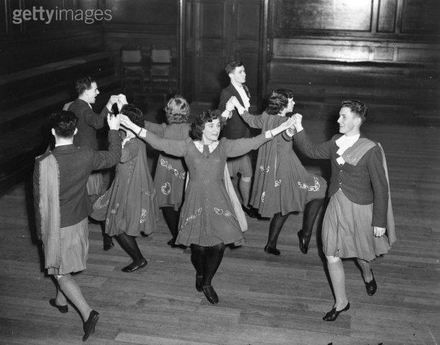 Irish dancing abroad
Rhona Tarrant brought us a report from New York on how Irish dancing influenced the chosen country of many of our emigrants.
There are many places you can see the influence of Irish dancing in New York, from the dance schools to the old dance halls. But to really understand where Irish dancing took root in the city you'd have to go to China town in Lower Manhattan. While there's not much trace of it now, this was once the site of the infamous Five Points slum, populated mainly by Irish immigrants and African Americans. It was the city's poorest, filthiest, most crime-ridden neighbourhood in the 1840s. It was also where music and dancing flourished, with expressive African step mixing with more conservative Irish dance. This gave way to a new form of dance that you can see now in American tap.
The report also mentions a performer called Master Juba, who wowed crowds in the U.S. and England and was immortalized by Charles Dickens as "the greatest dancer known."
Through the 1900s dance halls were central to identity for the new Irish Americans. They brought people from home together and ensured a continuity of music and dance traditions among the next generation. And the years in which traditional music lay dormant in Ireland were the very years in which the dance-halls thrived the states. The most celebrated dance-hall bands were the ones that specialised in both American and Irish music and performed on both traditional and modern instruments. Dances included jigs and reels, perhaps a fling, interspersed with more modern dances such as waltzes, tangos and foxtrots. The Irish dancing schools in New York now come from a more traditional place, but in certain styles and moves you can still see the influences picked up along the way.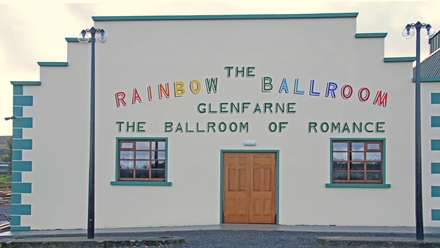 Other issues we discussed were:
How the Irish dancing style and costumes came about.
The original ballroom of romance in Glenfarne, Co. Leitrim.
The spread of ballrooms throughout the country.
Percy Lovegrove told James Keating about ballroom dancing during the years of the Emergency.
German refugee, Erina Brady set up Ireland's first modern dance school in Harcourt Street in 1939. She hosted dance classes for children in her studio by day and slept in one of its alcoves by night. One of her former students, Ann Walsh shared her memories with Louise Denvir.
On the programme, we also included archive material about Erina Brady which was taken from Deirdre Mulrooney's RTE Radio One series, Dance Moves.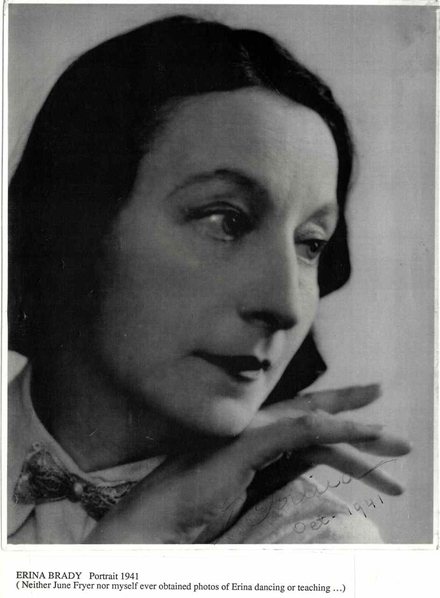 Deirdre Mulrooney who has reserached the life and work of Erina Brady told us more about this innovative dancer whose story is preserved in the Military Archives in a detective's file. She is also documented in the French Dance Archive in Paris.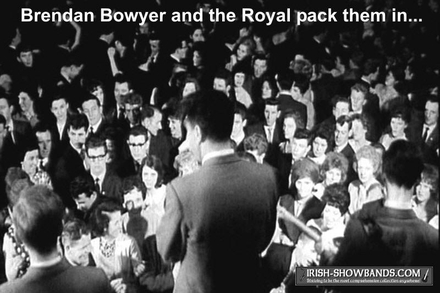 We moved then to the 1960s when Irish showbands burst onto the scene. They would become a phenomenal success over the next decade. The church hadn't given up making pronouncements about dens of iniquity in the 1960s/70s but not as many people were listening anymore.
And then, Riverdance exploded onto the stage in 1994 . This signalled a new era for Irish dance and an incalculable legacy.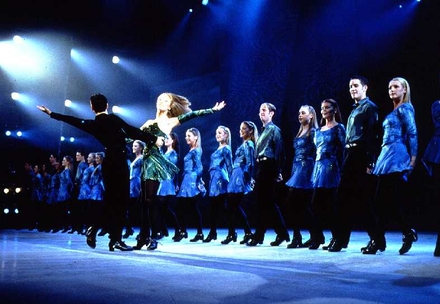 Watch out for Deirdre Mulrooney's 52 minute TG4 Splanc! Documentary "Damhsa na hEigeandala"/ "Dance Emergency", which will be broadcast on TG4 later this year, starring Olwen Fouere as Erina Brady; Peter Sheridan as Detective McGuire; Tom Hickey as Cousin Tom Brady; Choreography by Jessica Kennedy (of Junk Ensemble); Ingrid Nachstern; Olwyn Lyons; Students of the College of Dance.
Interviewees include Declan Kiberd; Patrick Scott; Rionach Ni Neill; Fearghus O Conchuir; Ciaran Mac Conaghail; Sunniva O'Flynn; Elisabeth Moore-O'Dea, & family members of Erina Brady; Original music by Conor Linehan; Narration by Catriona Ni Mhurchu. Produced by Midas.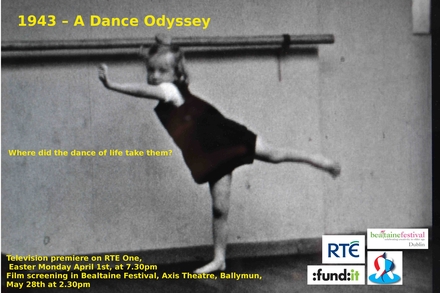 Dance School
Once upon a time, during World War Two, enigmatic Irish-German woman Erina Brady brought cutting edge Modern Dance to Ireland, from Germany. A forgotten reel of film by Irish film industry founder Liam Ó Laoghaire immortalised the mysterious modern dancer teaching her tiny pupils in her Harcourt Street Studio and dancing freely in the open air in his 1943 gem of a film, "Dance School".
Setting eyes on this rare footage for the first time, 1943 – A Dance Odyssey brings five of Brady's former tiny tots on an odyssey to a bygone era in her enchanted Irish School of Dance Art studio.
Seventy years on, 1943 – A Dance Odyssey, explores who were these tiny dancers, attempting an arabesque, and stretching out their little limbs in barefoot dance of expression? Where did the dance of life take them? Unlocking fond memories of those extraordinary classes the women share how the modern dance pioneer influenced their lives, and opened them up to a lifetime of creativity.
Produced, Written & Directed by Deirdre Mulrooney Shot & Edited by Mia Mullarkey; Music Composition by Rossa Ó Snodaigh Running time: 24 minutes, 24 seconds. First broadcast on RTE One on April 1st (Easter Monday), 2013. Screened at Bealtaine Festival May 28th, 2013; Culture Night 2013 [September 21st], Druid Lane Theatre, Galway.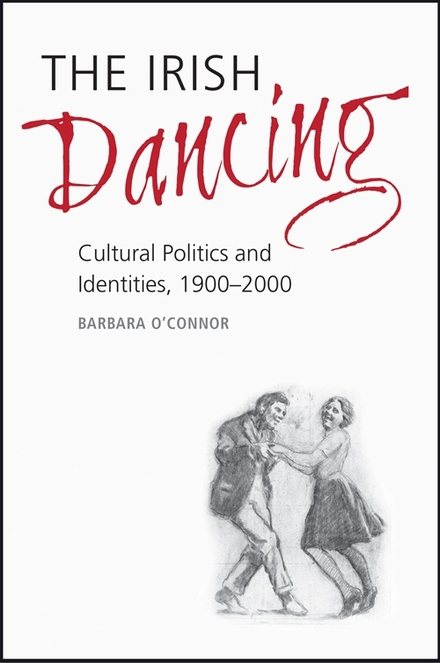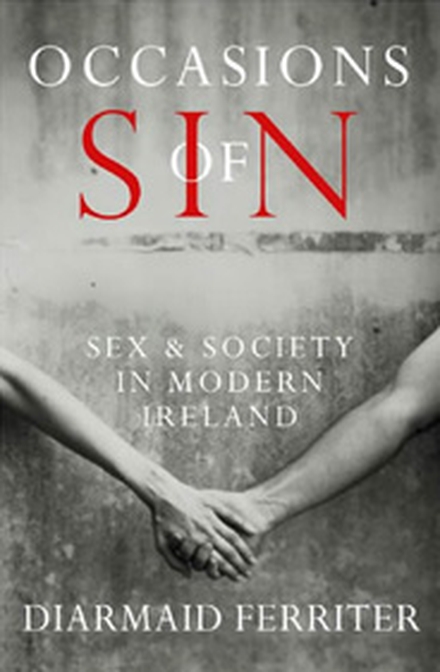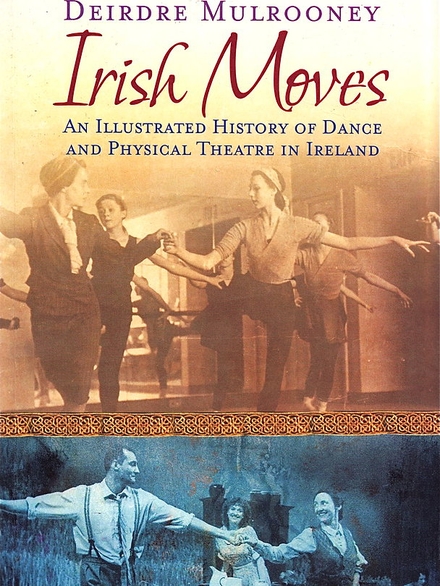 Click here to buy Deirdre Mulrooney's limited edition Irish Moves
Buy an autographed copy directly from deir@indigo.ie
Website: http://www.deirdremulrooney.com/
About The Show
Bringing the past to life! Discover how our world was shaped as Myles Dungan and guests explore events ranging from medieval times to the recent past.
We want to help explain ourselves to ourselves. We will search out fresh angles on familiar topics, seek out the unfamiliar and will not shy away from bizarre or controversial issues. Our ultimate goal is to make The History Show the primary port of call for those with an intense or even a modest interest in the subject. We want to entice the casual and the curious to join us in celebrating the past.
Our aim is to create informative, reflective, stimulating and above all, entertaining radio.
Join us on Sundays from 6.05pm for The History Show with Myles Dungan on RTÉ Radio 1.
A Pegasus production for RTÉ.