The History Show Sunday 2 March 2014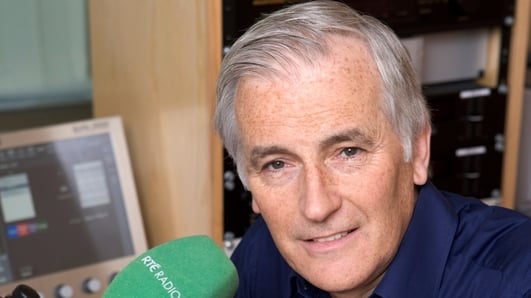 The History Show
Bringing the past to life! Discover how our world was shaped as Myles Dungan and guests explore events ranging from medieval times to the recent past
Rin Tin Tin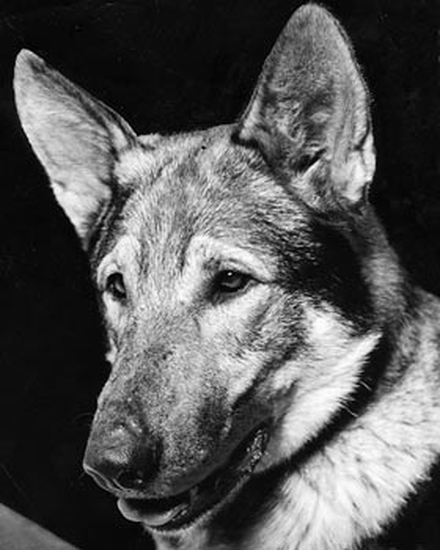 Rin Tin Tin
by
Catherine Cleary
It's hard to imagine just how different the First Academy Awards ceremony was compared to today's lavish version. The 1929 dinner at the Hollywood Roosevelt Hotel in LA was private. The ceremony took fifteen minutes. There were no cameras, no microphones, no red carpet interviews.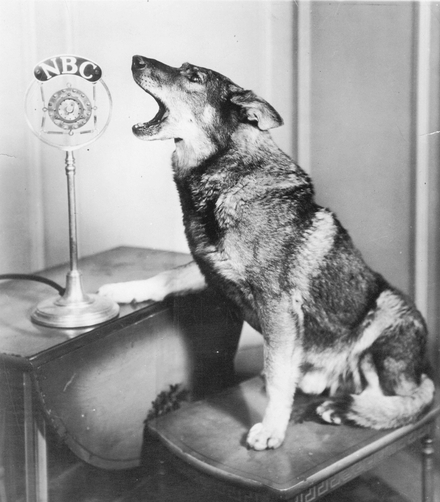 But there was at least one scandal. The star who received the most votes for Best Actor was robbed of his award. The Academy baulked at giving him the prize. They drew up the list again with his name no longer on it, and awarded the Oscar to the German actor Emil Jannings who has since been all but forgotten.
The problem with the rightful winner, the fore-father of all the leading men who've walked in his footsteps since 1929, was that he had four legs. He was the German Shepherd Rin Tin Tin, the star of 27 silent films and the dog who helped make Warner Brothers the studio giant it is today.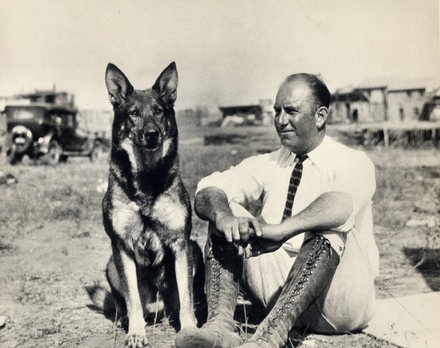 Though he sounds like a story wrapped up in American mythology Rin Tin Tin was a real dog. He is buried in a Paris cemetery. His grave is not the grandest or even the largest in the Cemetery of Dogs and Other Domestic Animals. But it holds the story of a life that continues to fascinate America almost 100 years since he was born.
When the US writer Susan Orlean published her book Rin Tin Tin: the Life and the Legend three years ago she called the dog a "pure hero dog" and a special kind of superhero with whom you could curl up on the couch.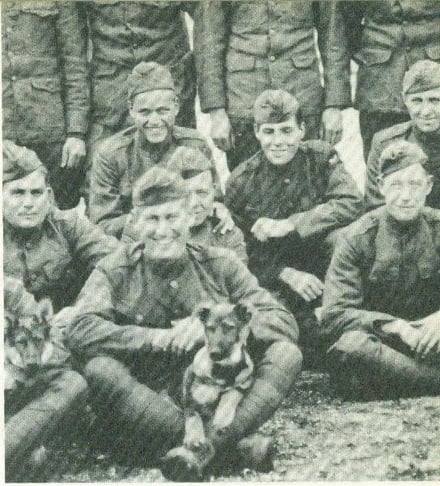 Rin Tin Tin was born on a World War One battlefield in September 1918 in a tiny farming village in the Meuse Valley of Eastern France. He was found by a Californian soldier Lee Duncan in a bombed-out German kennel days after he was born. Dogs were used at the front to deliver messages, cigarettes, medical supplies or even carry out suicide missions with explosives strapped to their bodies.
Lee Duncan loved dogs and named the two newborn pups he rescued Rin Tin Tin and Nanette, after a pair of French good luck charm dolls. He brought both dogs back to the US after the war but Nanette died before they reached California.
Lee Duncan was convinced Rin Tin Tin was a star and managed, by sheer persistence, to get him a bit part as a wolf in the 1922 film The Man From Hell's River. A glittering career followed. This charismatic dog could act. At the height of his stardom Rin Tin Tin was receiving thousands of fan letters every month.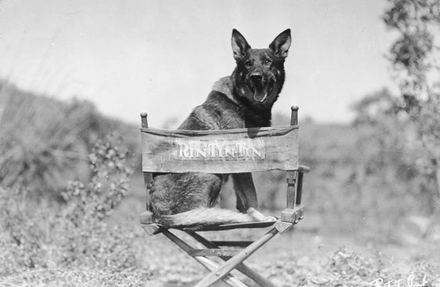 Lee Duncan buried his famous dog in a bronze casket in his garden after Rin Tin Tin died in 1932 . US radio stations interrupted broadcasts to announce the dog's death and broadcast an hour-long tribute show to him. Duncan later arranged for Rin Tin Tin's body to be reburied in Paris's famous pet cemetery, returning his beloved dog to the country of his birth.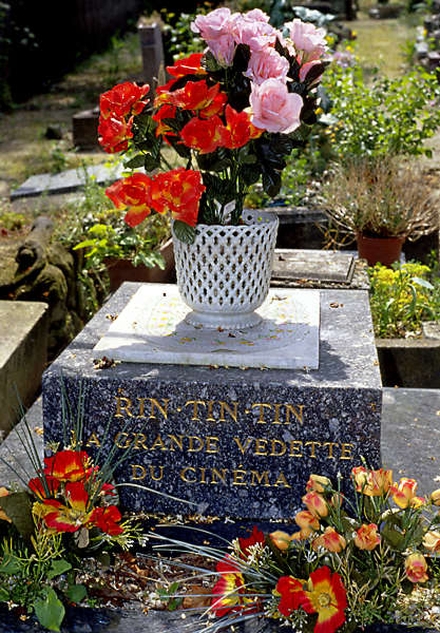 Rin Tin Tin may not have gotten his Oscar but he did a get a star on the Hollywood walk of fame more than thirty years after his death. When he was alive New York Mayor Jimmy Walker gave him a key to the city. There have been TV shows, a movie and several books.
Which is more posthumous achievements than that first Oscar winner for Best Actor Emil Jannings ever managed.
Keywords
Revival of the Irish Language
One of the first projects launched by the government in 1922 was to change the language spoken by the population from English to Irish.
More than 90 years on, we still have a largely English speaking population so has the project to revive the use of Irish failed – or is this too simplistic a conclusion to draw?
We be carryied out a historical review of the measures taken to revitalise our national tongue from the 1920s onwards with author, David Flynn and Prof. Michael Cronin of the Department of Humanities and Social Sciences at DCU.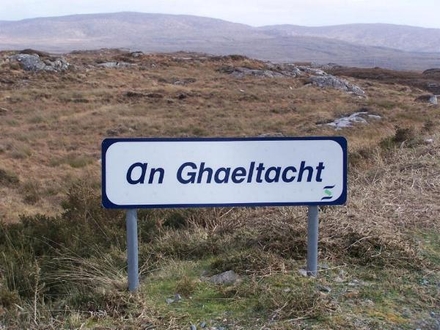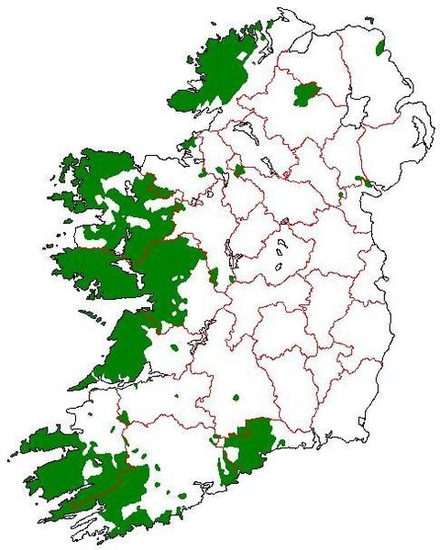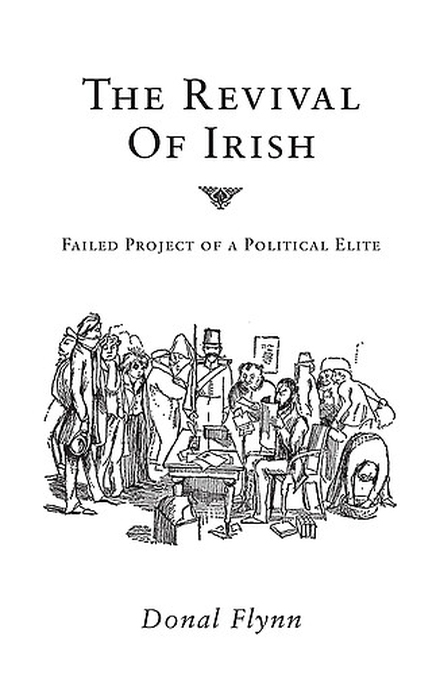 The Revival of Irish - Failed Project of a Political Elite
by Donal Flynn is published by Original Writing
Adoption Files 1948 – 1972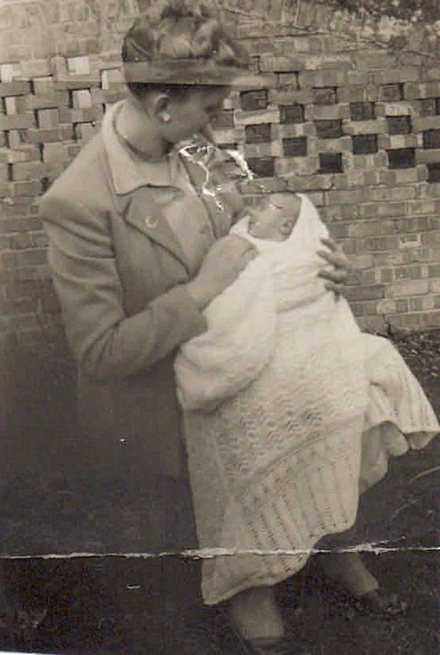 Adoption Files 1948 – 1972
by Catriona Crowe
Philomena, the movie about Philomema Lee's search for her son given up for adoption, has raised interest again in the 2000+ Irish children adopted in the US between 1948 and 1972, all of them taken from mother and baby homes or Magdalene asylums.
In early 1996, I discovered around 2000 files in the National Archives relating to Irish children adopted in the United States. The files had been there since 1990, but no-one knew about them. I had heard Maggie Butler, who had been one of those children, on the radio talking about her attempts to find her birth mother, and thought we might have some policy or operational files which could shed light on the process and perhaps be of help to her. I found a relevant file number, and went to the repository to get what I thought was one file, to find it had 2000 sub-files, each one dealing with an adopted child.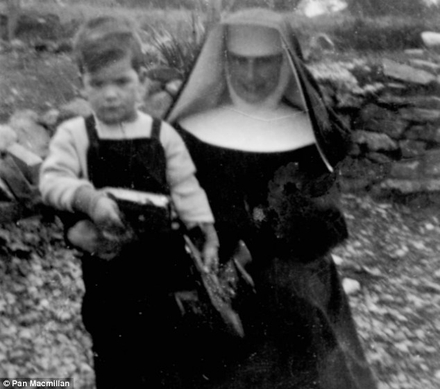 The files covered the period between 1948 and 1972. The reason they existed was that each child had to have a passport in order to travel to the US. There was a great deal of documentation on each one relating to the American adoptive parents, concerning their economic, family and religious circumstances. Since most of these adoptions were brokered by the main American Catholic adoption society, the adoptive parents were almost invariably Catholic. All of this was very interesting, but each file also contained one stark document, the only one which mentioned the birth mother: the form signed by her consenting to the adoption of her child.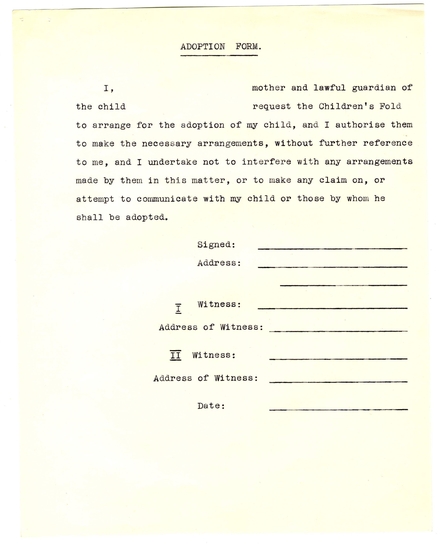 "I hereby relinquish full claim forever to my said child". What terrible words these must have been for a new mother to see. She is asked to totally renounce her child, never to seek to find him or her, or to expect any contact from him or her. In some cases, these children were with their birth mothers for up to two years before being adopted; all the natural bonds between mother and child would have been strongly in place, making the separation even more traumatic.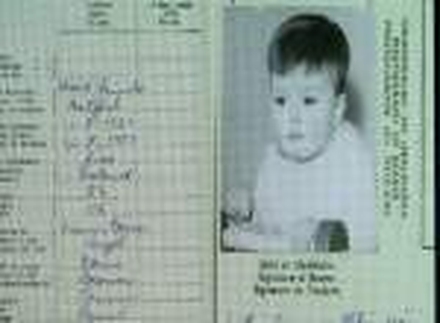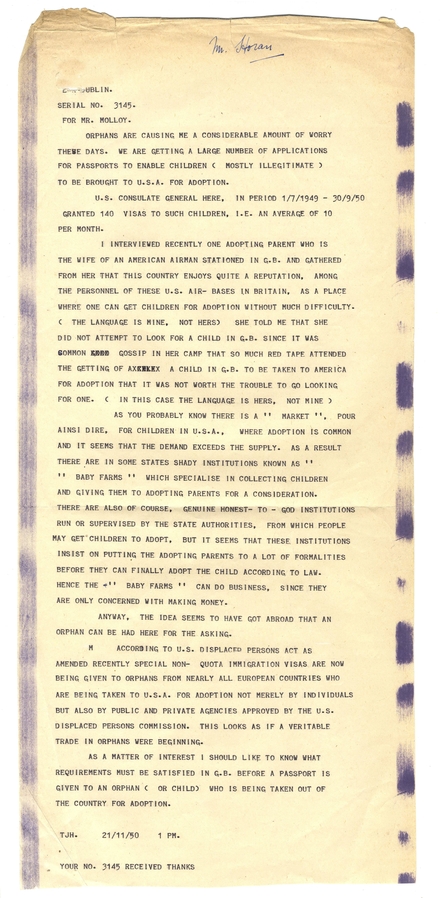 I knew that these files would be of great help to people like Maggie Butler, searching for their birth mothers, and also to some birth mothers, who may have wanted to make contact with their lost children. I also knew that their existence would strike fear into the hearts of birth mothers who had never told anyone, including spouses and other children, about an experience which was stigmatised for a very long time in Ireland. I was asked to speak to Gay Byrne, the oracle of the nation, on his radio show, and while revealing the existence of the files, I was careful to make it very clear that they were closed to public scrutiny, and that Ireland badly needed a contact register to mediate reunions between parents and children. In spite of these reassurances, I got a lot of panicked calls from women who were terrified that their secret would be revealed, and that someone might turn up on their doorstep without any warning.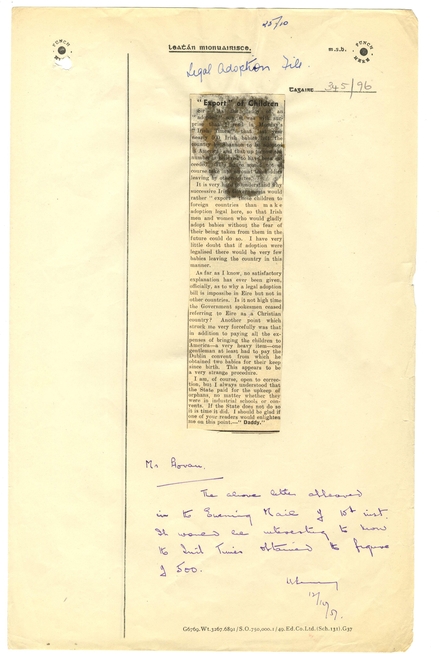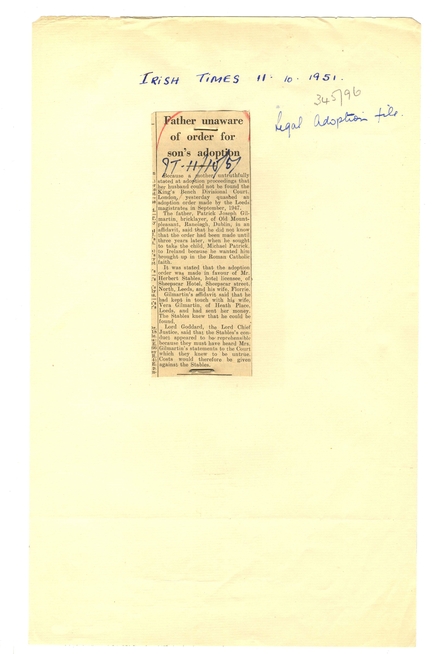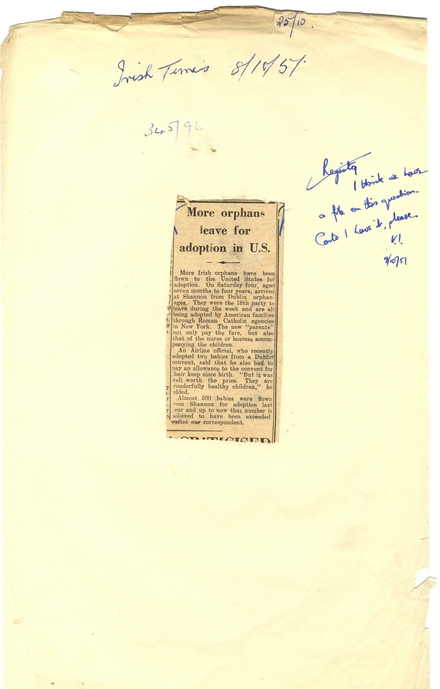 While the case files for each adoption remain closed to the public, with confirming information only being given to applicants, the policy files have been available, with personal names removed, since 1996. The documents here give a flavour of the official attitude in the Dept. of Foreign Affairs towards the issue. They were only involved because each child travelling to the US had to be issued with a passport, and felt agrieved that they, perforce, had to take on the task of vetting prospective adoptive parents, since the Dept. of Justice, whose responsibility it should have been, staunchly refused to have anything to do with it.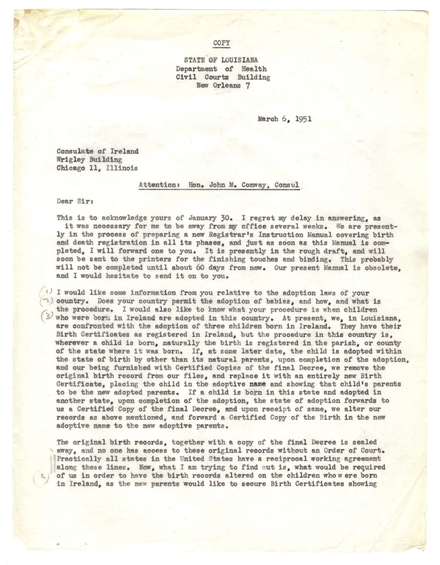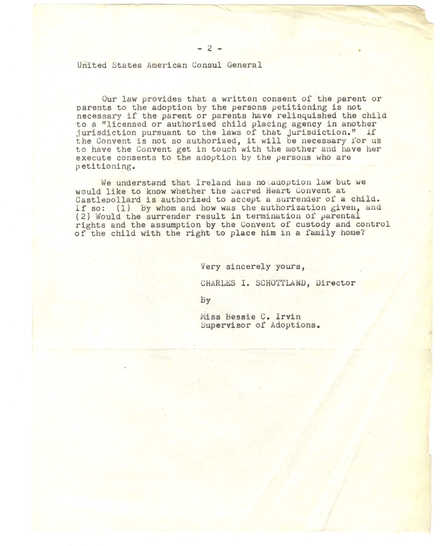 Ireland is very different now in respect to unmarried mothers, who form a significant and very diverse portion of the population. The fact that they can keep, rear, protect and love their children is in great measure due to the work done by organisations like Cherish (now One Family), who broke down barriers of discrimination and successfully campaigned for state supports for one-parent families. But we must not forget the mothers and children so cruelly separated in the past, and we must remember that Irish families played a large part in the stigmatisation and suffering of these women.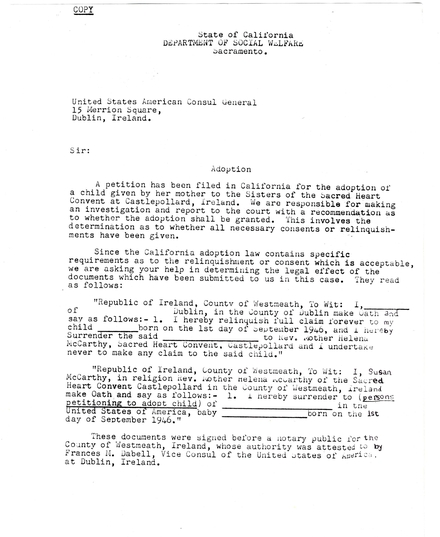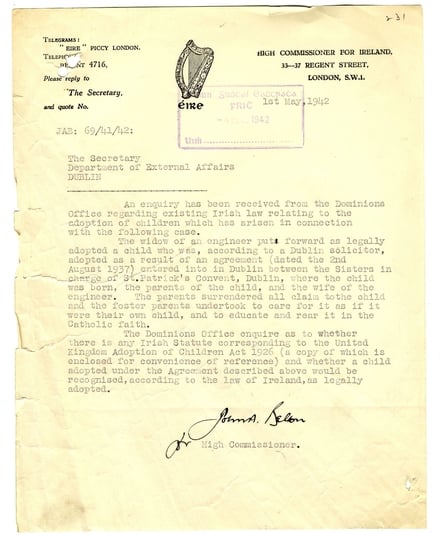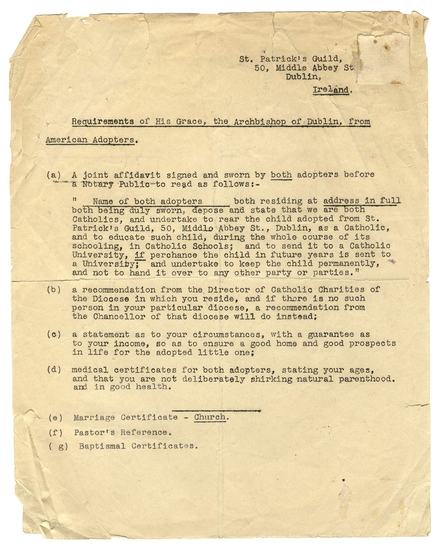 On Next Week's Programme.....
Our March Book Club will be discussing
St. Patrick's World
by Liam de Paor
(Four Courts Press)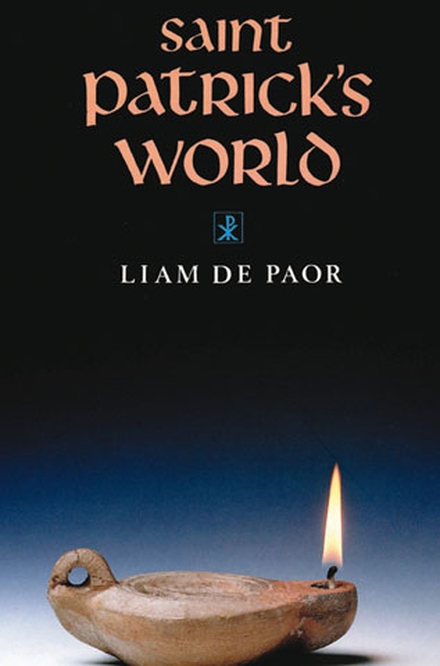 Also
The centenary of the Curragh Mutiny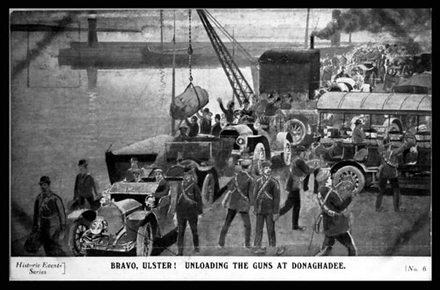 Keywords
Hitler's Irish Voices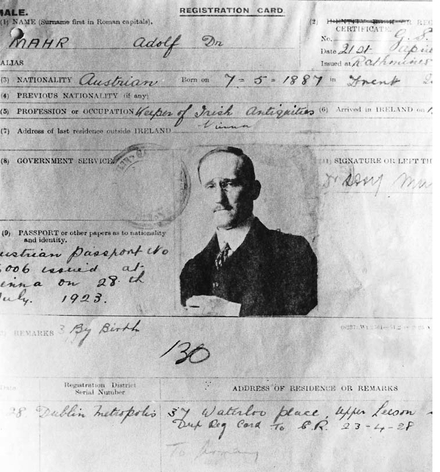 Adolf Mahr's alien registartion card. He was born in Trent, Austria (now part of Italy) in 1887. Mahr lived in Ireland from 1927 to 1939.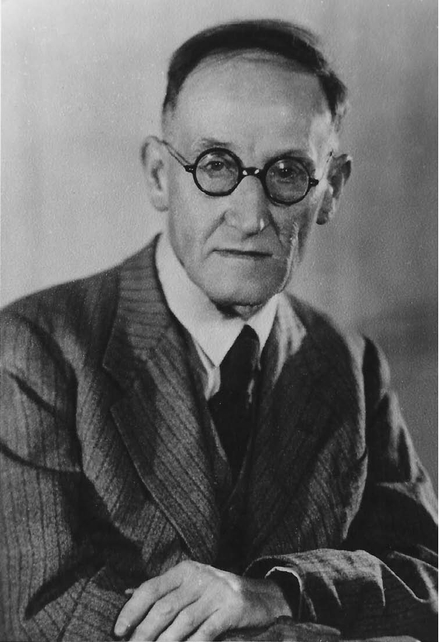 Adolf Mahr pictured in 1948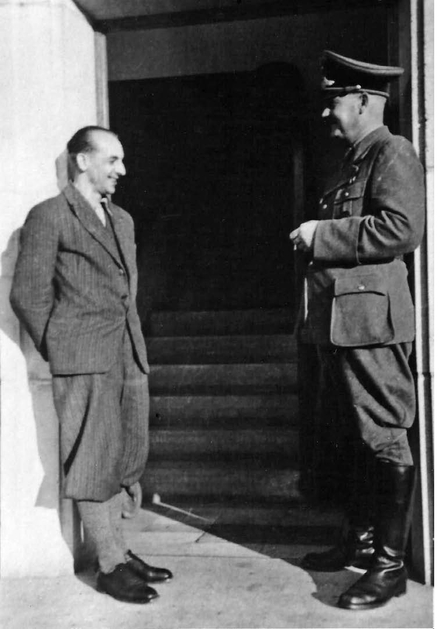 Heinrich Greiner (left) and Charles Budina in wartime Berlin. Before the war, Greiner worked at the Solus lightbulb factory in Bray. Budina ran the Kilmacurragh Park Hotel in County Wicklow.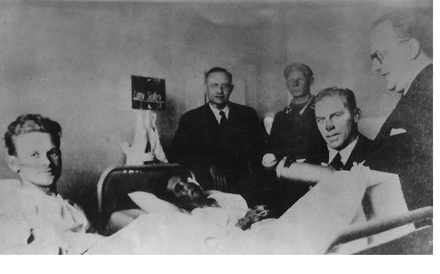 Larry Slattery (centre, in hospital bed) from Thurles, Co. Tipperary, being interviewed for german Radio's English service in September 1939. Slattery's RAF plane was shot down over Germany in the first week of the war.
From December 1939 until May 1945, German Radio broadcast Nazi propaganda to Ireland – as Gaelige.
From small beginnings which featured a weekly talk in Irish, the broadcasts from Berlin grew into a nightly bilingual service in Irish and English.
David O'Donoghue's research in Germany, Britain and here has uncovered one of the most sensitive issues concerning Irish-German relations during the Second World War. He joined Myles to talk about the two German academics who began the Irish language broadcasts from Berlin to neutral Ireland in 1939, the thinking behind the broadcasts and their effect.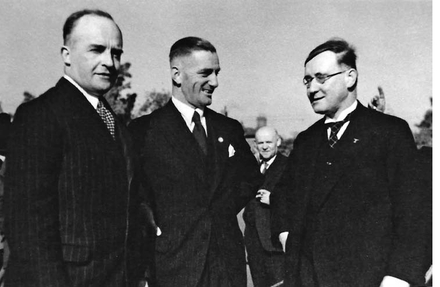 left to right: Dr Eduard Hempel, the German Ambassador in Ireland (1937-45), Dr Vogelsang and Dr. Adolf Mahr at the German Legation's garden party in Dublin, 30 April 1938.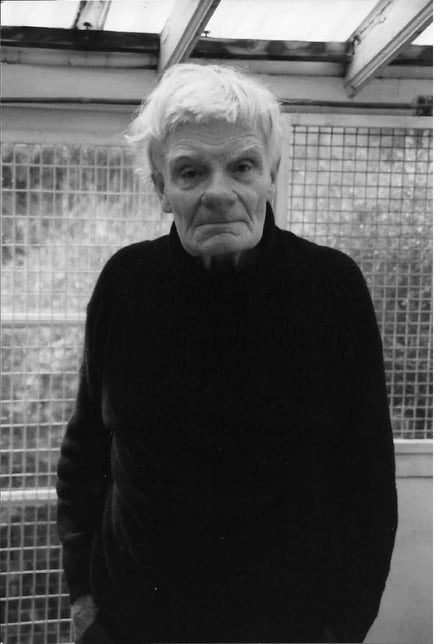 Francis Stuart pictured at his home in Dundrum, Dublin. Stuart worked for German Radio's Irish Service from 1942 to 1944.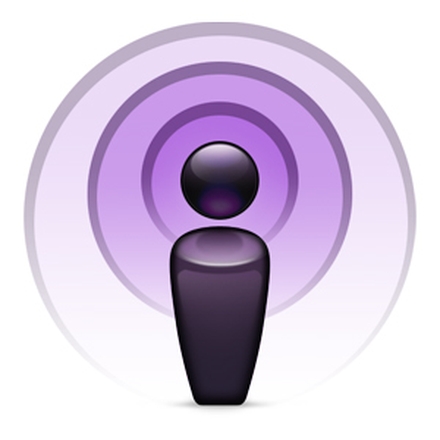 For a free podcast of Donal O'Donoghue's Documentary which explores the people behind Hitler's Irish Voice, click HERE or check the podcast section on our webpage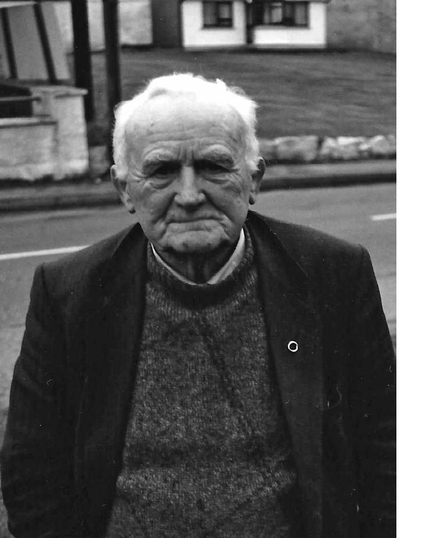 Irish language and folklore expert, Séan Ó Heochaidh taught Irish to Ludwig Mühlhausen and Hans Hartmann in Donegal in 1937.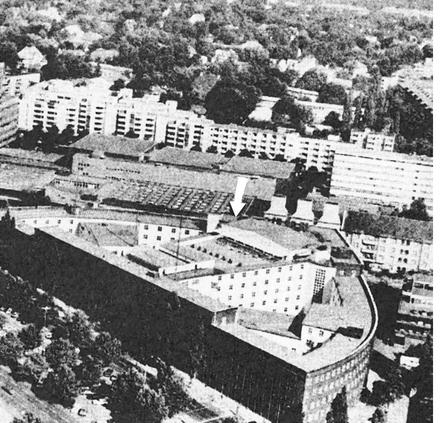 The Berlin Rundfunkhaus (Radio Centre) in Masurenallee retains its original 1930s format. The Irland Redaktion (Irish Service) operated from two rooms at the rear of the building (arrowed)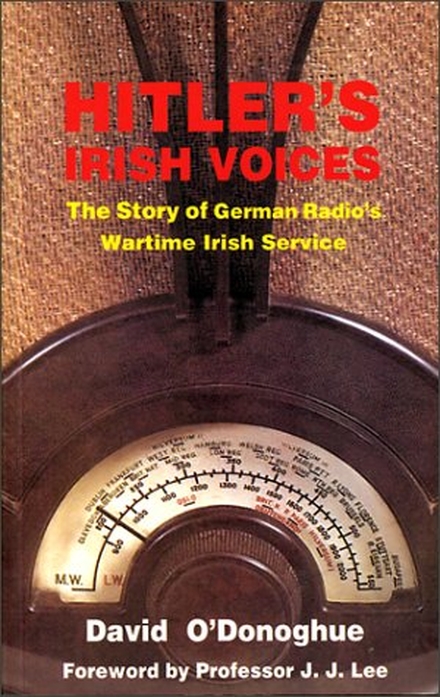 HITLER'S IRISH VOICES
The Story of German Radio's Wartime Irish Service
by
David O'Donoghue
(Somerville Press)
It is nearly 75 years since Nazi Germany began targeting neutral Ireland with night-time radio propaganda programmes following the outbreak of World War II in September 1939.
In one of Dr. Josef Goebbels' more unusual ploys, two German academics were chosen to bring Hitler's message into Irish homesteads – as much for their party loyalty as for their command of spoken Irish. Both men (Ludwig Muhlhausen and Hans Hartmann) had studied in Gaeltacht areas in the 1930s and were well known in pre-war Celtic studies circles.
German Radio's Irish service or Irland-Redaktion (one of 54 foreign language services put out from the Berlin Rundfunkhaus) was on air from December 1939 until May 1945, bringing a mixture of jigs, reels and Nazi propaganda to an Irish audience that was both small and largely indifferent to Berlin's overtures. The Germans knew that Irish was not widely spoken but, nonetheless, they wanted to target extreme nationalists with a hardhitting anti-English slant which included lurid tales of British Army brutality in preindependence Ireland. In addition, the regime in Berlin wanted Dublin to stay out of the war, hence Dr. Hartmann's nightly exhortation "Coinnígí bhur neodracht" (keep yourneutrality). He also authorised the use of anti-Semitic broadcasts.
In late 1941, Hartmann took overall charge of the Irland-Redaktion, under the direction of Dr. Adolf Mahr at the German Foreign Office (Mahr was, in fact, on leave of absence from his job as director of the National Museum in Dublin). Hartmann added English-language staff to augment his nocturnal talks in Irish. His team included the writer Francis Stuart.
But a more sinister aspect of the propaganda beamed to Irish radio listeners was the fact that it contained coded messages for German sympathisers, including the IRA, in Ireland.
The secret ciphers were hidden in extracts from Wolfe Tone's diaries, read in Irish by Hartmann and in English by the Tralee-born adventurer Jack O'Reilly.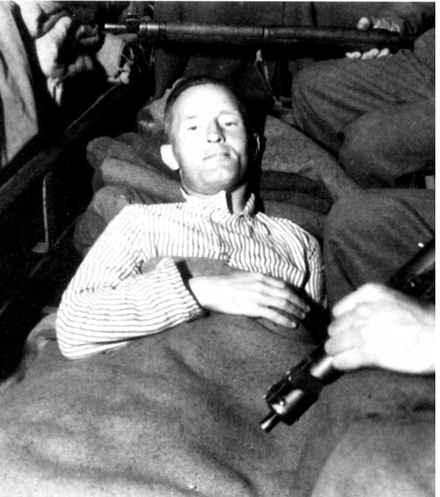 William Joyce (Lord Haw Haw) at the point of a sten gun after his arrest near the Danish border at Flensburg, Germany, on 28 May 1945. He was hanged at Wandsworth Prison, London, on 3 January 1946.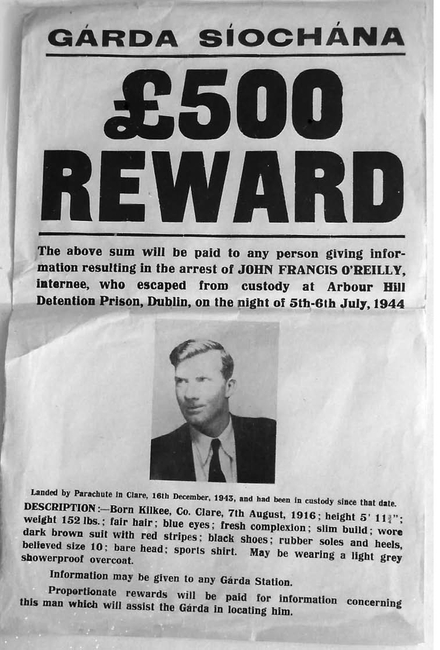 'Wanted' poster for John O'Reilly, after his escape from Arbour Hill Prison, Dublin, in July 1944. O'Reilly worked for German Radio from 1941 to 1942. The Germans sent him home on a spying mission in December 1943.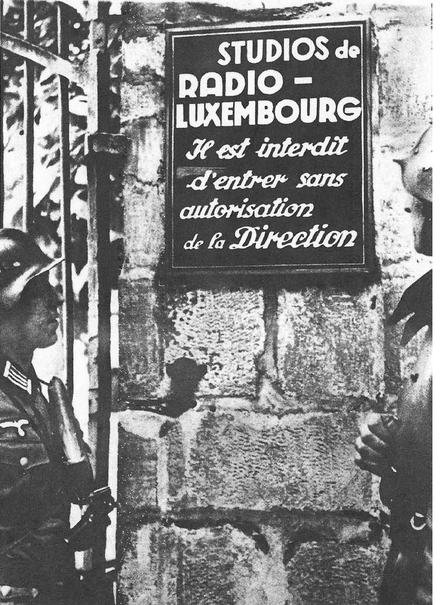 German soldiers guard the Radio Luxembourg studios, where Hartmann's Irish Service was based from September 1943 to August 1944.
Hitler's Irish Voices is the first detailed study of the Nazis' wartime propaganda message to neutral Ireland. It includes pen-pictures of the broadcasters, details of how the service began and how its message evolved as the war turned inexorably against the Third Reich. The book contains eye-witness accounts of what was going on behind the scenes in the Berlin radio centre as Hartmann's team of broadcasters sought to persuade the Irish public that a German victory was in their best interests.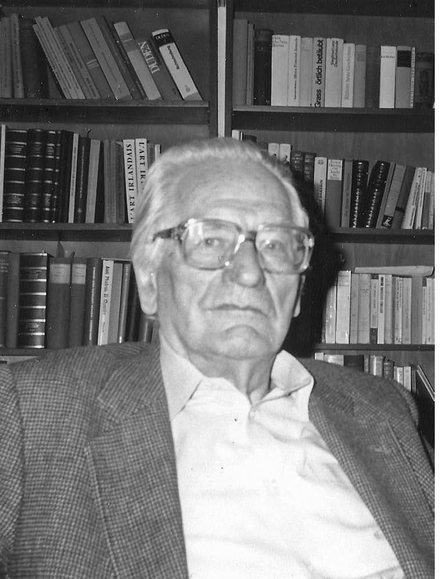 Dr Hans Hartmann in retirement in Cologne, Germany, 1990, aged 81
Keywords
Hitler's Irish Voices Documentary
Author and historian, David O'Donoghue has compiled and produced a 47 minute documentary which tells the story of Nazi Germany's Wartime Radio Service to Ireland.
The people speaking on the documentary are:
Dr. Hans Hartmann, head of German Radio's wartime Irish service.
Mr Éimear Ó Broin, speaking Irish (he was director of the Radio Éireann light orchestra)
Dr Seán Ó Heochaidh, folklorist from Donegal
Mr Hugh Byrne, retired fisherman, Teelin, Co Donegal
Mrs Elizabeth Clissmann (née Mulcahy) from Sligo.
The documentary is narrated by Dr. David O'Donoghue.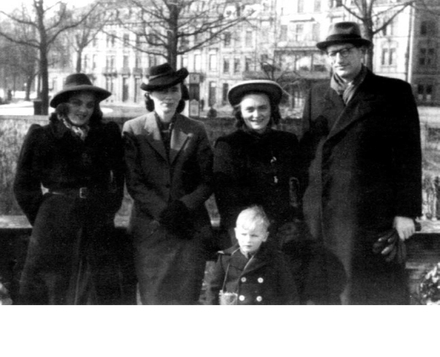 About The Show
Bringing the past to life! Discover how our world was shaped as Myles Dungan and guests explore events ranging from medieval times to the recent past.
We want to help explain ourselves to ourselves. We will search out fresh angles on familiar topics, seek out the unfamiliar and will not shy away from bizarre or controversial issues. Our ultimate goal is to make The History Show the primary port of call for those with an intense or even a modest interest in the subject. We want to entice the casual and the curious to join us in celebrating the past.
Our aim is to create informative, reflective, stimulating and above all, entertaining radio.
Join us on Sundays from 6.05pm for The History Show with Myles Dungan on RTÉ Radio 1.
A Pegasus production for RTÉ.