Jackie Kennedy in the aftermath of her husband's death
Shortly after noon on the 22nd of November, 1963, President John F. Kennedy was assassinated as he rode in a motorcade through Dealey Plaza in downtown Dallas , Texas. It was five months after his hugely successful vist to Ireland. Below see letters of thanks he sent to Taoiseach Sean Lemass following his visit.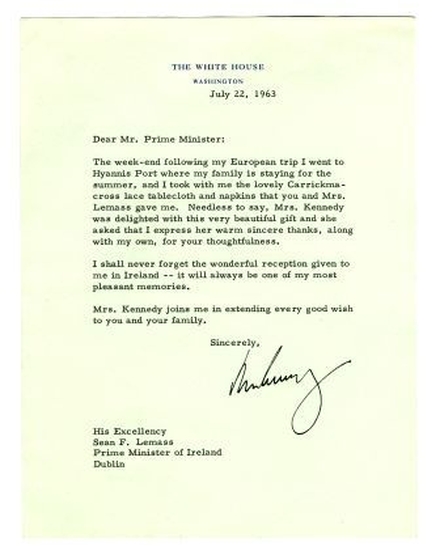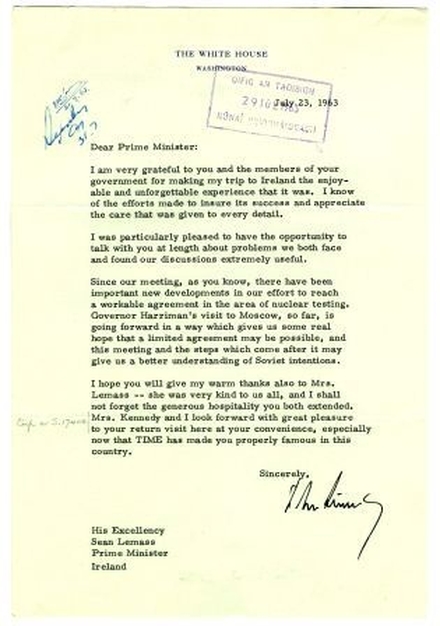 Assassination
Television and radio stations suspended their regular programs to carry uninterrupted coverage of the President's assassination.
Lorcan Clancy trawled through the archives to find out how the news spread, and how the world reacted to the death of a President and compiled a report which was played on the programme.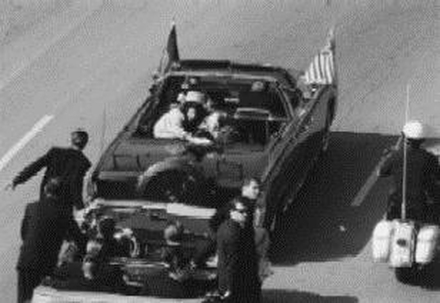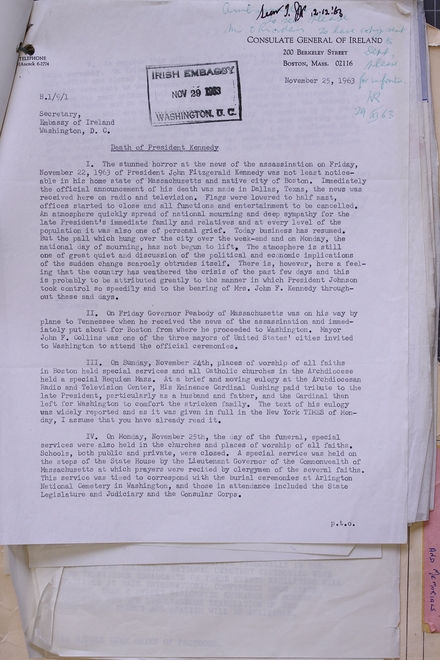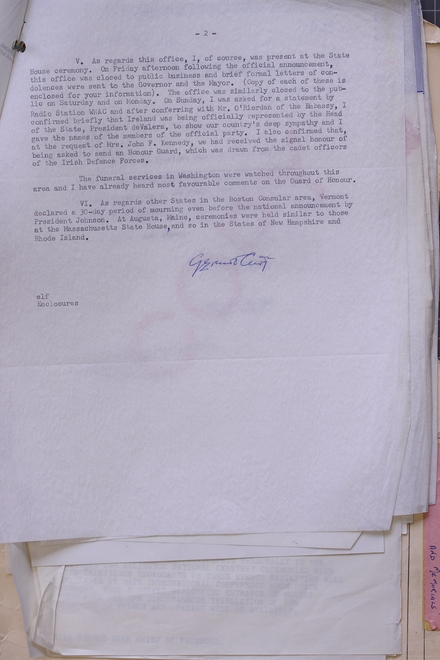 In the days that followed the President's death, Official Ireland had to find a formula of words that would properly convey to Mrs. Kennedy the grief and sympathy of the Irish people.
Catriona Crowe from the National Archives and Michael Kennedy from the Royal Irish Academy talked about the behind the scenes drafting of official telegrams of condolence.
Account of drafting telegram of condolence by Michael Kennedy
Taoiseach Sean Lemass's Private Secretary Ronan O'Foghlú found it difficult to draft the telegram of condolence Lemass wished to send to Jackie Kennedy. Through the dark winter evening in Government Buildings, with news from Dallas still coming in, O'Foghlú composed draft after draft. He tried to find the words to convey the loss the United States had suffered.
O'Foghlú's first draft, written as President Johnson and Jackie Kennedy flew in Air Force One back to Washington with Kennedy's body on board, caught in full the immediate horror of the assassination:
'I am unable to find words adequate to express describe the shock (horror) with which I heard the news of the President's death. My colleagues and I in the Irish government are shattered by this terrible event.'
It was not enough; O'Foghlú redrafted:
'I am unable to find words adequate to describe the horror with which I heard the news of the President's outrage which caused the President his life. My colleagues in the Irish government and I are shattered'.
These drafts capture the atmosphere of these bewildering hours. The words O'Foghlú scored out – 'shock'; 'horror'; 'shattered' - convey the raw emotion of the moment.
After much redrafting, this telegram from Lemass was sent to the President's grieving widow:
'It was with profound shock that I learned of the tragic death of the President. The world has today lost a great statesman and leader and the USA its finest citizen.
During his visit to Ireland last June, and my very recent visit with him in Washington I had the privilege of getting to know personally his great qualities, his courage, his integrity and his sense of high purpose.
My colleagues in the Irish government and I, extend to you and to your family our most heartfelt sympathy in your recent tragic bereavement.
Sean F. Lemass
Taoiseach'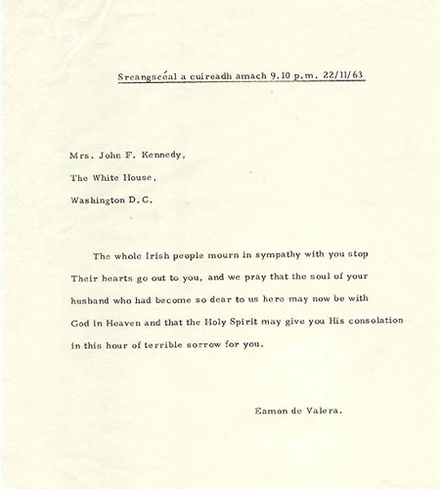 President Eamonn de Valera - Sympathy Telegram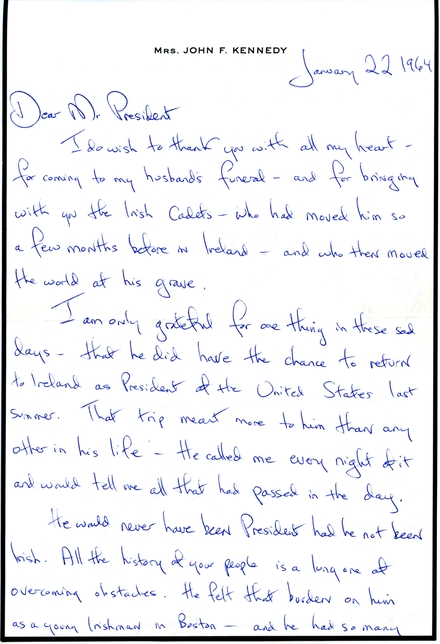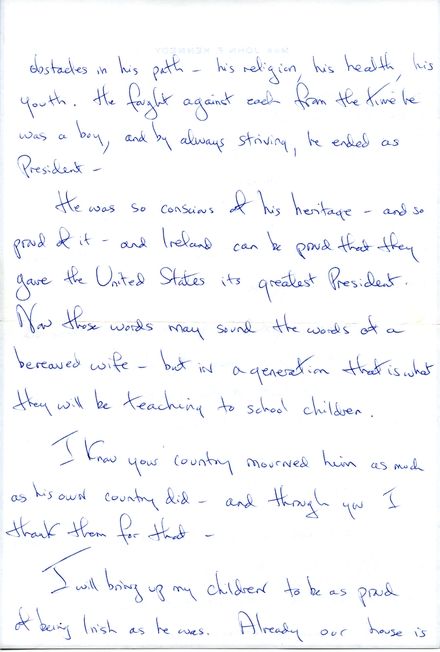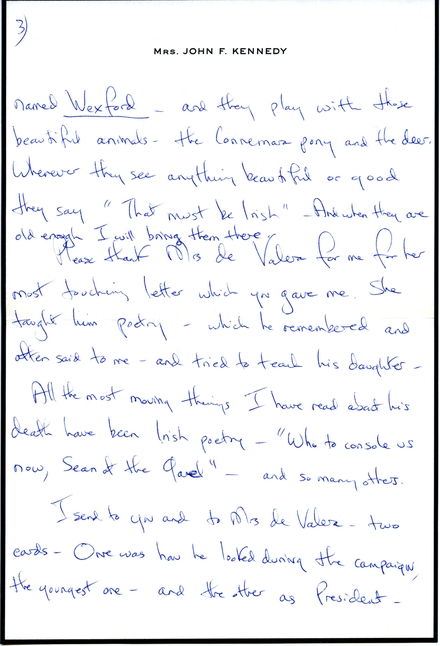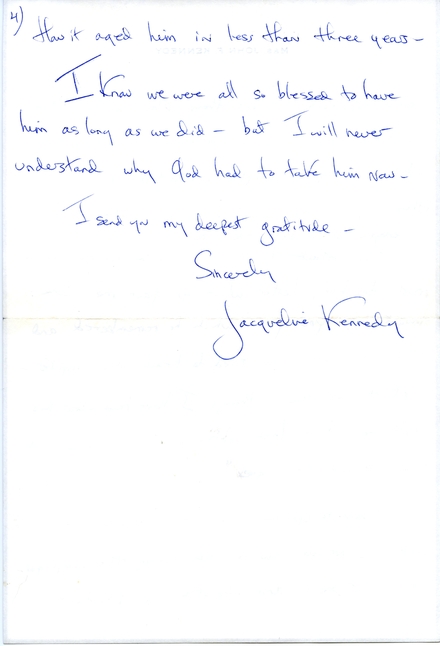 Letter to President Eamonn de Valera from Jackie Kennedy
Credit: UCD-OFM Partnership, P150 2841
Dear Mr President
I do wish to thank you with all my heart for coming to my husband's funeral – and for bringing with you the Irish cadets – who had moved him so a few months before in Ireland – and who then moved the world at his grave.
I am only grateful for one thing in these sad days –that he did have the chance to return to Ireland as President of the United States last summer. That trip meant more to him than any other in his life. He called me every night of it and would tell me all that had passed in the day.
He would never have been President had he not been Irish. All the history of your people is a long one of overcoming obstacles. He felt that burden on him as a young Irishman in Boston and he had so many obstacles n his path – his religion, his health, his youth. He fought against each from the time he was a boy, and by always striving, he ended as President.
He was so conscious of his heritage – and so proud of it – and Ireland can be proudn that they gave the United States its greatest President.
Now these words may sound the words of a bereaved wife – but in a generation that is what they will be teaching to school children.
I know your country mourned him as much as his own country did – and through you I thank them for that.
I will bring up my children to be as proud of being Irish as he was. Already, our house is named Wexford – and they play with those beautiful animals – the Connemara pony and the deer.
Whenever they see anything beautiful or good they say "that must be Irish" – and when they are old enough I will bring them there.
Please thank Mrs. De Valera for me for her most touching letter which you gave me. She taught him poetry which he remembered and often said to me – and tried to teach his daughter.
All the most moving things I have read about his death have been Irish poetry – "who to console us now, Sean of the Gael" – and so many others.
I send to you and to Mrs de Valera two cards. One was how he looked during the campaign, the youngest one – and the other as President . How it aged him in less than three years.
I know we were all so blessed to have him as long as we did but I will never understand why God had to take him now.
I send you my deepest gratitude.
Sincerely
Jacqueline Kennedy
Jackie Kennedy arrived in Shannon Airport on 15 June, 1967 with her children John and Caroline and her friend Peggy Murray McDonald. They spent 6 weeks based at Woodstown House in Co. Waterford.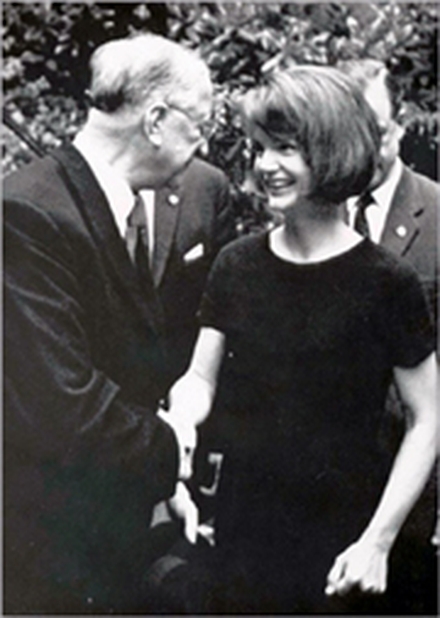 Catriona Crowe (National Archives), Michael Kennedy (RIA) and Elaine Power (documentary film maker) discussed what she did during her visit, the surrounding security and media coverage of her stay.