The History Show Sunday 6 October 2013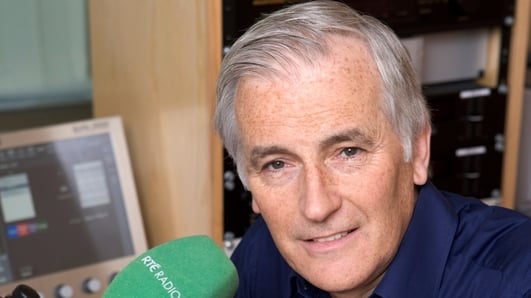 The History Show
Bringing the past to life! Discover how our world was shaped as Myles Dungan and guests explore events ranging from medieval times to the recent past
Baldoyle Archaeological Dig
Evidence of life in Medieval times has been unearthed by archaeologists in the North Dublin suburb of Baldoyle.
The unusual thing about this excavation is that it's taking place in the grounds of a housing estate. And to be more specific – one of the dig sites is actually located in the garden belonging to the mother of archaeologist Paul Duffy.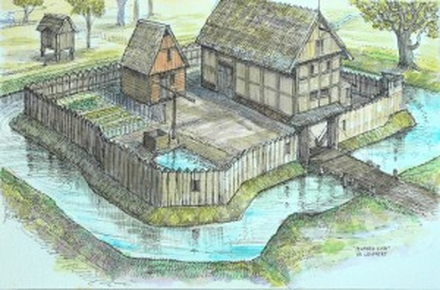 Moated Site
Paul Duffy from Grassroots Archaeology discussed his work, his finds and what they're still looking for along with Terry Barry, associate professor of Medieval History with Trinity College Dublin.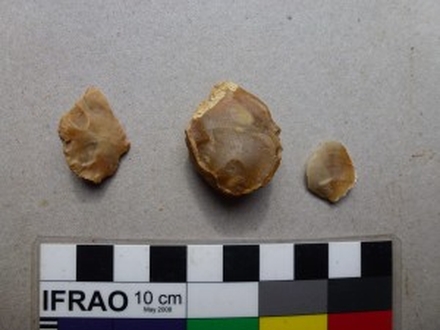 (from left to right) Tertiary flint flake, split flint pebble and secondary flake
A Background to the Seagrange Archaeological dig in Baldoyle
Grassroots Project
http://grassrootsarchaeology.ie/
Grassroots Archaeology is a community based project funded by the Royal Irish Academy. Its goal is to discover, with community involvement, what remains of a potential archaeological site beneath the surface of the modern housing estate of Seagrange, Baldoyle.
This potential site was identified through analysis of old aerial photography taken prior to the construction of the estate.
The cropmark identified on the Cambridge Series Aerial Photo from 1970 exhibits several features consistent with that of a Medieval Moated Site namely:
• Rectangular shaped enclosure 55m N-S x 60m E-W
• Situated in lowlying ground prone to flooding
• A possible leat (water inflow channel) leading into the NE corner
• A possible spring 80m NE from which the leat runs.
• Surrounded by land once used for agriculture
What is a Moated Site?
A 13th-14th century enclosure, generally rectangular, defined by a ditch often filled with water (hence moat) and surrounded by an internal bank. The bank would have been surmounted by a palisade and the entranceway usually protected with a gatehouse, thereby protecting the space within from attack or raiding. The traditional interpretation suggests that moated sites represent the fortified dwellings of minor Norman lords or wealthy landowners particularly associated with a second wave of Anglo-Norman settlement into border territories on the fringes of Anglo Norman control (mid 13thC onwards).
Excavation Results
The excavations to date have uncovered several features consistent with what one might expect from the interior of such a moated site - namely a linear gully, a pit and an area of metaling (primitive paving).
Finds to date include medieval pottery (12th to 14th C), a bone implement (interpretations from highly placed academics range from a cloak pin, a pin beater used in weaving and a possible writing implement – all medieval artefacts), flint artefacts, iron slag/bloom (indicative of metalworking) and glass fragments (under analysis but potentially medieval). From domestic deposits, an abundance of animal bone and marine shell (cockle and mussel) have been retrieved and environmental analysis has yielded charred oat and barley grain.
Again, this range of material is what one might expect to find in association with a Medieval Moated Site. But, to date (1/10/13) we have yet to discover the actual moat. We are therefore constrained in what we can say about the findings. Cautious initial interpretation is acceptable; categorical statement is not.
Historical Context
The site, within the townland of Baldoyle lies a mere 700m North of Dublin Bay at 4.5m above sea level. In 1166, Baldoyle became the first grant made to the Priory of All Hallows, an Augustinian (Arroasian Canons) foundation which once stood on the current site of Trinity College. This grant was made by Dermot McMurrough shortly before he was expelled from his kingdom. Immediately following the Norman conquest of Dublin in 1170, Baldoyle was originally granted to Adam de Pheypo but the monks successfully petitioned Henry II upon his arrival and the grant of Baldoyle was confirmed by the King. At 722 acres, Baldoyle comprised the largest block of land owned by All Hallows but the exact limits of this grant are unknown. The de Pheypo family it seems retained some interest in Baldoyle making grants in 1236 and the Lords of Howth contested lands in Baldoyle until the monks were obliged to settle the dispute with a money payment in the 13thC.
What is a Grange?
The monks, through the employ of lay brothers and serfs (betaghs) would have farmed their holdings in Baldoyle. This type of monastic farm is known as a Grange. Grange farms were widespread in medieval Ireland run by the major religious foundations. Very few have actually been the subject of excavation. These farms would have comprised of a range of farm buildings usually set out around a rectangular yard. In Britain studies have shown that these farms were often surrounded by a moat.
The traditional belief is that the Grange of Baldoyle occurred at the site known as Grange Abbey where the upstanding remains of a medieval church can still be seen. This church occurs 1km to the NW of the site in question. There are no historical documents linking this building with the grange of Baldoyle and the name Grange Abbey is no more than a folk memory that at some time the area was associated with monks. It is quite likely that this name did not become current until after the dissolution of the monasteries in the 16thC. Two phases of excavations at Grange Abbey yielded no results which suggest the presence of a Grange.
Who built the Seagrange Site?
If indeed the Seagrange cropmark represents a Moated Site, it may have been constructed by a minor Anglo-Norman lord who was active in the area and did not possess the means to build a castle such as St. Laurence's at Howth. Possible contenders include the de Pheypos, as discussed or alternatively the de Cursuns who held Raheny and Kilbarrack. The Seagrange site occurs 120m North of the modern townland of Kilbarrack Upper and the 17thC Down Survey lists the entire area as Raheny.
The church known as Grange Abbey has been dated on stylistic to the late 13th – mid 14th centuries. The first mention of a church here in the sources is in 1472 when a church is mentioned at 'Little Grange'. It is possible that the original grange of Baldoyle occurred at the Seagrange site and that the monks and lay brothers had a moat constructed around their farmstead for some measure of protection.
Keywords
Galway - History on a Postcard
This week back in 1869, the Austro-Hungarian postal authorities introduced a new and cheaper way of sending messages – a plain postcard. It was an immediate success and other countries quickly followed suit. These cards got fancier and more decorative until the arrival of picture postcards which have long since been popular collectors' items.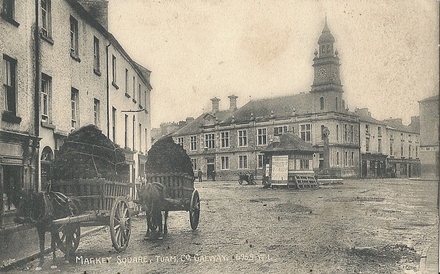 Market Square Tuam c 1903
One long time collector is Paul Duffy and his book, Galway: History on a Postcard illustrates aspects of that county's history between 1890 and 1930.
The book contains a selection from the 3,500 postcards which Paul collected over the last 40 years – with accompanying text putting each into historical context. Paul gave us a flavour of the rich and diverse stories that are attached to his selected postcards.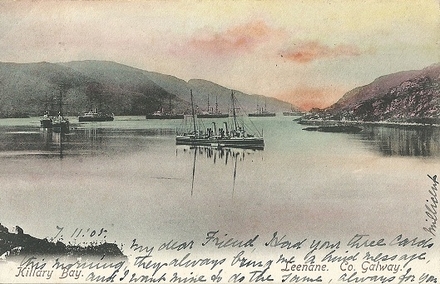 Killary Bay, Leenane, Co. Galway
Galway – History on a Postcard by Paul Duffy
is published by Currach Press
Keywords
Iarla O Lionaird sings "I'm Weary From Lying Alone"
This week was Big Music Week here at RTÉ, and to celebrate, the Big Music Week Train travelled the country to meet with some of Ireland's greatest musicians, one of whom is Iarla Ó'Lionáird.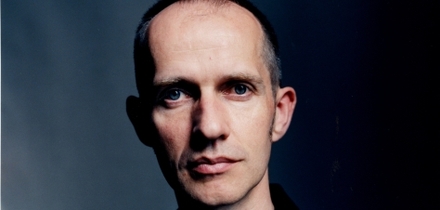 Iarla gave The History Show, a special performance of "I'm Weary From Lying Alone" taken from the repetoire of his grand-aunt Elizabeth Cronin, a famed singer from West Cork.
Keywords
1963 Tenement Collapses
The history of housing is an important part of the story of Ireland – and slum conditions of the poor in our cities are a central part of that story. The collapse of dangerous tenement buildings in Dublin punctuates the history of the 20th century.
One of the most tragic incidents during the Lockout was the collapse of two tenement buildings on 2 September, 1913 which killed 7 people.
In the decades that followed, building collapses remained a common facet of tenement living.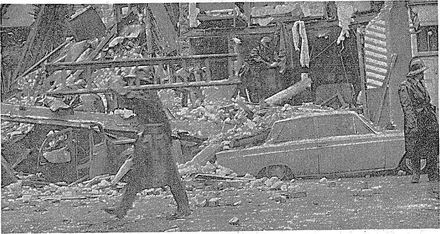 The tenement collapses that would change the face of inner city Dublin as well as the lives of the communities who lived there occurred in the summer of 1963.
Two tenements collapsed within weeks of each other in June 1963. The first, on 2 June in Bolton Street occurred when a four-storey tenement house collapsed killing two elderly people and injuring seven others.
Just ten days later, on 12 June, a tenement building in Fenian Street collapsed. This disaster claimed the lives of two young children, Marie Vardy (9) and Linda Byrne (8).
The collapses sparked a housing enquiry which saw hundreds of families moved out of their homes at short notice for fear that more buildings were unsafe.
The 1963 tenement collapses went on to have severe repercussions for the landscape of inner city Dublin and the people who lived there.
The population of the centre of the city declined by 30,000 in the 1960s. These communities were displaced and 2,000 Georgian buildings were demolished, deemed dangerous by Dublin Corporation inspectors.
Dr. Erika Hanna of Edinburgh University and Frank McDonald, Environment Editor of The Irish Times discussed how the 1963 tenement collapses changed the face of the inner city and led to planning decisions including the construction of the Ballymun Flats.
Modern Dublin, Urban Change and the Irish Past 1957-73 by Erika Hanna has recently been published by 0xford University Press.
The Destruction of Dublin by Frank McDonald was published by Gill & McMillan in 1985 and still remains relevant.
Keywords
About The Show
Bringing the past to life! Discover how our world was shaped as Myles Dungan and guests explore events ranging from medieval times to the recent past.
We want to help explain ourselves to ourselves. We will search out fresh angles on familiar topics, seek out the unfamiliar and will not shy away from bizarre or controversial issues. Our ultimate goal is to make The History Show the primary port of call for those with an intense or even a modest interest in the subject. We want to entice the casual and the curious to join us in celebrating the past.
Our aim is to create informative, reflective, stimulating and above all, entertaining radio.
Join us on Sundays from 6.05pm for The History Show with Myles Dungan on RTÉ Radio 1.
A Pegasus production for RTÉ.