The History Show Sunday 28 April 2013
Listowel Military Weekend Events
Listowel Military Weekend aims to commemorate Irish people who served in wars throughout history, most notably the American Civil War, both World Wars, and UN Peacekeeping missions. The main event of the weekend is the German 'invasion' of the town on the Saturday, followed by Listowel's 'liberation' on the Sunday by American troops.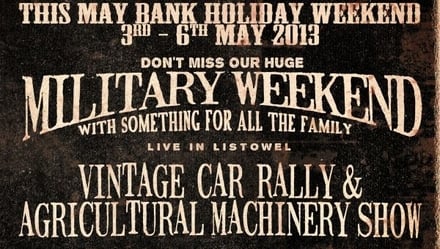 Programme of Events
Listowel Military, Agricultural & Vintage Weekend.
May Bank Holiday 3rd, 4th, 5th, 6th.
Friday May 3rd
Meet and greet for participants at The Listowel Arms Hotel 7pm.
Followed by a lecture at 8pm by Mark McShane author of "Neutral Shores" Ireland and the battle of the Atlantic.
Venue The Seanchai Centre.
Saturday May 4th
Military exhibits and stalls in the Square from 12pm.
3pm Invasion and occupation by German forces in The Square.
4pm parade from Market Street to St John's Arts Centre, The Square by members of The Irish Army and various Veteran Associations where a memorial plaque will be unveiled honouring Irish men & women who gave their lives in the line of duty.
Wreath laying ceremony by Ambassadors from France and Belgium & Veteran Associations.
Brief prayer service and Coast Guard helicopter flyover.
Reception after in Listowel Arms Hotel.
Irish Military Vehicle Group will have a display of vehicles in The Square.
Living History display by
American Civil War Re-enactors and also
Roman Legionaires.
Great photo opportunity for all the family,
Sunday May 5th
12pm to 5pm Farmers Market and Stalls,
Living History display in The Square.
Scale Model & Diorama Display in
The Listowel Arms Hotel 12pm - 5pm.
3pm Liberation battle to free Listowel with over 50 re – enactors using blank rounds, smoke bombs and flash bombs.
A loud afternoon in Listowel. .
4pm Live music and Pig on The Spit in The Square.
9pm – 1am Hangar Dance in The Listowel Arms Hotel Music by The Bombshell Belles from the UK.
This is a 1940's themed dance with prizes for the best dressed lady, best dressed man, and couple.
Vintage and Military clothing optional.
Monday May 6th.
From 11am. Military Living History Display in The Square.
Agricultural Machinery (New and Vintage) display will take place in Market St. from 11am to 6pm.
Vintage Car Rally, gathering in The Square at 11am and leave to tour the villages of North Kerry returning to the Square at 1pm approx. Cars will be on display till 6pm.
Children's attractions will include Bouncing Castle, Slide, Zorb Ball in a pool. Pet Farm display, Face painting, and various stalls.
BBQ and Music in the Square to finish off what we hope will be a great weekend of fun for all the family.
About The Show
Bringing the past to life! Discover how our world was shaped as Myles Dungan and guests explore events ranging from medieval times to the recent past.
We want to help explain ourselves to ourselves. We will search out fresh angles on familiar topics, seek out the unfamiliar and will not shy away from bizarre or controversial issues. Our ultimate goal is to make The History Show the primary port of call for those with an intense or even a modest interest in the subject. We want to entice the casual and the curious to join us in celebrating the past.
Our aim is to create informative, reflective, stimulating and above all, entertaining radio.
Join us on Sundays from 6.05pm for The History Show with Myles Dungan on RTÉ Radio 1.
A Pegasus production for RTÉ.