Listen
Women and Children of the 1913 Lockout
This week, we focussed on the women and children of the 1913 Dublin Lockout - the most serious industrial dispute in Irish history – and a defining point for our society.
The women were wives, mothers, strikers and leaders. We tend to think of it as an adult male event yet, apart from the wives and mothers who were affected by the strike, more than 1000 women were directly involved
And then there were the children. Helpless infants, impoverished youngsters and members of the workforce from the age of 12.
One of the major factors which contributed to the ignition of the dispute was the dire circumstances in which the city's poor lived.
A third of the people in the city were living in slum conditions, but as we heard on the programme, the working class women who were reduced to extreme poverty by the Lockout were not a one dimensional group of shawl wearing derelicts.
The Lockout began on the 27th of August, 1913 and almost immediately, many families were feeling the economic strain as wages disappeared overnight. When the primary schools re-opened after the summer holidays, many children were already hungry.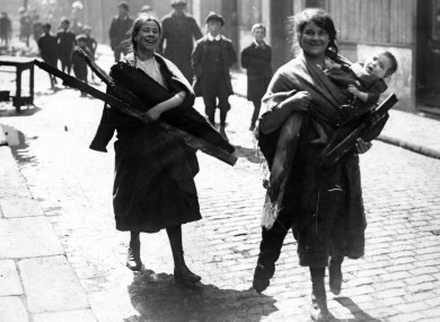 The lives of children at that time posed a very different set of challenges than we see a hundred years later. Surviving into adulthood was a feat in itself because infant mortality rates were very high. As our guest, Francy Devine explained "the biggest challenge for a working class child was to be able to grow big enough to be able to digest a chip". After that, they be able to feed themselves.
Children who went to school had left by the age of 12 and were experienced workers by the time they had reached 15.
The Lockout which lasted almost 5 months involved 300 employers and about 20,000 workers. When you take their families into account, we're basically talking about 80,000 people who were affected.