The History Show Sunday 17 March 2013
A History of Ireland in 100 Objects
This week, our programme launched A History of Ireland in 100 Objects, the book which took shape as a weekly series in the Irish Times.
Some of the items are humble and ordinary while others are splendid and dazzling. But what they have in common is that they all touched and shaped the lives of our ancestors and are part of the story of our country.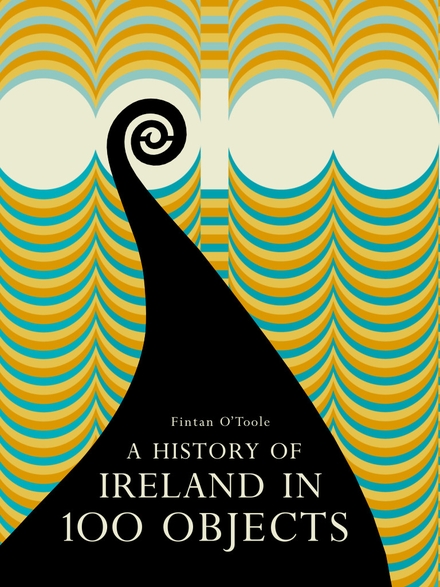 The book is a co-production between the National Museum of Ireland, Royal Irish Academy and the Irish Times – and its edited by Fintan O'Toole of that newspaper. It starts with the Mesolithic Fish Trap (5000 BC) and finishes with the Anglo Irish Bank sign (number 99) followed by object number 100 - a decommissioned AK 47 from 2005.
Our programme included a series of animated reports on diverse objects from museums around the country.
Our studio guests were archaeologist, Michael Ryan; Catriona Crowe of the National Archives and journalist, Patsey Murphy, former editor of the Irish Times magazine who recently left the paper after 37 years. They selected objects from the book that caught their imagination and attention.
A History of Ireland in 100 Objects edited by Fintan O'Toole is published by the RIA. This is a joint project between The Irish Times, the National Museum of Ireland and the Royal Irish Academy.
100 Objects Trail
The 100 Objects featured in the book are on display in museums in the capital and around the country as follows:
Eight locations in Dublin where the majority of the objects are housed:
NMI – Archaeology
NMI – Decorative Arts & History,
Christ Church Cathedral
National Archives of Ireland
Royal Irish Academy
Trinity College Dublin
National Library of Ireland
GAA museum
Other locations around the country:
Kerry
Medieval Museum, Waterford
Irish Agricultural Museum, Wexford
Carlow County Museum
National Science Museum at Maynooth
NMI – Country Life, Mayo
NMNI, Ulster Museum, Belfast
NMNI, Ulster Folk and Transport Museum, Cultra, Down
NMNI, Ulster American Folk Park, Omagh
Museum of Free Derry, Derry
Site: Monasterboice
Site: Tullaghoge Fort, Tyrone
Site: Clonca Graveyard, Donegal
Abroad:
UK: The British Museum, Russell Street
UK: English Heritage
Norway: Viking Ship Museum, Oslo
Keywords
About The Show
Bringing the past to life! Discover how our world was shaped as Myles Dungan and guests explore events ranging from medieval times to the recent past.
We want to help explain ourselves to ourselves. We will search out fresh angles on familiar topics, seek out the unfamiliar and will not shy away from bizarre or controversial issues. Our ultimate goal is to make The History Show the primary port of call for those with an intense or even a modest interest in the subject. We want to entice the casual and the curious to join us in celebrating the past.
Our aim is to create informative, reflective, stimulating and above all, entertaining radio.
Join us on Sundays from 6.05pm for The History Show with Myles Dungan on RTÉ Radio 1.
A Pegasus production for RTÉ.