The God Slot Friday 26 April 2013
Siobhan Mhic Craith, Liam Clancy's daughter.
Siobhan Mhic Craith belongs to one of the best known families in Irish folk music circles. At one stage, her father, two uncles and their friend from Armagh were thought to be the four most famous Irishmen in the world, and their albums outsold the Beatles in the US during the 1960s. Long before the phenomenon of 'boybands', they were international stars, and their red blooded versions of Irish ballads and folk songs delighted audiences all over the world. They were The Clancy Brothers and Tommy Makem, and Siobhan's father, Liam, was probably the best known of the four as his career lasted until 2009, when a painful and debilitating illness led to his death. He used to describe himself as the 'last man standing'.
In The God Slot, Siobhan talks about Liam's loss of belief in all religion, and his battles with his many demons, mainly alcoholism. She discusses her own deep faith, strengthened after a trip to Medjegorje, how it helped during her father's last hours, and how, despite his resistance, she believes prayer helped him.
This is probably one of the most moving personal stories yet shared on The God Slot, and should bring comfort to many listeners who battle with their own demons, or those of other family members.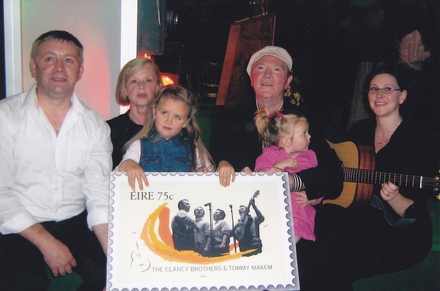 Left to Right: Cárthach Mac Craith, husband of Siobhan, Kim Clancy, Siobhan's mother, Ailidh Nic Craith, daughter of Siobhan, Siobhan and Liam. The little one is Siobhan's daughter Méin Nic Craith at the launch of the Clancy Brothers and Tommy Makem stamp which was part of the collection of stamps honouring Irish music greats.
Keywords
'We are not human beings having a spiritual experience; we are spiritual beings having a human experience.'
Those sentiments were expressed by the renowned Jesuit palaeontologist Teilhard de Chardin, and could form the motto for RTÉ Radio 1's new Friday evening series, 'THE GOD SLOT' which deals with religious affairs, faith, morality, ethics, and, as the title and quotation might suggest, all that is seen and unseen in the world of spirituality. Chardin made the religious establishment of his day uncomfortable, and there could be an element of that in 'THE GOD SLOT'.
Working on the premise that most people in Ireland practice a faith of some sort, the programme aims to cover news stories, report on events, feature round table discussions and one to one interviews, discuss books and films and present informed comment on all of the above items that have a religious or faith dimension in a lively, accessible and up-beat style. We are interested in stories of relevance to people of all faiths and none, and indulge in neither hatchet-jobs nor hagiography.
Presenter Eileen Dunne needs no introduction to Irish audiences, her face and voice being well known as one of RTÉ's foremost newscasters. For more than 25 years she has worked on some of the biggest news stories, among them Queen Elizabeth's recent Irish visit, the death of Pope John Paul II and the installation of Pope Benedict XVI. A fluent speaker of French, she is currently International President of the Association of European Journalists, a voluntary organisation for journalists with an interest in European affairs. Her clear headed, incisive style, attractive voice and microphone presence, and knowledge of and interest in the subject matter will prove to be great assets to the series.
Versatile producer Gerry McArdle has worked in almost every area of radio; as an actor, announcer, presenter, and has written a number of plays for the medium. He is also the proud owner of a Gold Disc for his adaptation and recording of The Pogues' classic, 'Fairytale of New York', which spent several weeks in the Irish charts during the Christmas period of 2001, and raised £10,000 for the Society of St. Vincent de Paul. His last series, 'Outside the Box', won the Inclusion Ireland Media Award. He has a fine track record in religious programming, as his was the mind behind several successful and noteworthy radio gems, including 'People of God', 'The Pope's Intentions', 'Holy Pictures' and 'Woman With the Wild Thing's Heart', and is delighted to return to a subject that passionately interests him.
The programme team is always interested in what listeners have to say, whether it be comments on what they have heard, or suggestions for future editions, and you can make contact by telephoning 01 2082039, emailing us at godslot@rte.ie, or writing to:
The God Slot,
RTE Radio 1,
Dublin 4.
If one accepts that everything in life has a spiritual dimension, then the only limits which might bind 'THE GOD SLOT, each Friday evening just after the News at 10, are the limits of the programme makers' imaginations.
The God Slot is repeated on Radio 1 Through the Night on Sunday mornings at 5.30, and at 10.30am on Sunday mornings on RTE Radio 1 Extra.
Below: Gerry and Eileen (Picture by Melina Prasse; The Irish Catholic)