The God Slot Friday 6 April 2012
The God Slot
Why Did He Die?
This is what we can say with historical accuracy about Jesus of Nazareth; that a young Galilean healer, preacher and exorcist called Jesus was executed by the Roman authorities in or around the year 33 AD, and that he had such an effect on his group of followers that their lives were transformed forever, so much so that they believed that he was the Christ, the Son of God who rose from the dead and walked among them.
Those are the facts, but there is a lot more to truth than mere facts, and on Good Friday, one of the most sacred days in the Christian calendar when the death of Jesus is commemorated, The God Slot asks the question: Why did he die?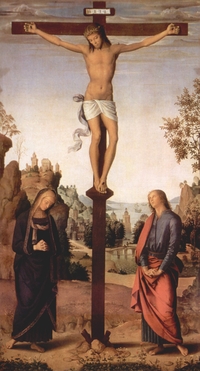 To help us try to find an answer, presenter Eileen Dunne is joined by a very distinguished panel; the Abbot of Glenstal, Mark Patrick Hederman, lecturer in Theology and Ethics at Galway/Mayo Institute of Technology and our regular film critic, Barry McMillan, Emeritus Professor of Theology at the University of Wales and Visiting Professor at St. Mary's University College, Twickenham, Mary Grey, and the rector of Kill of the Grange, Blackrock and Theology graduate, the Rev. Ferran Glenfield.
All aspects of the death of Jesus are examined, from traditional Theology to the Hollywood treatment of the event to its impact on our world, and listeners may be surprised by some of the explanations given. Our programme may not resolve anything, but we are certain that it will provide food for thought and lively, interesting listening for Good Friday for all people of good will.
We wish all our listeners a very Happy Easter.
'We are not human beings having a spiritual experience; we are spiritual beings having a human experience.'
Those sentiments were expressed by the renowned Jesuit palaeontologist Teilhard de Chardin, and could form the motto for RTÉ Radio 1's new Friday evening series, 'THE GOD SLOT' which deals with religious affairs, faith, morality, ethics, and, as the title and quotation might suggest, all that is seen and unseen in the world of spirituality. Chardin made the religious establishment of his day uncomfortable, and there could be an element of that in 'THE GOD SLOT'.
Working on the premise that most people in Ireland practice a faith of some sort, the programme aims to cover news stories, report on events, feature round table discussions and one to one interviews, discuss books and films and present informed comment on all of the above items that have a religious or faith dimension in a lively, accessible and up-beat style. We are interested in stories of relevance to people of all faiths and none, and indulge in neither hatchet-jobs nor hagiography.
Presenter Eileen Dunne needs no introduction to Irish audiences, her face and voice being well known as one of RTÉ's foremost newscasters. For more than 25 years she has worked on some of the biggest news stories, among them Queen Elizabeth's recent Irish visit, the death of Pope John Paul II and the installation of Pope Benedict XVI. A fluent speaker of French, she is currently International President of the Association of European Journalists, a voluntary organisation for journalists with an interest in European affairs. Her clear headed, incisive style, attractive voice and microphone presence, and knowledge of and interest in the subject matter will prove to be great assets to the series.
Versatile producer Gerry McArdle has worked in almost every area of radio; as an actor, announcer, presenter, and has written a number of plays for the medium. He is also the proud owner of a Gold Disc for his adaptation and recording of The Pogues' classic, 'Fairytale of New York', which spent several weeks in the Irish charts during the Christmas period of 2001, and raised £10,000 for the Society of St. Vincent de Paul. His last series, 'Outside the Box', won the Inclusion Ireland Media Award. He has a fine track record in religious programming, as his was the mind behind several successful and noteworthy radio gems, including 'People of God', 'The Pope's Intentions', 'Holy Pictures' and 'Woman With the Wild Thing's Heart', and is delighted to return to a subject that passionately interests him.
The programme team is always interested in what listeners have to say, whether it be comments on what they have heard, or suggestions for future editions, and you can make contact by telephoning 01 2082039, emailing us at godslot@rte.ie, or writing to:
The God Slot,
RTE Radio 1,
Dublin 4.
If one accepts that everything in life has a spiritual dimension, then the only limits which might bind 'THE GOD SLOT, each Friday evening just after the News at 10, are the limits of the programme makers' imaginations.
The God Slot is repeated on Radio 1 Through the Night on Sunday mornings at 5.30, and at 10.30am on Sunday mornings on RTE Radio 1 Extra.
Below: Gerry and Eileen (Picture by Melina Prasse; The Irish Catholic)