The Book Show Sunday 9 December 2018
The Book Show, Sunday 9th December
On this week's show we hear from three writers about writing their memoirs.
Producer Zoe Comyns invited three writers into studio to have a conversation among themselves about the process of writing their memoirs - each one chronicling a time of pain, grief or illness.
Emilie Pine is an academic and her book Notes To Self was published earlier this year by Tramp Press. It's a volume of personal essays where she deals with subjects like addiction, fertility, sexual violence, feminism and the body.
Éilis Ní Dhuibhne is a novelist and short story writer whose latest book Twelve Thousand Days (Blackstaff Press) tells the story of her 30-year relationship with the renowned folklorist Bo Almquist which ended with his death a number of years ago. Her book recalls moments of both love and grief.
Arnold Thomas Fanning is a playwright and his memoir Mind On Fire (Penguin) is a portrait of his madness and recovery, detailing episodes of mania, homelessness, run-ins with the law and how he, his family and friends coped with his depression which spanned over a decade.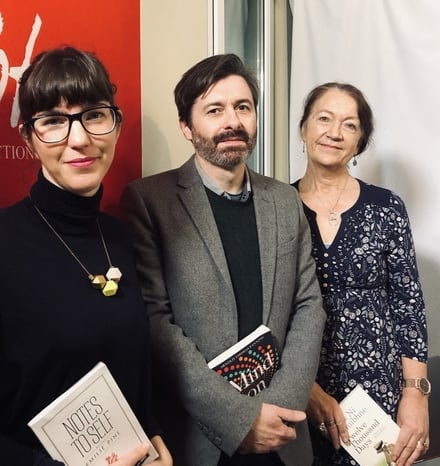 Emilie Pine, Arnold Thomas Fanning and Éilis Ní Dhuibhne
We hear each writer introduce themselves and their work and then discuss how they began the task of writing about these deeply emotional times in their lives.
Arnold and Emilie say that writing in cafés and libraries helped them to begin - with noise and life around them in the public space made the experience less isolating. Éilis says that you're delving into deep water when you're writing about these things. Whether they write in libraries, cafés or during residencies the writers all agree on the necessity for finding a 'safe space' to draw out their own life experiences for the page.
Éilis notes that while writing about her partner's last week on Earth was very difficult, it also helped her to focus on happier times and says that her book is both 'darkness and light'.
Arnold researched his story through his own medical records while Emilie remembers fragments and these are what she has written. More recent memories are more difficult, she says, as the memories are still alive.
All of the writers have encountered public hospitals and the healthcare system and this is something that features each of their books. They talk about their different experiences of this.
Arnold's experience of the health system was often punishing and brutal but he says his memoir is an account of a recovery and he doesn't think that he would be here to tell his story if it wasn't for the intervention of a number of health workers who saved his life.
Telling your story is ultimately healing for the teller, says Éilis. And, she adds, reading other people's stories is also consoling. Radical honest, says Emilie, creates radical honesty. People begin to share stories. She agrees with Éilis that writing can be incredibly healing.
The Book Show is back for its fifth season. For the past few years we've interviewed hundreds of writers for the show. Now the writers get to ask the questions. In the first half of the season John Boyne, Eimear McBride, Eoin Colfer and Liz Nugent guest-present programmes. We'll also hear from producers Regan Hutchins on Tristram Shandy and Zoë Comyns on Mary Shelley's Frankenstein.
This week on Sunday 25th March, John Boyne sits in the chair.