The Book Show Sunday 25 November 2018
Every week join Rick O'Shea as he talks to Irish and international authors, book clubs around the country get to ask questions of the author they have just read, and we bring you readings, festivals and news from the book world.
The podcast has longer interviews and extra content - subscribe at bit.ly/rtebookshow
The RTE Book Show is produced by Eoin Sweeney and John Daly by OJO Productions
The Book Show, Sunday 25th November
This week Louise O'Neill (Asking For It, Almost Love) looks at the world of commercial women's fiction.
She speaks to Sheila O'Flanagan and Carmel Harrington about how the term 'chick-lit' became a derogatory way of describing writing by women.
Louise and the panel discuss how writing by women is often considered as something that's 'fluffy' and 'light-hearted' even when the work is describing relationships that are more nuanced.
Sheila says that she was working in finance in the 90s when she started writing and tells Louise how it was very much a pre #MeToo era.
Louise says she feels that the group of women writing fiction in the 90s and early 2000s are not as celebrated as they would have been if they were men. Cathy Kelly, Maeve Binchy and Marian Keyes broke ground and became international bestsellers but were often written off as writers whose work isn't serious.
While the work of these women is 'easy to read' Louise makes the point that there is a lot of skill and craft necessary to make this happen. Carmel says that when people tell her that her books are easy to read she says 'thank-you!'
Sheila talks about her latest novel The Hideaway and Carmel discusses her latest novel A Thousand Roads Home. These novels explore themes of domestic relationships, escapism, and tackle both male and female points of view.
Carmel's novel tells the story of a homeless woman and for her research she says that she checked into a hotel for 3 nights with her children to discover how trapped people feel when the wait for affordable housing is a reality.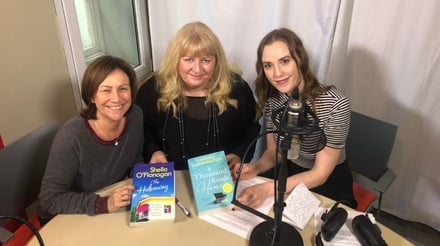 Sheila O'Flanagan, Carmel Harrington and Louise O'Neill
Louise is joined by Sarah Breen and Emer McLysaght - better know as The Complete Aislings.
They have come to talk about their latest book The Importance of Being Aisling and how the phenomenon started as a Facebook page while they were living together in the days before Whatsapp groups. They never thought it would take off. They began hearing the term 'Aisling' used in pubs and on TV and realised they had captured something.
We all know Aisling, they say. She's the practical one who walks to work with runners and with her shoes in a bag. She's sensible and a homebird, good to her family and a nice person.
Louise tells them that while they're dealing in stereotype it never feels like that.
The writers say that she occupies the middle-ground between uplifting literature - 'up-lit' - and books which are unrelentingly grim - 'misery-lit'.
They say that being a duo they are able use their shared experiences.
Their books have delighted their readers but they also reflect issues that are important to Irish women including themes of abortion, domestic abuse and 'things that go on behind closed doors'. They touch on the rental crisis as well and young adults who have to move home to live with their parents.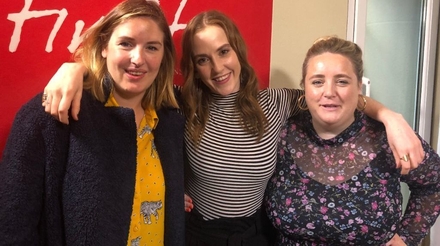 Sarah Breen, Louise O'Neill and Emer McLysaght