The Book Show Saturday 14 October 2017
The Book Show, Saturday 14th October
This week on The Book Show Sinéad Gleeson speaks to David Hayden about his debut collection of short stories, Darker With The Lights On which has been published recently.
The stories take as their starting points situations which are every day or seemingly normal and then depart from these into a world of strangeness. The tears of miners underground are used to irrigate vegetables, a giant squirrel teaches creative writing to children and one story is a meditation on Play.
David discusses how he formed the collection and reads one of the stories in full.
Regan Hutchins is in Los Angeles to hear about one of that town's most celebrated writers, John Fante. His coming-of-age novel, Ask The Dust, was first published in 1939 and is the story of a struggling writer, Arturo Bandini. It's also the portrait of the Bunker Hill district in downtown L.A. with dive bars, seedy restaurants and diners. Regan meets John Fante's son Jim to hear about the writer and he also learns about how Ask The Dust's journey to fame was disrupted by Adolf Hitler's Mein Kampf !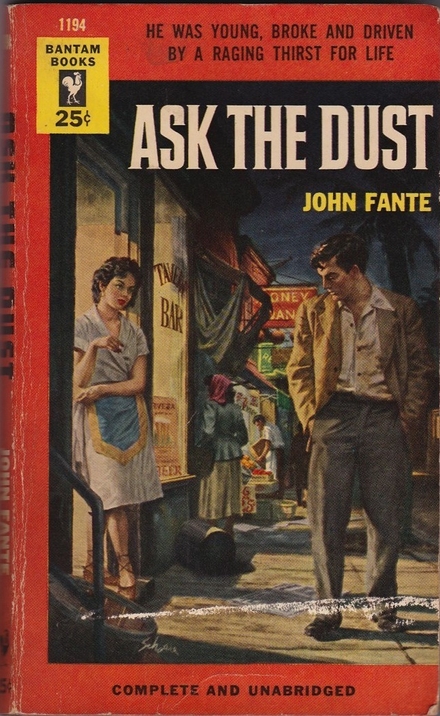 Ask the Dust by John Fante
Sinéad recently met Julie Buntin to discuss her novel Marlena which is the story of a friendship between two teenage girls Marlena and Cat. Set in rural Michigan, Cat's life is turned upside down when she encounters 15 year old Marlena - a wild beautiful girl who will be dead within a year of their friendship. The novel is the story of how, decades later, Cat comes to terms with the loss of her friend.
Julie tells Sinéad about how some real life experiences found their way into the writing of the book and she wonders why some critics will complain about a surplus of books about teenage girlfriends but never about murderers! She cites Lorrie Moore's Who Will Run The Frog Hospital? as an important influence on her debut novel.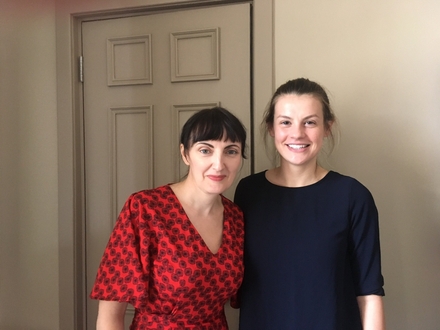 Sinéad with Julie Buntin
Our Dear Character competition ended earlier this week and The Book Show team are busy reading the letters listeners have sent to a character from a novel. They will draw a shortlist from the entries and Laureate for Irish Fiction, Anne Enright, will judge from these to select a winning letter. She will do this at a special hour-long recording of the Book Show on October 21st in Smock Alley Theatre in Dublin. Joining Anne Enright, will be writers Donal Ryan, Lisa McInerney and Ross-O'Carroll Kelly creator Paul Howard. We'll also have singer Lisa O'Neill on stage to sing songs inspired by characters from literature.
On the show we'll be looking at all aspects of characters in fiction - how to write them, is it true they sometimes write themselves?, why are some more memorable than others, how do writers feel when they kill a character?
There are still some tickets available for the recording and you are invited to join us for this. So book your place here.
'Dear Character' Competition Update
Thanks to everyone who has sent a letter to a character as part of our Dear Character competition. We have been delighted by the response and have drawn up a shortlist of letters which we have sent to our judge, the Laureate for Irish Fiction, Anne Enright.
She will choose a winning letter and this will be read at our special episode which will be recorded in Smock Alley theatre in Dublin on October 21st 2017.
The winning entry will also win a €250 book token.
At our Smock Alley show we will be reading excerpts from some of the letters. The winning letter will be published online on our RTÉ web page after the broadcast.
Sinéad Gleeson will be in conversation with Lisa McInerney, Anne Enright and Paul Howard. We'll have music by singer Lisa O'Neill and readings from some of our letters to characters by actors Derbhle Crotty and Dermot Magennis.
The show is now sold out but it will be broadcast on RTÉ Radio 1 on Saturday October 28th, 7-8pm.
A full list of those writers whose letters have been shortlisted is below - congratulations to all:
Character: Anna Livia Plurabelle
Writer: Holly Furey
From: Finnegans Wake by James Joyce
Character: Auggie Pullman
Writer: Keeva Holloway
From: Wonder by RJ Palacio
Character: Anna Arkadyevna Karenina
Writer: Lev Nikolayevich (Eoin Shaughnessy)
From: Anna Karenina by Leo Tolstoy
Character: Bobby Mahon
Writer: Rebecca Ivory
From: The Spinning Heart by Donal Ryan
Character: Captain Ahab
Writer: Stephen Phelan
From: Moby-Dick by Herman Melville
Character: George Smiley
Writer: Karen McCormack
From: Various George Smiley novels by John LeCarré

Character: Gregor Samsa
Writer: Bernard Mahon
From: Metamorphosis by Franz Kafka

Character: Holden Caulfield
Writer: Aoife Kavanagh
From: The Catcher in the Rye by J. D. Salinger
Character: June
Writer: Anita Fennelly
From: The Handmaid's Tale by Margaret Atwood
Character: Mr. Toad
Writer: Liam Cahill;
From: The Wind in the Willows by Kenneth Grahame
Character: Nora Webster,
Writer: Shelley Tracey,
From: Nora Webster by Colm Toibin
Character: Raskolnikov
Writer: Sylvia (AKA- Mark Dennehy)
From: Crime And Punishment by Fyodor Dostoyevsky
Character: Robinson Crusoe
Writer: Klara Golez
From: Robinson Crusoe by Daniel Defoe
Character: Rosaleen Madigan
Writer: Marion O'Donnell (Miriam Hurley)
From: The Green Road by Anne Enright
Character: 'She'
Writer: Papa (Stephen Wade)
From: The Road by Cormac McCarthy
Character: Voldemort
Writer: Claudia Rose-Mohan
From: Harry Potter and the Order of the Phoenix by JK Rowling

The Book Show
Presented by Sinead Gleeson, The Book Show is where we get to know a bit more about the books you love and talk about what you could be reading over the next few months.
Writers and publishers will talk stories, books and the world of writing and we'll have readings, reports and regular items. The Book Show will bring you the best in international and Irish authors, with weekly discussions, interviews, features and literary trivia.
If there's anything you'd like to hear covered on the show or have any comments to make, why not get in touch bookshow@rte.ie and you'll find us on twitter @bookshowrte and on Facebook.
Sinead Gleeson Photo credit: Annie Atkins