The Book Show November 2nd 2013
The Book Show
In a special programme to mark the beginning of the series The Book Show celebrates the writings of Maeve Brennan, talks to National Book Award Finalist George Saunders and looks at how contemporary Irish writing reflects Ireland today.
Maeve Brennan
This month is the 20th anniversary of the death of Irish writer Maeve Brennan. Brennan left Ireland at 17, and was to spend most of her life in New York as a staff writer at the New Yorker magazine. There, she penned witty, observational columns about New York life, and 41 short stories. Her back catalogue consists of just two short story collections, a novella and her New Yorker writing, and when she died in 1993, she was considered a forgotten writer. In tonight's show, we discuss Brennan's life, work and her importance as an Irish writer, with Dr Ellen McWilliams from the University of Exeter and Angela Bourke, whose biography Homesick at the New Yorker resurrected Maeve as a writer.
Homesick at The New Yorker – Angela Bourke
Springs of Affection (Counterpoint) - Maeve Brennan
The Rose Garden (Counterpoint) – Maeve Brennan
The Visitor – Maeve Brennan
George Saunders
Later this month, America's National Book Award winner will be announced. On a recent Book Show trip to New York, Sinead talked to George Saunders about his funny, surreal writing and his latest short story collection Tenth of December. The winner will be announced on 20th November 2013.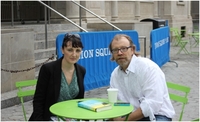 Sinead Gleeson and George Saunders in Union Square Park 2013
Football Type
I'm delighted to have a chance to feature football on the show, thanks to a new book called Football Type. We sent reporter Ken Early of @secondcaptains to ask its author Rick Banks about the stories behind the numbers and fonts used on football shirts. He also spoke to Eddie O'Mahony who has the largest collection of Irish match shirts.
Football Type – Rick Banks www.footballtype.co.uk
Ireland Soccer Shirts – http://www.irelandsoccershirts.com/
Boom & Bust Fiction
In the last 10 years Ireland has experienced the highs and lows of economic boom and catastrophic bust, but has the experience been reflected in books? Being Alexander published this month by New Island is the latest contemporary Irish novel to traipse through boomtown Dublin. We feature a reading by the author Diarmuid O'Conghaile, who incidentally is an economist by day, of Being Alexander and also Justin Quinn reading from Mount Merrion where the main character Boyle ends up in front of a the planning tribunal.

Peter Murphy and Ann Marie Hourihane join Sinead to discuss the books that reflect on contemporary Ireland.

Readings
Being Alexander (New Island) – Diamuid O'Conghaile
Mount Merrion (Penguin) – Justin Quinn

Other books mentioned
Donal Ryan - Spinning Heart
Alan Glynn - Graveland/Winterland
Claire Kilroy - The Devil I Know
Kevin Power - Bad Day at Blackrock
Forensic Songs/Notes From A Coma- Mike McCormack
Dark Lies the Island - Kevin Barry
Skippy Dies – Paul Murray
Broken Harbour – Tana French
This evening's Footnote talk about:
John Steinbeck - Of Mice and Men
The Book Show is back for its fifth season. For the past few years we've interviewed hundreds of writers for the show. Now the writers get to ask the questions. In the first half of the season John Boyne, Eimear McBride, Eoin Colfer and Liz Nugent guest-present programmes. We'll also hear from producers Regan Hutchins on Tristram Shandy and Zoë Comyns on Mary Shelley's Frankenstein.
This week on Sunday 25th March, John Boyne sits in the chair.