The Book Show Sunday 16 September 2018
The Book Show, Sunday 16th September
In the first episode of the Autumn schedule the writer Belinda McKeon (Solace, Tender) is in the presenter's chair.
Tonight she asks how writers are responding to what she calls 'the realities and the fictions' of the Donald Trump presidency. How do writers see their roles and responsibilities and has their writing been influenced by the political earthquake of 2016.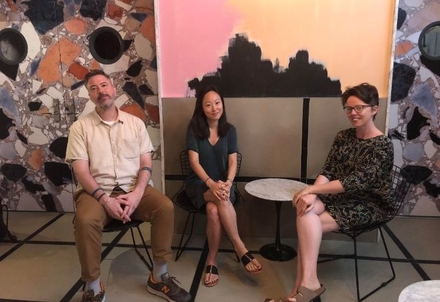 Mark Doten, Crystal Hana Kim and Belinda McKeon
Mark Doten's second novel is called Trump, Sky, Alpha (Gray Wolf Press) and it points to its central character in the title page! It's a fantasy novel where the president of the United States takes to his giant branded airship and streams constant YouTube messages and this reflects Doten's concerns about the corporate identity of the American president. It is satire and seemingly far-fetched but Doten says that while writing it he had a struggle to keep his satire ahead of the reality.
Trump's actions, in Doten's book, has led to a nuclear catastrophe and it centres on one character, Rachel, who, while coping with her own personal grief, acts as a humane counterbalance to the figure of the corrupt president in the novel.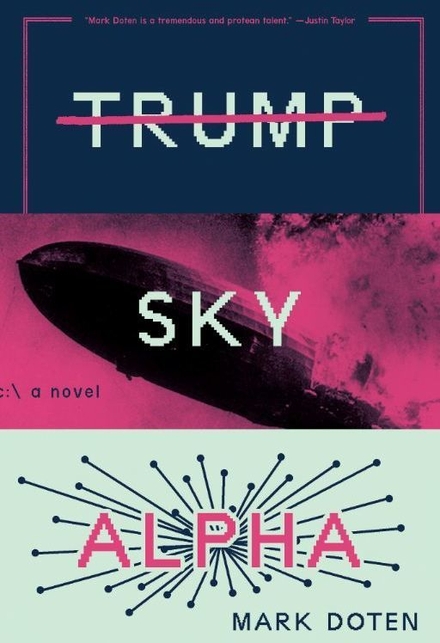 Trump, Sky Alpha by Mark Doten
Belinda is also joined by Crystal Hana Kim whose debut novel If You Leave Me (Harper Collins) is set in Korea in the 1950s and is the story of a family, love and war. Kim says she was drawn to Korean history because all four of her grandparents survived the Korean War and she was particularly interested in writing about the women's experience of the war. She set the novel in a refugee camp and it depicts the awful suffering there. There's also a timely element to her novel as Korea - North and South - has suddenly become part of the news cycle. Her book goes some way, she says, to help people today to understand the context of the war.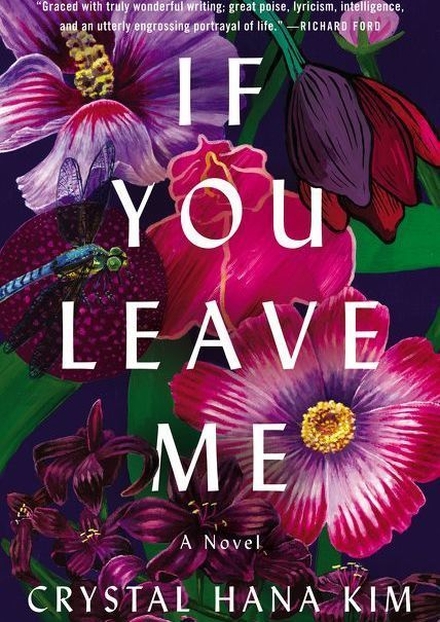 If You Leave Me by Crystal Hana Kim
Both Mark Doten and Crystal Hana Kim are editors in their own right and they say that these times have certainly brought changes in the type of things people are writing. The focus has shifted to areas not often featured in the past. They both agree that race, gender, sexuality, class and marginal voices are seeking greater expression.
Gary Shteyngart's latest novel is called Lake Success (Hamish Hamilton). He tells Belinda that it began with his taking a bus journey across America. He set off in June 2016 fully believing that Hillary Clinton would be the next president of America. By the time he got to San Diego - in September 2016 - he wasn't so sure. The things people had told him on his journey convinced him that they knew America better than he or his friends and colleagues on the coastal cities did.
Its central character, Barry Cohen, abandons his wife and son as his hedge fund career hits the ropes. He leaves New York and heads south on a Greyhound bus and, as he comes to terms with Trumpian America, he also searches for his past in the form of his old college girlfriend.
Gary tells Belinda that great fiction was always written at times of tension but our fascination with Trump and his presidency is like a drug addiction. It's a writer's job to be vigilant, he says. We have to listen to what everyone is saying - no matter how distressing it can be.
The Book Show is back for its fifth season. For the past few years we've interviewed hundreds of writers for the show. Now the writers get to ask the questions. In the first half of the season John Boyne, Eimear McBride, Eoin Colfer and Liz Nugent guest-present programmes. We'll also hear from producers Regan Hutchins on Tristram Shandy and Zoë Comyns on Mary Shelley's Frankenstein.
This week on Sunday 25th March, John Boyne sits in the chair.